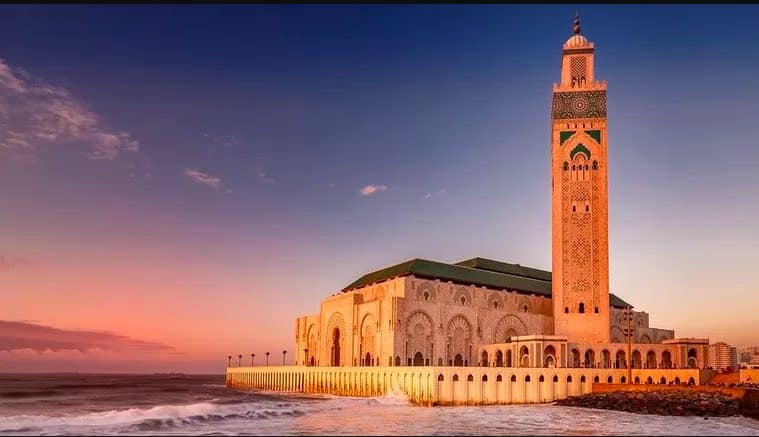 12 DAYS DESERT TOUR FROM CASABLANCA
LET US MAKE YOUR 12 DAYS DESERT TOUR FROM CASABLANCA COMES TRUE WITH US
Are you planning a trip to Morocco? If so, you are in the right place to have an authentic experience and tour Morocco with experts.
This 12 days desert tour from Casablanca takes you on an incredible journey through Morocco, beginning in Casablanca and ending with a memorable desert experience. You'll see bustling cities, ancient Medinas, historical sites, and breathtaking natural landscapes. The tour's highlight is a visit to the magnificent Sahara Desert, where you'll be able to ride a camel, camp under the stars, and witness breathtaking sunsets.
INCLUDED AND EXCLUDED IN THIS 12 DAYS IN MOROCCO ITINERARY
THE HIGHLIGHTS OF 12 DAYS DESERT TOUR FROM CASABLANCA
Hassan 11 Mosque Casablanca.
Iconic Sites Of Pink Imperial City Marrakech.
On Top Of The World Mountain Scenery.
Mighty Clay Sandcastle Kasbahs.
Multi International Film Location Settings.
Morocco's Rose Oil Producing Dades Valley.
Todra Gorge A Slice Of Moroccan Rock.
Camel Ride Aside Towering Dunes.
Overnight in the luxury camp
Walking In Date Palm Oases.
Fresh Seafood In Medieval Essaouira.
ITINERARY OF 12 DAYS DESERT TOUR FROM CASABLANCA
Day 1: Casablanca - Rabat
Our 12 days desert tour from Casablanca will start by meeting you at the airport, pick you up for a small visit in the mosque of Hassan II, before we follow to Rabat to visit the Oudaias kasbah, the Mausoleum of Mohammed V, and Hassan Tower. Night in Rabat.  
Day 2: Rabat – Chefchaouen
Depart for Chefchaouen, the enchanting blue city nestled in the Rif Mountains, after breakfast. Take a leisurely stroll through the narrow streets lined with blue-painted buildings to get a sense of the city's distinct atmosphere. Visit the Kasbah Museum and the bustling Plaza Uta el-Hammam. Breakfast, transportation, and a city tour are all included. Lunch and dinner are not included.
Today, we continue our 10 days desert tour from Casablanca to Meknes for a guided tour of the city. We'll travel through the rolling hills to see the impressive Roman ruins of Volubilis, which are a UNESCO World Heritage Site and the best-preserved Roman ruins in Northern Africa.
As you peer into old bathhouses, marveling at the still-present mosaic floors and gazing up at the towering marble pillars, your certified local guide will explain life in the Roman Empire. We leave the Roman Empire and travel to Meknes City.
After lunch, we begin our guided tour in front of the impressive 18th century Bab Mansour, Sultan Moulay Ismail's ornamental gate to the imperial city of Meknes.
We continue our 12 days desert tour from Casablanca to Fes. Dinner and an overnight stay in Fes.
Today, take a guided tour of Fes  with a local guide to learn about its historical and cultural treasures. Visit the famous Karaouine Mosque, the renowned Al Quaraouiyine University, and the Mellah (Jewish Quarter). Explore the enchanting Jardin Jnan Sbil gardens and take in panoramic views of the city from the Merenid Tombs. Breakfast and a guided tour are included. Lunch and dinner are not included.
Day 5: Fes – Ifrane - Merzouga Desert
Prepare for an unforgettable journey as you depart for Merzouga, the Sahara Desert's gateway. Pass through scenic landscapes, traditional villages, and the beautiful Ziz Valley along the way. When you arrive in Merzouga, take a camel ride through the golden dunes and watch the sunset over the desert. Spend the night in a traditional Berber desert camp and enjoy Berber hospitality. Breakfast, transportation, camel ride, and desert camp are all included. Lunch is not included.
Day 6: Entire Day In Sahara Desert
Wake up early to catch the mesmerizing sunrise over the Sahara Desert. After breakfast, explore the surrounding desert, visiting the nomadic settlements and experiencing the tranquil beauty of the Erg Chebbi sand dunes. After head to the village of dark skinned people (village of the Gnaoua) originally slaves of Sudan, there we will listen to a Gnaoua music and their experience of lifestyle. After Lunch, enjoy some adventurous activities such as Quad biking,… or simply relax in the serene desert environment. Inclusions: Breakfast, desert exploration. Exclusions: Lunch.
Day 7: Merzouga – Todgha gorges - Ouarzazate
Leave the desert behind and head to Ouarzazate, also known as the "Hollywood of Morocco" due to its film-worthy landscape. Visit the Todgha Gorges en route, which are magnificent limestone canyons carved by the Todgha River. Driving through roses valley, where we will do some stop of beautiful views. Continue our 12 days desert tour from Casablanca to Ouarzazate and explore the renowned Atlas Studio that has served as the setting for numerous famous films. Breakfast, transportation, and sightseeing are all included. Lunch is not included.
Day 8: Ouarzazate – High Atlas – Marrakech
Next day of our 12 days desert tour from Casablanca, we drive towards to a major stop for sightseeing, it is the Kasbah of Ait Ben Haddou, a UNESCO world heritage site, is also known a set of major Hollywood epics filmed, such as Game of Thrones, Kingdom of Heaven, Lawrence of Arabia, and Gladiator etc.
as well as get to know some of the events and architectural mystery of the village and their lifestyle, heading to Marrakech through the HIGH ATLAS MOUNTAINS and drive downhill on curvy roads to the famous Tizi N'tichka pass,(2260 METERS) where a few stops will be made to take a beautiful panoramas photos. overnight in Marrakech.
Day 9: Marrakech Guided Tour
Explore Marrakech's historical and cultural highlights on a guided tour. Explore the architectural marvel of the Saadian Tombs, the tranquil Majorelle Garden, and the vibrant Jewish Quarter (Mellah). The opulent Bahia Palace and the Ben Youssef Madrasa are both worth seeing. Visit the lively Jardin Majorelle as an optional extra. Breakfast and a guided tour are included. Lunch and dinner are not included.
Day 10: Marrakech – Essaouira
In the early morning we will hit the road to the Essaouira the coastal town known by its old Portuguese name as "Mogador" a sit is a world heritage site by UNESCO, on our way we will pass by some goats climbing argan trees, Upon arrival we will have lunch in a Moroccan way.
In the afternoon, you will have a city tour around the alleys of the medina including its handicrafts, silver jewelry and inlaid wood of Thuja. Overnight at the hotel/riad.
Day 11: Essaouira – El Jadida – Casablanca
The following day of our 12 days Casablanca desert tour in the morning we will leave for Casablanca via El Jadida, lunch will be in El Oualidia, then driving  to El Jadida along the Atlantic coast, reaching Casablanca. Overnight at hotel/Riad.  
Day 12: Transfer to Marrakech or Casablanca airport
After breakfast our exciting 12 days tour from Casablanca ends ,you'll be driven to your departure destination or any other place you choose, and by the way your 12 days desert tour from Casablanca will come to an end with a drop off at your Airport.
GOOD TO KNOW ABOUT THIS 12 DAYS CASABLANCA DESERT TOUR
This 12 days desert tour from Casablanca can be tailored to be more personalized and unique.
Here's a packing list you can print out to help you prepare for your 12 days Casablanca desert tour.
You can always consult your driver about skipping some stops to spend more time elsewhere.
These prices are subject to change based on the current exchange rate.
The official currency of Morocco is the Moroccan Dirham (MAD). Exchange some currency at the airport or local banks upon arrival. Credit cards are widely accepted in urban areas, but it's advisable to carry some cash, especially in rural areas.
Drinking alcohol is allowed for foreigner only.
To reserve the car, we require a 20% deposit of the total price.
We accept PayPal, bank transfers in Europe, credit cards, and cash (USD, Euro, GBP or MAD)
Children under the age of 12 receive a 25% discount, while children under the age of 5 are not charged.
REVIEWS OF THE 12 DAYS DESERT TOUR FROM CASABLANCA
Here are some of testimonials and the experiences of our great customers based on their experience with us. Click on the link below to see all what people said about our 12 days desert tour from Casablanca.
Best 12 Days Casablanca desert tour
This unique desert tour Morocco was very informative and Hassan catered the tour to our interests. We had a large group of people, and we were able to navigate all the activities we wanted and saw everything we wanted to see. The tour of the desert is once in a lifetime! I wouldn't miss it!
The best trip by far! I loved our tour with Hassan. He took us to all the must see attractions and he was very patient with us as we stopped by a few shops for souvenirs. Hassan also invited us to his house for tea! Super hospitable. He would definitely go back to Morocco again…
Incredible 12 days from Casablanca
Unforgettable 12 days desert tour from Casablanca to the desert, the driver and guide showed us beautiful places, friendly and professional treatment. The camp between the dunes was wonderful, concert with the berebwres and delicious food. I recommend it 100%
BOOK YOUR CASABLANCA DESERT TOUR 12 DAYS
This 12 days tour from Casablanca prices can vary widely depending on several factors, including, the level of accommodation, number of the travelers, and the inclusions/exclusions of the tour package.
This Casablanca desert tour 12 days cost anywhere from $1800 to $2200 USD per person for a budget option. This could include transportation, basic accommodation, and some meals.
Mid-range tours with more comfortable accommodations and additional amenities might range from $2500 to $3200 USD per person.
For luxury or more exclusive tours, the prices could exceed $3000 USD per person.
BOOK YOUR 12 DAYS DESERT TOUR FROM CASABLANCA
Email Us For Any Inquiry, And We Happily To Answer You ASAP.
Please make sure that your E-mail is correct to get our response.
FREQUENTLY ASKED QUESTIONS ABOUT 12 DAYS TOUR FROM CASABLANCA
1. How do you get from Casablanca to Sahara Desert?
If you are going to book a trip from Casablanca with us or with a certain travel agency, they will offer kind of transportation that will fits your trip and also number of travelers, such as Minibus, minivan, 4×4 car,…
2. How far is Casablanca from the desert?
The distance between Casablanca and Sahara desert of Merzouga is around 665 Km, it takes around ten hours drive.
3. Is the Sahara desert worth visiting?
The Sahara Desert of Erg Chebbi is the largest and vast desert in the world and preferred destination for many travelers from all over the world. The idea of spending a night in a camp under millions of stars and climbing sand dunes to watch the sunset is definitely authentic nomad experience.
4. How long does it take to get to the desert from Marrakech?
It takes around ten hours drive, straightlu from Casablanca to Merzouga desert, but we preferred to split the way.