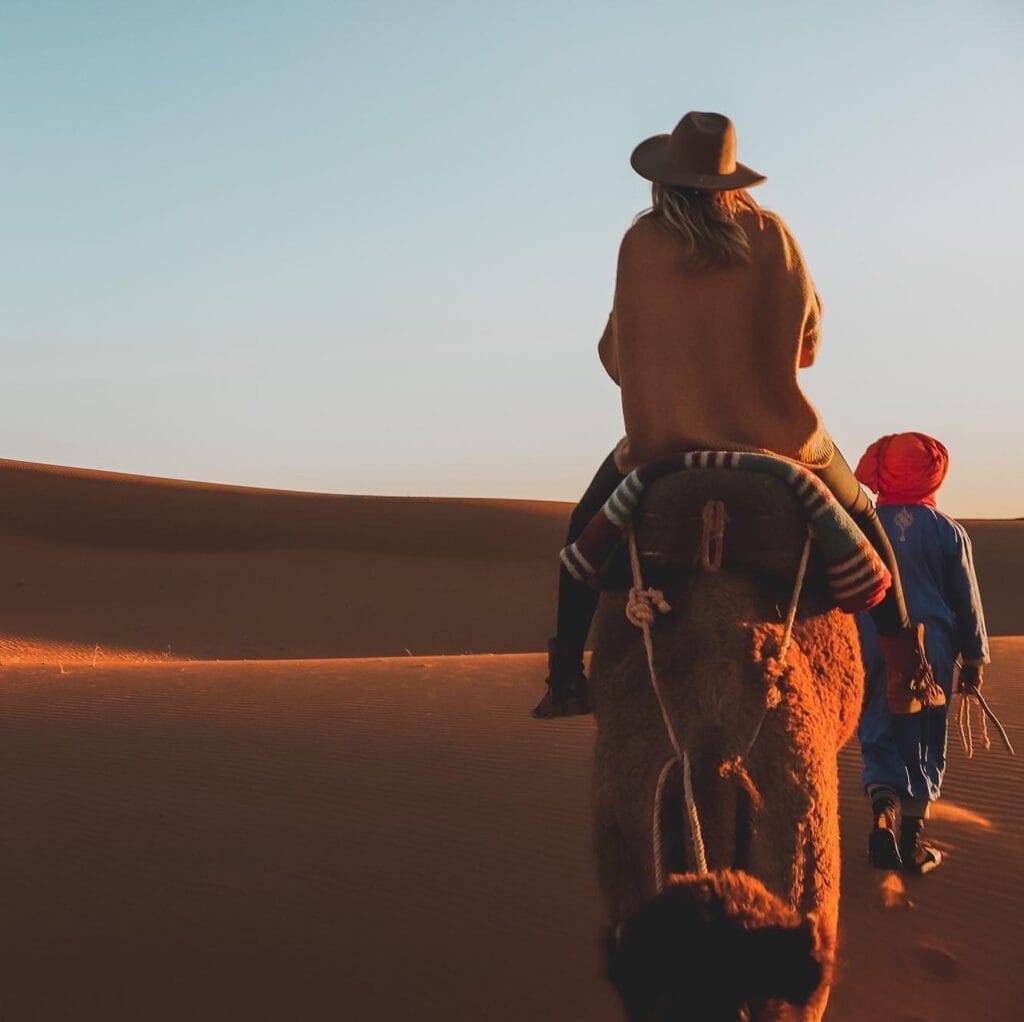 4 DAYS MARRAKECH TO SAHARA DESERT TOUR / 2 DAYS IN THE DESERT
LET US MAKE YOUR 4 DAYS MARRAKECH TO SAHARA DESERT COME TURE WITH US
4 Days tour Marrakech to Sahara desert is one of the popular tours from Marrakech, start from Marrakech and enjoying our tour through crossing the twisted road of TiziNtichka pass,( 2260 METERS), made a major stop to discover and visit the Kasbah of Ait Ben Haddou, a UNESCO world heritage site, Dades valley, Todra Gorge. 
On the second day head to a major destination beautiful Sahara desert dunes erg Chebbi, where we will be residing an entire third day to discover several amazing places and have a fun time with a local barber nomad.
4 days tour from Marrakech Price range per person based on the type of accommodation ( standard or luxury ), as well the number of traveler.
Note: the more travelers you travel with the cost per person will be decreased.
Check out the types of accommodation below.
THE HIGHLIGHT OF 4 DAYS MARRAKECH TO SAHARA DESERT :
ITINERARY OF 4 DAYS TOUR MARRAKECH TO SAHARA DESERT
DAY 1:
MARRAKECH – ATLAS MOUNTAINS – KASBAH AIT BEN HADOU – DADES VALLEY
Our itinerary of 4 Days Tour Marrakech to Sahara desert will start in the morning at 07:30 hitting the road to Ouarzazate through the HIGH ATLAS MOUNTAINS and drive uphill on the twisted road of Tizi N'tichka pass,( 2260 METERS) where a few stops will be made to take beautiful photos.
Reaching the famous major stop for sightseeing and exploring, it is the Kasbah of Ait Ben Haddou, a UNESCO world heritage site, is also known a set of major Hollywood epics filmed, such as Game of Thrones, Kingdom of Heaven, Lawrence of Arabia, and Gladiator, etc. as well as get to know some of the events and architectural mystery of the village.
After lunch at one of the local cafes/restaurants.
Continue our way to Dades valley Gorges through Ouarzazate, Skoura Oasis, KlaaMgouna, the capital of the valley of the roses, and famous for its rose festival.
Arriving in the evening, the dinner and overnight at your hotel/riad in Boumaln Dades Gorges.
DAY 2:
DADES VALLEY - TODGHA GORGE – ERFOUD – MERZOUGA DESERT
After breakfast at your hotel, MARRAKECH TO SAHARA DESERT Tour will start the next day with enthusiasm reaching to Sahara desert, through  following along the road of 1001 Kasbahs to the oasis of Tinghir, where we will have a stop for a walk in the oasis under the shade of palm trees and continue to Todgha Gorge to enjoying a walk under the 300 meters high cliffs, and lunch at the local cafes. 
Afterwards following our way Tour Marrakech to Desert via Erfoud a famous for its dates market, arriving the gate of the majestic desert, the point where we meet our camel man caravan waiting for us, then ride your camels through the amazing color-changing sand dunes with the magic sunset, down to the desert camp which is the major experience you will never forget.
DAY 3:
Entire Day To Sightseeingthe Sahara Desert
In the morning after your breakfast we will go on exploration tour of Sahara desert merzouga start from camel trek back, finding a vehicle 4×4, drive through the erg chebbi dunes enjoying the golden range dunes, visit the nomadic family before we head to the village of dark skinned people (village of the Gnaoua) originally slaves of Sudan there we will listen to a Gnaoua music and explore their experience of lifestyle.
The overnight will be in the local hotel in Merzouga.
DAY 4:
BOUMALNE DADES – KASBAH AIT BEN HADOU – MARRAKECH
In the last day of 4 days desert tour from marrakech and After breakfast, you'll drive along side the Valley of Kelâat M'Gouna the Roses ( Kelâat M'Gouna is most known for the "Roses Festival" which takes place in the city every year in May ), we will discover its beauty and its rose products that range from perfume, rose water, oil, to cosmetic products.

We continue to Skoura oasis, considered one of the largest oases in the South, before we move on to Ouarzazate and to the UNESCO world heritage site of Kasbah Ait Ben Haddou.
After lunch at leisure in the Kasbah, we drive back to Marrakech via Tizi N'tichka pass and high Atlas Mountains.

Your 4 Days Tour Marrakech To Sahara Desert will come to an end with a drop off at your hotel or riad.
INCLUDED & EXCLUDED OF THIS 4 DAYS MARRAKECH TO SAHARA DESERT TOUR
GOOD TO KNOW ABOUT THIS 4 DAYS TRIP FROM MARRAKECH
IMPORTANT TO READ ABOUT THIS 4 DAYS MARRAKECH TO SAHARA DESERT TOUR
CHOOSE YOUR FAVORITE ACCOMMODATION FOR THIS 4 DAYS MARRAKECH TO SAHARA DESERT TOUR
BASIC LODGE:  1st Night at Hotel Babylon or Similar – 2nd Night at Berber desert camp. – 3rd Night at AUBERGE LES ROCHES, KASBAH MOHAYUT or similar
LUXURY LODGE: 1st Night at Xaluca or Similar – 2nd Night at Luxury desert camp. – 3rd Night at RIAD NEZHA, RIAD AZAWAD or similar.
    NOTE: you are free to mix between the accommodations.
    For more info aboout these accommodation feel free to contact us.
Email Us For Any Inquiry, And We Happily To Answer You ASAP
Reviews about our 4 days from Marrakech to Merzouga
Best Sahara desert tour Ever
My friends and I went to Morocco with To Morocco Travel and had a great time there thanks to our guides who did a brilliant job driving us to wonderful places. Also, we met other groups travelling like us and became good friends! Looking forward to schedule the next visit 🙂
Moroccan magical experience
We had an amazing tour with our wonderful tour guide Hassan who was friendly, welcoming and very informative. He kindly customized our trip so we could sandbread with a nomad woman, try dune buggying, and visit all the places we wanted to see. We especially enjoyed learning about Hassan's upbringing, experiences and perspectives on Morocco and the Berber way of life…
The best trip by far! I loved our tour with Hassan. He took us to all the must see attractions and he was very patient with us as we stopped by a few shops for souvenirs. Hassan also invited us to his house for tea! Super hospitable. He would definitely go back to Morocco again. Thank you Hassan and tomorocco travel agency for making this trip the trip of a lifetime.
FAQ OF 4-DAY TOUR FROM MARRAKECH
FAQ for this 4 days Marrakech to Sahara desert tour
How far is Merzouga from Marrakech?
The distance between Marrakech and Merzouga is 564 kilometers, with the first night spent in Dades Valley and the second day spent in Merzouga. You will spend the third day driving back to Marrakech.
Can we bring our luggage on this tour?
Yes, you can bring your luggage with you, it can stay safe in the minivan.
How long is camel ride in Merzouga dunes?
The camel trek lasts for about 1 hour, depending on the season, daylight, etc.
yes, in case you skip the camel ride, or wake up early morning for one hour.