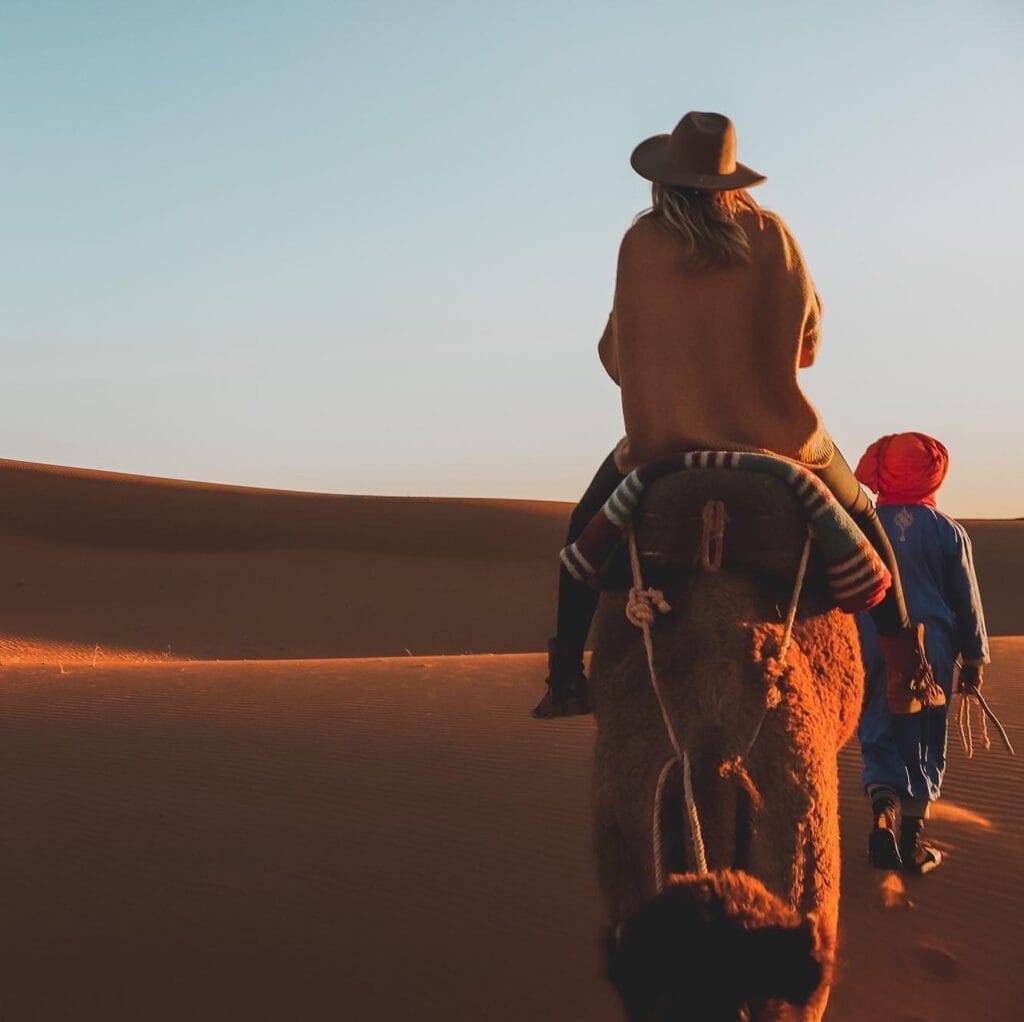 4 DAYS MARRAKECH TO SAHARA DESERT TOUR
Life is short, and the world is wide. Seize the moment, book your 4 days Marrakech to Sahara desert tour, and let the adventure begin.
This 4 Days tour Marrakech to Sahara desert is one of the popular tours from Marrakech, start from Marrakech and enjoy our tour by crossing the twisted road of TiziNtichka pass,( 2260 Meters), making a major stop to discover and visit the Kasbah of Ait Ben Haddou, a UNESCO world heritage site, Dades valley, Todra Gorge. 
On the second day head to a major destination beautiful Sahara desert dunes Erg Chebbi, where we will be residing for an entire third day to discover several amazing places and have a fun time with a local barber nomad.
THE HIGHLIGHT OF 4 DAYS MARRAKECH TO SAHARA DESERT
Across the high atlas mountains via Tizi N'tchika
Beautiful panoramic views
Authentic Berber Villages
Visit the UNESCO Ksbbah Ait Benhaddou
Dades Valley
Toudra Gorge
Experience Camel Trek
Overnight in the Berber camp
Enjoy watching starry sky
Full day to discover the Sahara desert Merzouga by 4×4 car
Enjoy watching sunrise in the desert
ITINERARY OF 4 DAYS TOUR MARRAKECH TO SAHARA DESERT
DAY 1:
MARRAKECH – ATLAS MOUNTAINS – KASBAH AIT BEN HADOU – DADES VALLEY
Our itinerary of 4 Days tour Marrakech to Sahara desert will start in the morning at 07:30 am, hitting the road to Ouarzazate through the high Atlas mountains and driving uphill on the twisted roads of Tizi N'tichka pass,( 2260 meters) where a few stops will be made to take beautiful photos. 
Reaching the famous major stop for sightseeing and exploring, it is the Kasbah of Ait Ben Haddou, a UNESCO world heritage site, is also known as a set of major Hollywood epics filmed, such as Game of Thrones, Kingdom of Heaven, Lawrence of Arabia, and Gladiator, etc. as well as get to know some of the events and architectural mystery of the village. 
After lunch at one of the local cafes/restaurants. 
Continue our 4 days tour from Marrakech to Dades Valley Gorges through Ouarzazate, Skoura Oasis, and Klaa Mgouna, the capital of the Valley of the Roses, famous for its rose festival. 
Arriving in the evening, the dinner and overnight at your hotel/riad in Boumaln Dades Gorges.
DAY 2:
DADES VALLEY - TODGHA GORGE – ERFOUD – MERZOUGA DESERT
After breakfast at your hotel, Marrakech to Sahara desert tour 4 day will start the next day with enthusiasm reaching to Sahara desert, following along the road of 1001 Kasbahs to the oasis of Tinghir, where we will have a stop for a walk in the oasis under the shade of palm trees and continue to Todgha Gorge to enjoying a walk under the 300 meters high cliffs, and lunch at the local cafes. 
Afterward follow our 4 days tour from Marrakech, via Erfoud famous for its dates market, arriving at the gate of the majestic desert, the point where we meet our camel man caravan waiting for us, then ride your camels through the amazing color-changing sand dunes with the magic sunset, down to the desert camp which is the major experience you will never forget.
DAY 3:
Entire Day To Sightseeingthe Sahara Desert
In the morning after your breakfast, we will go on an exploration tour of the Sahara desert Merzouga starting with a camel trek back, finding a vehicle 4×4, driving through the erg Chebbi dunes enjoying the golden orange dunes, and visiting the nomadic family before we head to the village of dark-skinned people (village of the Gnaoua) originally slaves of Sudan there we will listen to a Gnaoua music and explore their experience of lifestyle. Lunch will be in the local restaurant, where you will taste the Berber Pizza.
In the evening, you will drive to your hotel in the heart of the Sahara desert, enjoy a swimming pool, or venture into the sand dunes by Quad biking as an excluded desert activity.
The overnight will be in the local hotel in Merzouga.
DAY 4:
MERZOUGA DESERT - AGDEZ– MARRAKECH
Following a delicious breakfast in your hotel, we will depart for the vibrant city of Marrakech. Our 4 days tour Marrakech to Sahara desert this time will take us through the Draa Valley, Morocco's longest valley. During this Marrakech to Merzouga desert 4 days, we will stop in Agdez to enjoy a panoramic view of this palm-filled valley.
We will have the opportunity to stop in Ouarzazate for a delicious lunch. After that, our Marrakech desert tour will take us back through the stunning High Atlas mountains to Marrakech. We will drop you off at your hotel, bringing this 4 day tour Marrakech to Sahara desert to a end.
INCLUDED & EXCLUDED OF THIS 4 DAYS MARRAKECH TO SAHARA DESERT TOUR
GOOD TO KNOW ABOUT THIS 4 DAYS TOUR FROM MARRAKECH TO MERZOUGA
IMPORTANT TO READ ABOUT THIS 4 DAYS TOUR MARRAKECH TO SAHARA DESERT
This Marrakech desert tour 4 days can be tailored to be more personalized and unique.

You can always consult your driver about skipping some stops to spend more time elsewhere.

These prices are subject to change based on the current exchange rate.
You can ask if others are interested in sharing the tour, or let us know if you are interested in this yourself if you book early.
To reserve the car, we require a 15% deposit of the total price.
We accept PayPal, bank transfers in Europe, credit cards, and cash (USD, Euro, GBP, or MAD).
Children under the age of 12 receive a 25% discount, while children under the age of 5 are not charged.
4 DAYS MARRAKECH TO SAHARA DESERT TOUR - ACCOMMODATIONS
CHOOSE YOUR FAVORITE ACCOMMODATION FOR THIS 4 DAYS TOUR MARRAKECH TO MERZOUGA DESERT
Within the Marrakech desert tour 4 days/3 nights, the accommodations are included in the price we offer, to ensure your stay in a good hotel and camp we have chosen these below, based on their quality, conditions, and friendly budget. Each accommodation has a different price based on your preferred category.
According to the camps in the desert, we don't offer the standard category "Basic Lodge" in which the bathing facilities are shared. Our staff is always keen on the high-quality services to our clients by offering private tents with private bathing facilities.
Note: bear in mind that it's possible to mix between these accommodations; for example choosing the Medium Lodge on the first night and luxury on the second night and vice versa.
PRIVATE 4 DAYS TOUR FROM MARRAKECH PRICE
We can give you a general idea of what to expect when booking a 4 days tour from Marrakech to Merzouga.
The cost of such a 4 days Marrakech to Sahara desert tour can vary greatly depending on factors such as the level of accommodation, inclusions (meals, activities, etc.), and the number of travelers. A tour can cost anywhere from $360 per person on average.
BOOK YOUR 4 DAYS TOUR FROM MARRAKECH TO MERZOUGA DESERT
Email Us For Any Inquiry, And We Happily To Answer You ASAP
BEST MARRAKECH DESERT TOURS 4 DAYS
Reviews about our 4 days tour from Marrakech to Merzouga
Best 4 days tour from Marrakech
The 4 days Sahara desert tour Marrakech was very informative and Hassan catered the tour to our interests. We had a large group of people, and we were able to navigate all the activities we wanted and saw everything we wanted to see. The tour of the desert is once in a lifetime! I wouldn't miss it!
Moroccan magical experience
We had an amazing 4 days tour from Marrakech with our wonderful tour guide Hassan who was friendly, welcoming and very informative. He kindly customized our trip so we could sandbread with a nomad woman, try dune buggying, and visit all the places we wanted to see. We especially enjoyed learning about Hassan's upbringing, experiences and perspectives on Morocco and the Berber way of life…
Awesome 4 Days desert tour from Marrakech
The best trip by far! I loved our tour with Hassan. He took us to all the must see attractions and he was very patient with us as we stopped by a few shops for souvenirs. Hassan also invited us to his house for tea! Super hospitable. He would definitely go back to Morocco again. Thank you Hassan and tomorocco travel agency for making this trip the trip of a lifetime.
FAQ OF MARRAKECH DESERT TOUR 4 DAYS
FAQ for this 4 days Marrakech to Sahara desert tour
What should I pack for the Sahara Desert tour?
You should pack comfortable clothing suitable for both hot days and cooler nights in the desert. Don't forget essentials like sunscreen, a hat, sunglasses, and a reusable water bottle. It's also advisable to bring a backpack for personal items and a warm layer for the chilly desert nights.
Are there any health precautions I should take?
It's recommended to consult your doctor or a travel clinic before your trip to ensure you're up-to-date on vaccinations and to discuss any necessary medications or health precautions. Also, stay hydrated in the desert and be prepared for the physical demands of camel riding.
What is the accommodation like in the Sahara Desert?
Accommodations in the Sahara Desert typically consist of traditional desert camps. These camps offer basic but comfortable amenities, including beds or sleeping mats, blankets, and shared toilet facilities. Some luxury tours may offer more upscale options with private tents and en-suite bathrooms.
Is the tour suitable for children and elderly travelers?
The tour can be suitable for a range of ages, but it's essential to check with the us for specific age restrictions and recommendations. The desert environment can be physically demanding, so consider the fitness and comfort of elderly travelers and children.
What is the best time of year to take this tour?
The best time for the tour is during the cooler months, which are typically from October to April. Summers in the Sahara Desert can be scorching, making it uncomfortable for travel. However, it's essential to check weather conditions and tour availability with the operator.
How do I book a Marrakech to Sahara Desert tour?
To book your tour is easily than you think, simply we need a small deposit over our PayPal account, or through bank transfer. Then you will receive the tour confirmation. The rest of the payment should be paid during the first day of the trip to your driver/guide.
What is the cost of a 4-day Marrakech to Sahara Desert tour?
The cost can vary widely depending on the type of tour (standard or luxury), the season, and the number of the travelers.
Do I need a visa to visit Morocco for this tour?
Visa requirements depend on your nationality. Many visitors to Morocco can enter as tourists for up to 90 days without a visa. However, it's crucial to check the specific visa requirements for your country of residence before traveling.
Can I customize the tour itinerary or add extra days?
Yes we offer customization options and the ability to extend your tour. Discuss your preferences and any extra days you'd like to add with us when booking to see what options are available.
RELATED TOURS TO 4 DAYS FROM MARRAKECH TO MERZOUGA DESERT