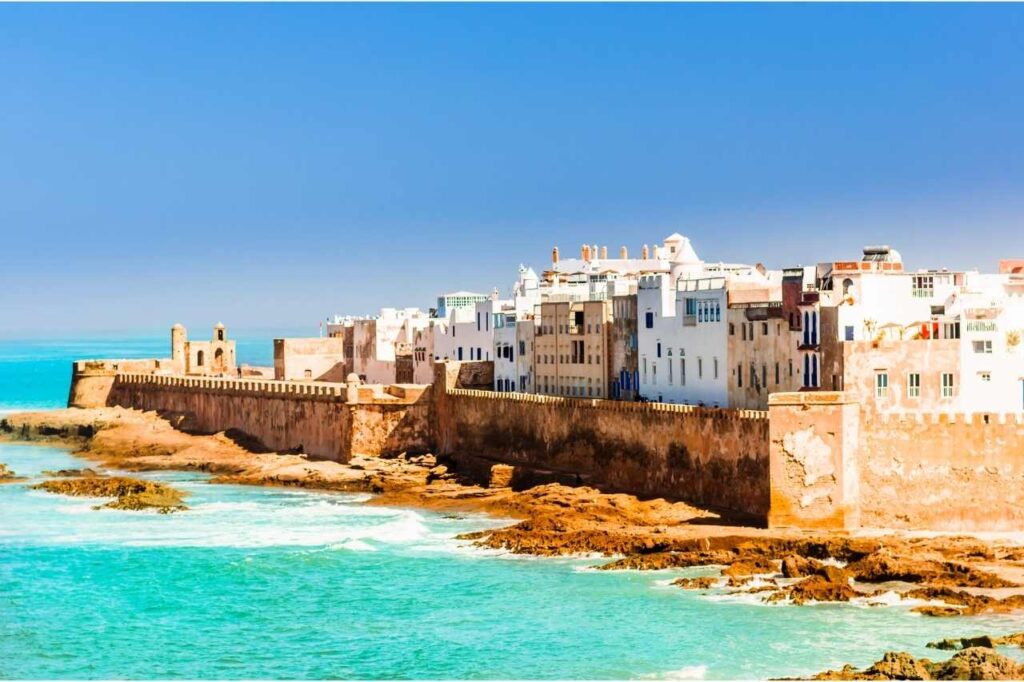 DAY TRIP FROM MARRAKECH TO ESSAOUIRA
Don't wait for the perfect moment; create it by booking your dream day trip from Marrakech to Essaouira and stepping into a world of possibilities
Essaouira is a coastal town located approximately 175 kilometers west of Marrakech, Morocco. Known for its stunning beaches, historic medina, and vibrant arts scene, Essaouira is a popular destination for day trip from Marrakech to Essaouira. The town is famous for its well-preserved architecture, colorful souks, and relaxed atmosphere, making it a delightful escape from the bustling city life of Marrakech.
ITINERARY OF DAY TRIP FROM MARRAKECH TO ESSAOUIRA
Full Itinerary of Day trip from Marrakech to Essaouira
7:00 AM: Departure from Marrakech Your day trip from Marrakech to Essaouira will start early in the morning. You'll be picked up from your designated location in Marrakech by your tour guide or driver in a comfortable vehicle.
9:30 AM: Arrival in Essaouira After a scenic drive of approximately 2.5 to 3 hours, you'll arrive in the charming coastal town of Essaouira. Known for its beautiful beaches, historic medina, and vibrant art scene, Essaouira offers a relaxed and enjoyable atmosphere.
10:00 AM: Guided Tour of Essaouira Medina Embark on a guided walking tour of Essaouira's UNESCO-listed medina. Your guide will take you through the narrow streets, showcasing the city's distinctive blue and white buildings, impressive wooden doors, and lively souks. Explore the bustling fish market, where you can witness the day's catch being sold.
11:30 AM: Visit Scala Fortress and Port Next, head to the Scala Fortress, located right by the sea. This historic fortification offers stunning panoramic views of the harbor and the Atlantic Ocean. Afterward, visit the bustling port, where local fishermen bring in their daily catch.
12:30 PM: Lunch Break Enjoy a delicious lunch at one of the local restaurants in Essaouira. The town is famous for its seafood, so be sure to try some of the fresh fish and seafood dishes.
2:00 PM: Relax at Essaouira Beach After lunch, take some time to relax at Essaouira's beautiful sandy beach. Whether you want to take a stroll along the shore, sunbathe, or try out some water sports, the beach offers a perfect setting for relaxation.
4:00 PM: Explore the Ramparts Walk along the ancient ramparts that encircle Essaouira. These walls offer excellent photo opportunities and a chance to learn about the city's history and defenses.
5:00 PM: Shopping and Free Time Spend some free time exploring the town on your own. Essaouira is famous for its vibrant arts and crafts scene, including intricate woodwork, textiles, and paintings. This is a great opportunity to pick up souvenirs and unique gifts to take home.
6:30 PM: Return to Marrakech Bid farewell to Essaouira and begin your Essaouira day trip back to Marrakech.
9:00 PM: Arrival in Marrakech You'll arrive back in Marrakech by around 9:00 PM. The day trip from Marrakech to Essaouira will end, and you'll be dropped off at your chosen location in the city.
INCLUSIONS AND EXCLUSIONS OF EXCURSION TO ESSAOUIRA FROM MARRAKECH
GOOD TO KNOW ABOUT THIS DAY TRIP FROM MARRAKECH TO ESSAOUIRA
You can always consult your driver about skipping some stops to spend more time elsewhere.
This Excursion day trip from Marrakech could be personalize to fits your requirements.
These prices are subject to change based on the current exchange rate.
To reserve the car, we require a 20% deposit of the total price.
We accept PayPal, bank transfers in Europe, credit cards, and cash (USD, Euro, GBP or MAD)
Children under the age of 12 receive a 25% discount, while children under the age of 5 are not charged.
BOOK YOUR 1 DAY TRIP TO ESSAOUIRA
Email Us For Any Inquiry, And We Happily To Answer You ASAP.
This excursion to Essaouira from Marrakech may not fits your requirements or you have another adea, you could fill out the contact form below and let us know your needs.
EXCURSION TO ESSAOUIRA FROM MARRAKECH REVIEWS
Reviews About Our day trip from Marrakech to Essaouira
Best route and guides so far!
My friends and I went to Morocco last year and had a great time there thanks to our guides who did a brilliant job driving us to wonderful places. Also, we met other groups travelling like us and became good friends! Looking forward to schedule the next visit 🙂
Fue una experencia increíble con el guía Mohammed! Más que guía se convirtió en un amigo para todos nosotros, hicimos un gran grupo. Las visitas eran de lo más divertido a la vez que bonitas. Recomendable 100% y si volviera a Marrakech no dudaría en volver a elegirlo!
RELATED DAY TRIP TO ESSAOUIRA EXCURSION FROM MARRAKECH
See some of other day trips from Marrakech if you interested in: