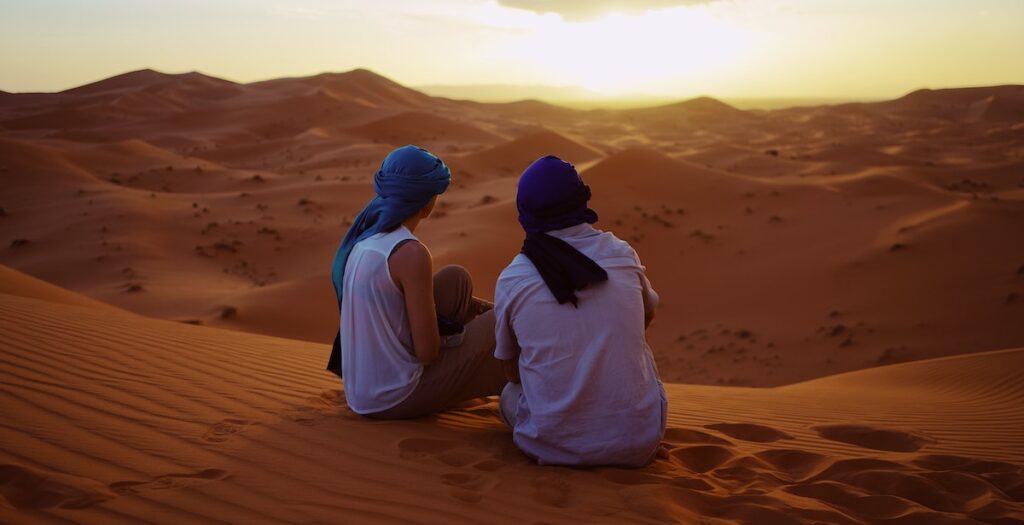 HONEYMOON ITINERARY IN MOROCCO
The honeymoon in Morocco is one of the most anticipated and remembered in a person's life. Although there are as many destinations as tastes have different couples, what is always agreed is that the chosen place has to be unique, able to meet all our expectations and get that whenever we think about our honeymoon we consider "the journey of our life".
WHY SPENDING HONEYMOON IN MOROCCO?
Morocco is a destination increasingly chosen by couples and there are many reasons that invite it. These are main things to do during your honeymoon in Morocco.
Romance destinations For Couples:
Marrakech; Without Marrakech, no list of Morocco's best honeymoon destinations would be complete. From its labyrinthine markets to its opulent mosques, this centuries-old city is brimming with personality.
Fes; Fes is Morocco's oldest city and one of the country's most charming tourist destinations. Fes has kept much of its medieval character; strolling through the city's narrow streets feels like stepping back in time. Visit the medina, one of the world's largest medieval cities, and don't forget to haggle for souvenirs at one of the many colorful markets.
Merzouga Sahara Desert; My teacher explained the difference between how to spell dessert and desert to me: There are two s's in the word that you want more of. This desert, on the other hand, is one you'll want to return to. The famous sand dunes (Erg Chebbi) have been portrayed in films. You can experience Berber culture at its most authentic here. You'll quickly realize why camels are one of nature's most fascinating animals.
Ouarzazate (Kasbah Ait Benhaddou); This city is known as the "doorway to the desert" because it is located high in the Atlas Mountains. Its vast, arid surroundings herald the start of the Sahara desert. As a result, you will notice a change in the landscape, which is a sight to behold. This Moroccan city is home to film studios and has hosted many A-list celebrities. The name 'Ouarzazate' means "noiseless" in Tamazigh, capturing the region's remote and tranquil setting.
Chefchaouen The Blue City: Chefchaouen is a magical town in Morocco's Rif Mountains. This is referred to as The Blue City. The design was chosen for religious rather than stylistic reasons. People would be reminded of God's presence, according to historical Jewish teachings, by dyeing thread with tekhelet (an ancient natural dye) and weaving it into talitim (prayer shawls). As a result, the blue buildings that are regularly repainted pay homage to this tradition.
Best Activities For Couples:
Camel Trekking in the Sahara
Wander the Souks
Hot Air Balloon Flight
Visit a Café off of the
Marrakech Square
Majorelle Gardens
Dinner on a Rooftop
Atlas Mountains
Spend night under the milky way in the desert.
Trying the Quad biking in the desert.
Wine taste
Traditional Hammam & SPA
ITINERARY OF THE HONEYMOON IN MOROCCO IN 6 DAYS
Day 1: Your First Day In Marrakech
Marrakech is Morocco's premier tourist destination, where ancient customs and traditions coexist with modernity in a way that no other city in the country does. While the sight of chain restaurants and familiar retail stores in the trendy Gueliz district may surprise you, hearing the sonorous Adhan call to prayer echo across the streets and smelling pungent spices in the old city's maze-like medina – one of the world's most colorful, diverse, and massive open-air markets – will whisk you right back into a comfortable culture shock.
Stroll through the colorful souks (markets) of Marrakech's medina, where hundreds of vendors sell everything from north African spices to highly sought-after Moroccan carpets. This is an excellent opportunity to purchase a pair of traditional babouches (leather slippers) for the rest of your journey.
Day 2: Drive from Marrakech to Dades Valley
After your breakfast at hotel, you say goodbye  Marrakech, to hit the road to Dades Valley near Ouarzazate – a gateway to the Sahara desert via the highest mountains ranges that will give you a stunning view of its panoramic  landscapes, and breathtaking views. 
You will have a chance to visit the famous Kasbah of Ait Ben Haddou ( declared a world heritage site by the UNESCO since 1987) it will make you feel like you step back to the ancient times of wars, traditional market, and life style of the nomads. 
Day 3: Drive to Sahara desert of Merzouga Dream Destination
On the 3rd day of Honeymoon itinerary in Morocco 6 day, we start the trip after your fresh breakfast on a stunning terrace with a lovely view of the valley, then taking the road of 1000 Kasbah through the colorful Berber villages of the Dades valley. 
Reaching the beautiful palm grove. We will continue to the Gorge of todgha , where you will enjoying a walk under the 300 meters high cliffs, it is a preferred place of mountain climbers.
After having the sweet lunch, we will head to Erg Chebbi dunes in Merzouga Sahara Desert. Once you arrive to the dunes of Erg Chebbi, you have around 1 hour camel ride among the stunning and golden sand dunes, enjoying the sunset, down to your camp in the oasis. 
Spending the night under nomadic tents or outside under shooting stars, after your meal at open air and Play drums with a local nomads.
Day 4: The life in the desert of Merzouga
Today is sort of a payback day. You now have the luxury of waking up in one of the world's most serene and impressive Sahara deserts after navigating busy city streets and driving lengthy stretches across mountains and desert.
Make the most of Erg Chebbi by sandboarding down the dunes and camel trekking across vast expanses; drinking tea with the local Berber people; spotting pink flamingos in rare salt lakes; preparing a special picnic on the dunes, snapping otherworldly photographs, and burying yourself up to your neck for a natural sandhammam to soothe your body after a day's worth of adventure. Back at camp, a variety of games, food, and beverages are available.
Day 5: Leave the desert and head to Fes
We'll have our breakfast at the hotel, and we will start your Honeymoon itinerary 6 days tour in Morocco by driving to one of the world's historical cities (Fes). We travel through the desert from Merzouga to Rissani, where we take a quick tour of its traditional market. On our way to Fes, we stop in Erfoud, a city known for its petrified marbles. We'll make a stop at Morocco's second-longest palm tree river. You'll be surrounded by beautiful scenery in the middle Atlas Mountains, providing you with numerous opportunities to take stunning photographs.
We'll arrive in the afternoon in Midelt, Morocco's apple capital, and you'll have lunch there. Following that, we will travel via Azrou through the largest cedar forest, where you will see Barbary monkeys waiting for you to feed them. Later, you'll drive through the Atlas Mountains and Ifran before arriving in Fes in the evening.
Day 6: Exploration around Fes
Fez, like Marrakech, has a large medina with endless sights, smells, and tastes to enjoy. Fes el Bali is the world's largest pedestrian-only center, and navigating its streets alongside donkeys, mules, and hawking vendors is like stepping back in time.
Visit Chouara Tannery, Fez's most iconic shop that still operates exactly as it did 1,000 years ago, or get above the action by climbing nearby Mount Zalagh, which offers a bird's eye view of the entire medina.
Leathers, carpets, spices, and lamps in the surrounding souks make last-minute souvenir shopping a breeze, but after traveling over 1,000 kilometers through diverse lands, you might prefer some downtime before leaving Morocco. And here your honeymoon itinerary 6 days tour comes to the end and we wish you the best in your life?
INCLUDED & EXCLUDED OF THIS HONEYMOON ITINERARY IN MOROCCO
HOW MUCH IT COST TO SPEND HONEYMOON IN MOROCCO?
This is a special event, and you may expect a price more higher then normal price of the other trips, and simply depends on your requirements.
To approximate the price, we need some brief info about your requirement, such as the category of the accommodation, and your ideas about how do you want to plan your Honeymoon itinerary in Morocco.
Fill out the contact form below, providing your full requirements.
Email us for any inquiry, and we happily to answer you ASAP.
Please make sure that your E-mail is correct to get our response.
This Honeymoon itinerary in Morocco 6 days can be tailored to be more personalized and unique.
Here's a packing list you can print out to help you prepare for your Moroccan desert tour.
You can always consult your driver about skipping some stops to spend more time elsewhere.
These prices are subject to change based on the current exchange rate.
You can ask if others are interested in sharing the tour, or let us know if you are interested in this yourself if you book early.
To reserve the car, we require a payment of 20% as the deposit of the total price.
We accept PayPal, bank transfers in Europe, credit cards, and cash (USD, Euro, GBP or MAD)
HONEYMOON TRIP IN MOROCCO - REVIEWS
Here are some of testimonials and the experience of our great customers based on their experience with us click on the link below to see all what people said about our tour operator.
Best route and guides so far!
My friends and I went to Morocco with To Morocco Travel and had a great time there thanks to our guides who did a brilliant job driving us to wonderful places. Also, we met other groups travelling like us and became good friends! Looking forward to schedule the next visit 🙂
Fue una experencia increíble con el guía Mohammed! Más que guía se convirtió en un amigo para todos nosotros, hicimos un gran grupo. Las visitas eran de lo más divertido a la vez que bonitas. Recomendable 100% y si volviera a Marrakech no dudaría en volver a elegirlo!
Excelente guía turístico.
Viaje hace un tiempo a Marrakech para visitar el desierto de Merzeuga y nos toco un guía turístico llamado Mohamed que nos hizo el viaje muy agradable, hablando un perfecto español, super simpático y muy conocedor del desierto, pues es nacido y vive en el. Totalmente recomendable.
Here are some of pictures where the tour go through if you want to see more pics follow us o Instagram or Facebook, the links are in the top bar above.
TOURS RELATED TO THE HONEYMOON TRIPS IN MOROCCO
Here are some related tours that you may interested in to spend your Honeymoon trip in desert of Morocco
FREQUENTLY ASKED QUESTIONS
The distance between Marrakech and Merzouga is 564 kilometers, with the first night spent in Dades Valley and the second day spent in Merzouga. You will spend the third day driving back to Marrakech.
Yes, you can bring your luggage with you, it can stay safe in the minivan.
How long is camel trek in Merzouga dunes?
The camel trek lasts for about 1 hour, depending on the season, daylight, etc.
Of course you can.
What is the Cancelation Policy?
Cancellation Policy: You will receive a full refund if you cancel at least 3 days in advance before the trip commences.