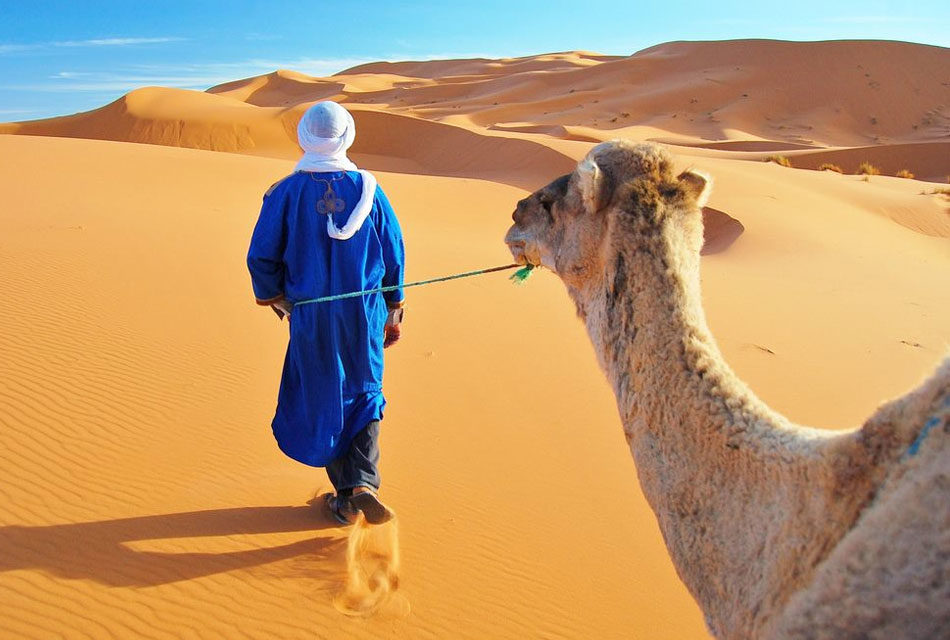 3 DAYS FES TO MARRAKECH DESERT TOUR
The 3 days Fes to Marrakech tour takes you on a captivating journey through the heart of Morocco. Discover the ancient medina of Fes, with its intricate architecture and bustling markets. Visit the Sahara Desert and experience a breathtaking camel ride at sunset. Explore the mesmerizing landscapes of the Atlas Mountains, with its scenic valleys and traditional Berber villages, ending the trip in Marrakech.
Note: If you want to modify this trip, let us know your idea or travel plans and we can create a similar or different program, which matches your needs.
ATTRACTIONS OF THE 3 DAYS FEZ TO MARRAKECH DESERT TOUR
Ifrane: Visit the charming town of Ifrane, often referred to as "Little Switzerland".
Cedar Forests of Azrou: Explore the beautiful cedar forests, home to Barbary macaque monkeys.
Drive through the Middleigh Atlas Mountains, and enjoy the scenic landscapes.
Drive through the picturesque Ziz Valley, known for its palm groves and stunning oases.
Experience a sunset camel trek across the golden sand dunes and spend the night at a desert camp.
Enjoy traditional Moroccan music and feast on a delicious dinner under the starry sky.
Watch the magical sunrise over the Sahara Desert.
Visit the traditional town of Rissani, known for its lively souks and historical significance as a former trading hub.
Explore the impressive Todra Gorges, towering canyon walls carved by the Todra River.
Dades Valley: Journey through the scenic Dades Valley, known for its unique rock formations and breathtaking landscapes.
Explore the iconic Ait Ben Haddou, a UNESCO World Heritage site and a famous filming location.
Journey through the majestic High Atlas Mountains, crossing the Tizi n'Tichka Pass, which offers stunning panoramic views.
FES TO MARRAKECH DESERT TOUR 3-DAY ITINERARY
Read carefully the trip itinerary to be aware of  what you will expect and visit in this amazing 3 days Fes to Marrakech tour.
DAY 1: Fes - Ifrane - Erfoud - Merzouga Erg Chebbi:
In the morning we will start our 3 days Fes to Marrakech tour, The drive will take approximately 7-8 hours, but you'll have several stops along the way to break up the long journey.
First, we will visit the beautiful city of Ifrane, known as "Little Switzerland" for its European-style architecture and clean streets. Take a stroll through the city and enjoy its charming atmosphere. Continue your drive through the Middle Atlas Mountains and stop at the cedar forests of Azrou. Here, you can encounter friendly Barbary macaque monkeys and enjoy the scenic beauty of the area.
In the evening arrive in Sahara desert of Merzouga, where you will experience the camel trek through the golden-colored sand dunes. 
After, free time in the dunes we go down into your desert camp and enjoy a traditional Moroccan dinner while being entertained by local music around a campfire. Spend the night in a comfortable tent under the starry desert sky.
DAY 2: Merzouga - Rissani - Todra Gorges - Dades Valley
Wake up early in the morning to watch the breathtaking sunrise over the Sahara Desert. After breakfast in the camp, we leave Merzouga and head towards the Dades Valley. Pass through Rissani, an ancient desert town known for its lively souks and historical significance, we will do a short walk in this town to explore it a little bit your your driver or guide.
After a traditional meal on the way we will visit the Todra Gorge, a magnificent series of limestone canyons carved by the Todra River.
Enjoy a scenic drive along the Dades Valley, known as the "Valley of a Thousand Kasbahs" due to its abundance of fortified villages.
Arrive at your accommodation in the Dades Valley, where you will have dinner and spend the night.
DAY 3: Dades Valley - Skoura - Ouarzazate - Ait Ben haddou - Marrakech
After breakfast, depart from the Dades Valley and continue your 3 days desert tour from Fes towards Marrakech. Stop for exploring the UNESCO World Heritage Site of Ait Ben Haddou, a fortified village that has been featured in numerous films and TV shows.
When will finish our lunch, we will drive through the stunning landscapes of the High Atlas Mountains, passing through the Tizi n'Tichka Pass, which offers panoramic views. Continue your drive to Marrakech, where you will be dropped off at your accommodation or a pre-arranged location, marking the end of the 3 days Fes to Marrakech tour.
INCLUSIONS AND EXCLUSIONS IN THE FES TO MARRAKECH DESERT TOUR
Private Transport A/C Minibus or luxury car with English speaking guide/driver.
Pick up & Drop off fromand to your Hotels/Airport.
One night at best hotel (Private room and bathroom).
One night at luxury camp (Private tent and bathroom).
Camel ride in the Sahara desert for each.
Meals: Dinner and Breakfast.
Visit for the Kasbah Of Ait Benhaddou.
Lunch meals.
Beverages
Entrance fees, other personal expenses and gratuities…
KNOW ABOUT THE 3 DAYS FES TO MARRAKECH TOUR
This 3 days Fes to Marrakech tour can be tailored to be more personalized and unique.
Be aware this 3 days tour from fes is ended in Marrakech, but if you want to end it at Fes it is possible, check this 3 days tour from Fes to desert
This trip will start from Fes but if you are in Marrakech and want to start your 4 days trip check this trip 4 days Marrakech to Sahara desert
Quad bike & Buggies in the dunes can be excluded as an extra.
Alcoholic drinks (available to purchase)
You can always ask your driver about stopping or skipping some stops to spend more time elsewhere.
These prices are subject to change based on the current exchange rate.
To reserve the car, we require a 20% deposit of the total price.
We accept PayPal, bank transfers in Europe, credit cards, and cash (USD, Euro, GBP, or MAD)
Children under the age of 12 receive a 25% discount, while children under the age of 5 are not charged.
WHY PRIVATE 3 DAYS DESERT TOUR FROM FES TO MARRAKECH?
There are several reasons why a private 3 days Fes to Marrakech tour can be a great choice for travelers. Here are some of the reasons:
Flexibility: Private tours offer more flexibility compared to group tours. You can customize your itinerary and make adjustments based on your preferences and interests.
Personalized Experience: With a private tour, you'll have a dedicated guide who can provide personalized attention and cater to your specific needs and interests.
Comfort and Privacy: Traveling in a private vehicle allows for a more comfortable and intimate experience. You can relax and enjoy the journey without the need to accommodate other travelers.
Scenic Route: The journey from Fes to Marrakech takes you through stunning landscapes, including the Atlas Mountains, Berber villages, and the Sahara Desert. A private tour allows you to enjoy these scenic routes at your own pace, stop for photos, or take short hikes to explore the surroundings.
Overall, a private 3 days Fes to Marrakech tour offers flexibility, personalized service, comfort, and the opportunity to explore the unique landscapes and cultural treasures of Morocco in a more intimate setting.
ACCOMMODATIONS OF THE TOUR
These hotels and camps are what we suggested, based on their high-quality services, also if you already have an idea about your own, it is possible to change these below.
Basic Lodge: 1st Night at Berber Desert Camp – 2nd Night at Hotel Babylon Dades or similar.
Medium Lodge: 1st Night at Ideal Desert Camp – 2nd Night at Ksar Sultan Dades or similar.
Luxury Lodge: 1st Night at Luxury Oasis Camp – 2nd Night at Hotel Xaluca Dades or similar.
NOTE: bear in mind that it's possible to mix between these accommodations; for example choosing the basic lodge on the first night and luxury on the second night and vice versa.
3-DAY DESERT TOUR FEZ TO MARRAKECH - REVIEWS
Best 3 day tour from Fes Ever
My friends and I went to Morocco with To Morocco Travel and had a great time there thanks to our guides who did a brilliant job driving us to wonderful places. Also, we met other groups travelling like us and became good friends! Looking forward to schedule the next visit 🙂
Stunning 3 days Fes desert trip ever
The best trip by far! I loved our tour with Hassan. He took us to all the must see attractions and he was very patient with us as we stopped by a few shops for souvenirs. Hassan also invited us to his house for tea! Super hospitable. He would definitely go back to Morocco again
Incredible trip to the desert of Merzouga
Unforgettable 3 days Fes to Marrakech tour, the driver and guide showed us beautiful places, friendly and professional treatment. The camp between the dunes was wonderful, concert with the berebwres and delicious food. I recommend it 100%
BOOKING - SEND US YOUR INQUIRY
Travel is the best teacher. Expand your horizons and book a trip to gain new perspectives and experiences.
Please make sure that your E-mail is correct to get our response.
FREQUENT ASKED QUESTIONS ABOUT 3 DAYS FES TO MARRAKECH TOUR
How long is the Fes to Marrakech tour?
The Fes to Marrakech tour typically lasts for 3 days.
What is the best way to travel from Fes to Marrakech?
The most common way to travel from Fes to Marrakech is by road. You can either take a private car or join a guided tour that includes transportation.
Are accommodations included in the tour?
Yes, accommodations are usually included in the Fes to Marrakech tour package. The type of accommodation can vary depending on the tour operator and package you choose. It could range from budget hotels to luxury riads or desert camps.
Are meals included in the tour?
Most Fes to Marrakech tour packages include meals, typically breakfast and dinner.
Is the tour guided?
Yes, the Fes to Marrakech tour is usually guided. You will have a knowledgeable guide who will provide information about the places you visit, help with language barriers, and ensure a smooth experience throughout the tour.
What should I pack for the tour?
It's recommended to pack comfortable clothing and footwear, especially for walking in the medinas and desert activities. Additionally, consider packing sunscreen, a hat, sunglasses, a camera, toiletries, and any necessary medications. It's always a good idea to check the weather forecast for your travel dates and pack accordingly.
Is it possible to extend the tour or add additional destinations?
In case you booked a private tour it will be possible to extend the tour or include additional destinations. This could incur extra costs and require adjustments to the itinerary.
What is the best time of year to take the Fes to Marrakech tour?
The Fes to Marrakech tour can be enjoyed throughout the year. However, it's advisable to avoid the peak summer months (July and August) due to high temperatures in the desert regions. Spring (March to May) and autumn (September to November) are generally considered pleasant times to visit, with milder temperatures and fewer crowds.