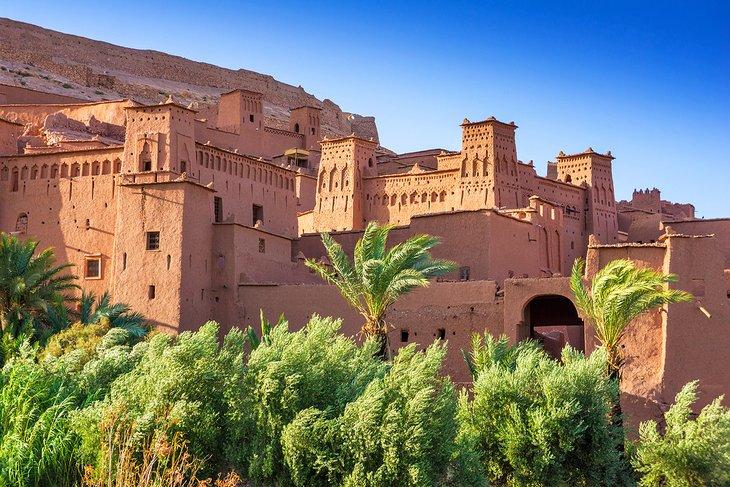 MARRAKECH TO FES 4 DAYS DESERT TOUR
This Marrakech to Fes 4 days desert tour allows you to immerse yourself in the diverse landscapes of Morocco, from the majestic Atlas Mountains to the breathtaking dunes of the Sahara Desert. It offers a perfect balance of cultural exploration, natural beauty, and desert adventures, providing an unforgettable experience of Morocco's enchanting landscapes.
Overall, the Marrakech to Fes 4 days tour offers a fantastic opportunity to experience the diverse landscapes, historical sites, and traditional culture of Morocco, making it an unforgettable journey.
THE HIGHLIGHTS OF THIS MARRAKECH TO FES 4 DAYS DESERT TOUR
High Atlas Mountains: You'll pass through the majestic Atlas Mountains, enjoying breathtaking scenery and traditional Berber villages along the way.
Ait Ben Haddou: This UNESCO World Heritage Site is a fortified village that served as a backdrop for numerous films.
Ouarzazate: Known as the "Hollywood of Africa," Ouarzazate is a popular filming location with its stunning landscapes and movie studios.
Todra Gorge: Located in the eastern part of the High Atlas Mountains, Todra Gorge is a dramatic canyon renowned for its towering cliffs and narrow passages.
Sahara Desert: One of the highlights of the tour is a visit to the Sahara Desert. You'll experience a camel trek through the golden sand dunes and watch the mesmerizing sunset and sunrise over the vast desert landscape.
Ziz Valley: Located between the Middle Atlas and High Atlas Mountains, the Ziz Valley is a green oasis with palm groves.
Having time to have fun with Barbary apes in Cedar forest.
Ifrane: Known as "Little Switzerland," Ifrane is a charming town with European-style architecture, beautiful gardens, and clean streets.
ITINERARY OF 4 DAYS DESERT TOUR MARRAKECH TO FES
DAY 1: MARRAKECH – ATLAS MOUNTAINS – KASBAH AIT BEN HADOU – DADES VALLEY:
You'll start your Marrakech to Fes 4 days desert tour in Marrakech and head towards the High Atlas Mountains, crossing the Tizi n'Tichka pass, which offers breathtaking views. You'll visit the UNESCO World Heritage site of Ait Ben Haddou, a famous kasbah used as a backdrop in many movies. Continuing your drive, you'll pass through the picturesque Skoura Oasis and reach the Dades Valley, known for its stunning rock formations and captivating scenery. You'll spend the night in a hotel or traditional riad in the Dades Valley.
DAY 2: DADES VALLEY - TODGHA GORGE – ERFOUD – MERZOUGA DESERT
After breakfast, you'll continue your journey towards the Erg Chebbi sand dunes in Merzouga. En route, you'll pass through the Todra Gorges, famous for their towering cliffs that reach up to 300 meters. Once you arrive in Merzouga, you'll experience a camel trek through the golden dunes of Erg Chebbi, where you'll witness a magical sunset. You'll spend the night in a traditional desert camp, enjoying a delicious dinner and traditional music under the starry sky.
DAY 3: FULL DAY IN THE SAHARA DESERT OF MERZOUGA
The second day is dedicated to exploring the desert further. After a fresh breakfast in the open air in the camp, we may have the opportunity to visit nomadic settlements, learn about their way of life, and interact with the local Berber communities. Then we continue our Marrakech to Fes 4 days desert tour to see another lifestyle of Khamliya village (original slaves of Sudan) there we will listen to Gnaoua music and explore their experience of the lifestyle. You can also try sandboarding on the dunes or simply relax and absorb the peaceful atmosphere.
DAY 4 : MERZOUGA - DESERT - ZIZ VALLEY- IFRAN - FES :
On the final day, you'll wake up early to witness the magical sunrise over the desert before departing for Fes. As you make your way north, you'll pass through the Ziz Valley, Erfoud, and the Middle Atlas Mountains, experiencing changing landscapes along the way. You'll also have the chance to visit the cedar forests of Azrou, where you might encounter wild monkeys. Finally, you'll arrive in Fes, one of Morocco's most enchanting cities, known for its labyrinthine medina, ancient mosques, and vibrant souks. The Marrakech to Fes desert tour 4 days ends with drop-off at your accommodation in Fes.
INCLUDED AND NOT INCLUDED IN THE TOUR
Keep in mind that these are inclusions and exclusions, and it's important to review in this Marrakech to Fes 4 days desert tour to understand what is included and what is not.
Private modern transportation with A/C.

Pick up & Drop off from your Hotel/Airport.

2 Nights in a good hotels (private room and toilet).
1 Night in the luxury camp in the heart of the desert (private tent and toilet).

A knowledgeable tour guide or driver to provide information about the sights, culture, and history along the way.

Local guide to visit the Kasbah of Ait Benhaddou.
Camel ride per each in the Sahara desert.
4×4 car vehicle for sightseeing around the Sahara desert.
Option to try the sandboarding on the camp.
Meals: Daily dinner and breakfast.
Flights: The tour generally does not include airfare to and from Morocco.
Personal expenses: Expenses such as souvenirs, snacks, and additional meals.
Entrance fees: Some attractions such as Atlas Studio.
Gratuities: Tips for guides, drivers,…
4 DAY TOUR FROM MARRAKECH TO FES PRICE
The prices for a 4 days tour from Marrakech to Fes can vary depending on several factors, including the level of accommodation, how many travelers, and the time of year you plan to travel. It's best to contact us to get the most up-to-date and accurate pricing information for your desired tour. We can provide you with specific details on the itinerary, accommodations, and costs associated with the Marrakech to Fes 4 days desert tour.
These are some hotels we recommended for this Marrakech to Fes 4 days desert tour, based on their high-quality services, if you already have ideas about some other accommodations, and where would you like to stay, it is possible to change these below.
BASIC LODGE:  1st Night at Hotel Babylon Dades or Similar – 2nd Night at Africa Luxury Camp. – 3rd Night at Riad Nezha, KASBAH MOHAYUT or similar
LUXURY LODGE: 1st Night at Xaluca Dades or Similar – 2nd Night at Luxury Oasis Camp. – 3rd Night at Riad Serai, or similar.
NOTE: you are free to mix between the accommodations.
BOOK YOUR 4 DAYS MARRAKECH TO FES DESERT TOUR
Escape the ordinary and embark on an unforgettable adventure! Book your dream trip today and create memories that will last a lifetime.
MARRAKECH TO FES 4 DAYS DESERT TOUR - REVIEWS
Here are some reviews of our customers based on their experience with us, click on the link below to see all what people said about our tour services.
Best Marrakech desert trip ever
My friends and I went to Morocco with To Morocco Travel and had a great time there thanks to our guides who did a brilliant job driving us to wonderful places. Also, we met other groups travelling like us in the same itinerary of 4 days Marrakech to fes via desert, and became good friends! Looking forward to schedule the next visit 🙂
Amazing desert tour from Marrakech
The best trip by far! I loved our tour with Hassan. He took us to all the must see attractions and he was very patient with us as we stopped by a few shops for souvenirs. Hassan also invited us to his house for tea! Super hospitable. He would definitely go back to Morocco again
Incredible trip to the desert of Merzouga
Unforgettable 4 days Marrakech trip to the desert, the driver and guide showed us beautiful places, friendly and professional treatment. The camp between the dunes was wonderful, concert with the berebwres and delicious food. I recommend it 100%
RELATED TOURS TO MARRAKECH TO FES 4 DAYS DESERT TOUR
Here are some of the similar Marrakech to fes 4 days desert tour, in case you interested in.
FREQUENTLY ASKED QUESTIONS
How long is the tour from Marrakech to Fes?
The tour from Marrakech to Fes typically lasts for 4 days.
What is the distance between Marrakech and Fes?
The distance between Marrakech and Fes is approximately 530 kilometers (330 miles) by road.
What are the highlights of the tour from Marrakech to Fes?
The tour from Marrakech to Fes covers a variety of highlights, including exploring the Atlas Mountains, visiting the UNESCO World Heritage site of Ait Ben Haddou, experiencing the Sahara Desert with camel trekking and spending a night in a desert camp, exploring the Todgha Gorges, and visiting the historical cities of Erfoud, Rissani, and Ifrane.
Is accommodation included in the tour package?
Yes, accommodation is typically included in the tour package. You can expect to stay in various types of accommodations, such as hotels, riads (traditional Moroccan houses), and a desert camp during the Sahara Desert excursion.
Are meals included in the tour package?
Most tour packages include meals, typically breakfast and dinner. However, it's advisable to check with the tour operator or read the package details to get specific information about the meals included.
What transportation is provided during the tour?
Transportation is usually provided by a comfortable, air-conditioned vehicle, such as a minivan or a 4×4 vehicle, depending on the group size. The vehicle will be used for traveling between cities, attractions, and accommodations.
Are English-speaking guides provided during the tour?
Yes, English-speaking guides are often provided during the tour. They will accompany you throughout the journey, provide information about the places you visit, and assist you with any questions or concerns.
What should I pack for the tour?
It's recommended to pack comfortable clothing suitable for various weather conditions, as temperatures can vary between destinations. Additionally, bring sunscreen, a hat, sunglasses, sturdy walking shoes, a jacket or sweater for cooler evenings, and a swimsuit if you plan to visit any water bodies or swimming pools.
Can I customize the tour itinerary?
Depending on the tour operator and package, there may be some flexibility to customize the itinerary. It's best to discuss your preferences with the tour operator to check if any modifications can be made.