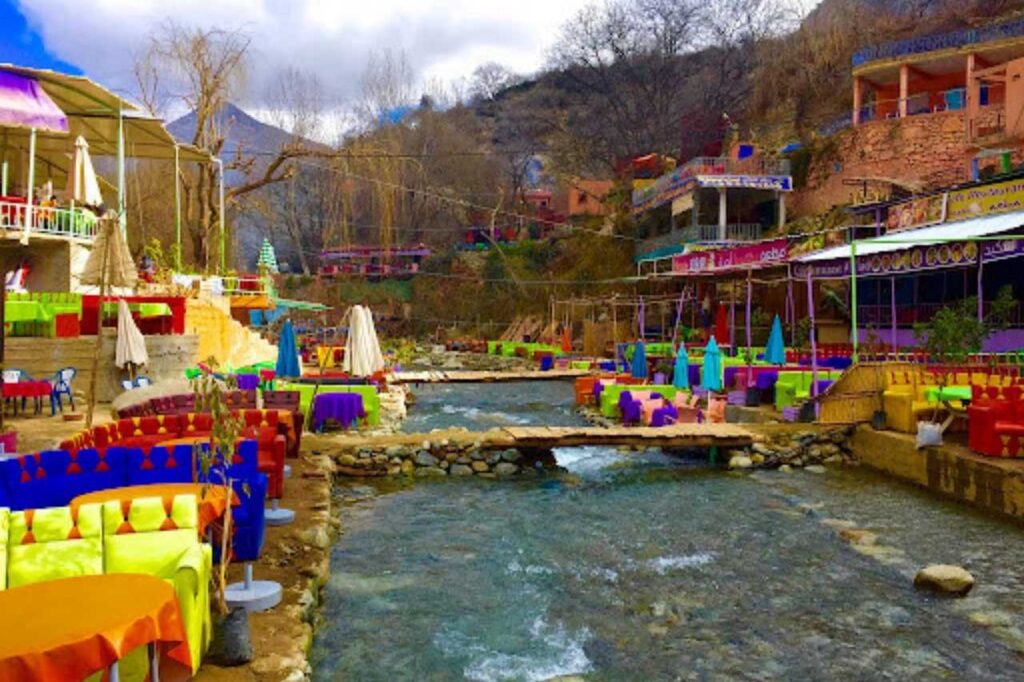 DAY TRIP TO OURIKA VALLEY FROM MARRAKECH
Let us make your day trip to ourika valley from Marrakech come true with experts
On this day trip to ourika valley from Marrakech and Setti Fatma waterfalls, leave for the foothills of the High Atlas Mountains. Ourika is known for its amazing waterfalls, landscapes, striking roads, and beautiful traditional villages. You will visit a herb garden and drink traditional mint tea served by the locals.
ITINERARY OF DAY TRIP TO OURIKA VALLEY FROM MARRAKECH
Day trip : Marrakech to Ourika Valley
ourika waterfall is the most visited area in the high Atlas Mountains. Hike to the waterfalls with the help of a local guide. Arhbalou village is very attractive, with a plethora of small restaurants owned by Berber families located along the water's edge.
Our ourika valley day tour will begin at 9 a.m. from your hotel/Riad in Marrakech by an English or Spanish-speaking driver or guide, and will travel in an exclusive licensed A/C vehicle. On this private escorted day trip to Ourika Valley, you will escape the heat and hustle and bustle of Marrakech and have a taste of Berber life as you hike around the village with a local guide (we arrange the local guide for the walk, which lasts between 2 and 3 hours, but you can shorten or lengthen it to suit your pace and comfort) and enjoy the panoramic view of the village's small waterfalls.
We'll return to Marrakech the same way we came. The arrival time in the city is around 5.00 p.m.
INCLUDED AND EXCLUDED IN DAY TRIP TO OURIKA VALLEY FROM MARRAKECH
GOOD TO KNOW ABOUT THIS DAY TRIP TO OURIKA VALLEY
You can always consult your driver about skipping some stops to spend more time elsewhere.
This Ourika Valley day trip from Marrakech could be personalize to fits your requirements.
These prices are subject to change based on the current exchange rate.
To reserve the car, we require a 20% deposit of the total price.
We accept PayPal, bank transfers in Europe, credit cards, and cash (USD, Euro, GBP or MAD)
Children under the age of 12 receive a 25% discount, while children under the age of 5 are not charged.
Email Us For Any Inquiry, And We Happily To Answer You ASAP.
This excursion to Ourika Valley from Marrakech may not fits your requirements or you have another adea, you could fill out the contact form below and let us know your needs.
OURIKA VALLEY DAU BTRIP FROM MARRAKECH REVIEWS
Reviews About Our Marrakech Day Trip To Ourika Valley
Best route and guides so far!
My friends and I went to Morocco last year and had a great time there thanks to our guides who did a brilliant job driving us to wonderful places. Also, we met other groups travelling like us and became good friends! Looking forward to schedule the next visit 🙂
Fue una experencia increíble con el guía Mohammed! Más que guía se convirtió en un amigo para todos nosotros, hicimos un gran grupo. Las visitas eran de lo más divertido a la vez que bonitas. Recomendable 100% y si volviera a Marrakech no dudaría en volver a elegirlo!
BEST PLACES TO VISIT IN DAY TRIP TO OURIKA VALLEY
In this day tour from Marrakech to Ourika valley, we will go through the several amazing places that worth to visit for instance High atlas mountains.
Morocco's Atlas Mountains are a remarkable area of stunning scenery, rural Berber villages, ruined Kasbahs and great hiking. and this is your chance to pass by the famous range of the Atlas and enjoy by yourself.
Life in the Atlas Mountains' Berber villages is still lived in a traditional manner. Women tend to the fields, while shepherds lead their nomadic flocks through some of the most beautiful scenery on the planet. and through this trip we will do a stop to visit one of the Argan oil coopertive in the village.
RELATED DAY TRIP TO OURIKA VALLEY EXCURSION FROM MARRAKECH
See some of other day trips from Marrakech if you interested in:
We are here for any suggestions, advice and Reservation. CONTACT US