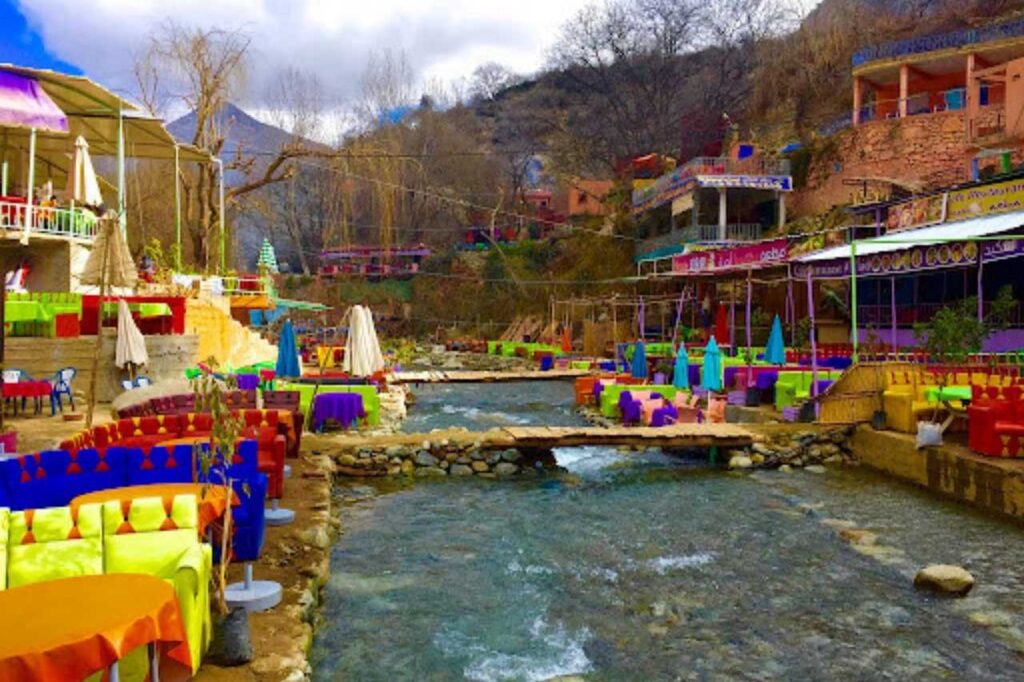 DAY TRIP TO OURIKA VALLEY FROM MARRAKECH
The world is calling, and it's time to answer. Booking a 1 day trip to Ourika Valley is the first chapter of your incredible travel story
The Ourika Valley is a beautiful and picturesque destination located in the High Atlas Mountains of Morocco, just a short drive away from Marrakech. This day trip to Ourika Valley will take you on a journey through stunning landscapes, traditional Berber villages, and the opportunity to explore the natural beauty of the valley. You'll have a chance to visit local markets, hike to waterfalls, and experience the unique culture of the Berber people.
ITINERARY OF DAY TRIP TO OURIKA VALLEY FROM MARRAKECH
Full Itinerary of Day trip from Marrakech to Ourika Valley
8:00 AM: Meet your guide and driver at your designated pickup location in Marrakech.
8:30 AM: The Day trip to Ourika Valley will depart from Marrakech and head towards the Ourika Valley. Enjoy the scenic drive through the Atlas Mountains, passing Berber villages and picturesque landscapes.
9:30 AM: Arrive at a traditional Berber village in the Ourika Valley. Take a short walk through the village and immerse yourself in the local culture. You can also visit a local market if it falls on a market day (typically Mondays).
10:30 AM: Visit a traditional argan oil cooperative. Learn about the process of making argan oil and its various uses in local cuisine and cosmetics. You'll have the opportunity to purchase some authentic argan oil products.
11:30 AM: Continue the journey deeper into the Ourika Valley. Admire the lush greenery, terraced fields, and beautiful waterfalls along the way.
12:30 PM: Arrive at a scenic spot in the valley for a picnic lunch. Your guide will provide a delicious packed lunch with local specialties. Enjoy your meal amidst the breathtaking natural surroundings.
1:30 PM: After lunch, take a short hike to one of the waterfalls in the area. Your guide will lead the way and provide information about the flora and fauna of the region.
3:00 PM: Return to the vehicle and start the journey back to Marrakech.
4:30 PM: Stop at a local tea house in a village along the way. Relax and enjoy a refreshing cup of Moroccan mint tea while taking in the stunning views.
5:30 PM: Continue the drive back to Marrakech.
6:30 PM: Arrive back in Marrakech and ending this Day trip to Ourika Valley by drop-off at your original pickup location or a central location in the city.
Please note that the timings are approximate and can vary based on factors such as weather conditions, traffic, and the pace of the group. Also, keep in mind that this itinerary may be subject to change based on your preferences and any additional activities you might want to include. Always communicate your preferences and expectations to us to ensure a personalized experience.
INCLUDED AND EXCLUDED IN DAY TRIP TO OURIKA VALLEY FROM MARRAKECH
GOOD TO KNOW ABOUT THIS DAY TRIP TO OURIKA VALLEY
You can always consult your driver about skipping some stops to spend more time elsewhere.
This Ourika Valley day trip from Marrakech could be personalize to fits your requirements.
These prices are subject to change based on the current exchange rate.
To reserve the car, we require a 20% deposit of the total price.
We accept PayPal, bank transfers in Europe, credit cards, and cash (USD, Euro, GBP or MAD)
Children under the age of 12 receive a 25% discount, while children under the age of 5 are not charged.
Email Us For Any Inquiry, And We Happily To Answer You ASAP.
This excursion to Ourika Valley from Marrakech may not fits your requirements or you have another adea, you could fill out the contact form below and let us know your needs.
OURIKA VALLEY DAU BTRIP FROM MARRAKECH REVIEWS
Reviews About Our Marrakech Day Trip To Ourika Valley
Best route and guides so far!
My friends and I went to Morocco last year and had a great time there thanks to our guides who did a brilliant job driving us to wonderful places. Also, we met other groups travelling like us and became good friends! Looking forward to schedule the next visit 🙂
Fue una experencia increíble con el guía Mohammed! Más que guía se convirtió en un amigo para todos nosotros, hicimos un gran grupo. Las visitas eran de lo más divertido a la vez que bonitas. Recomendable 100% y si volviera a Marrakech no dudaría en volver a elegirlo!
RELATED DAY TRIP TO OURIKA VALLEY EXCURSION FROM MARRAKECH
See some of other day trips from Marrakech if you interested in: