Are you confused to choose the best desert in Morocco to visit? Get to know the disadvantages and advantages between the best deserts in Morocco
OVERVIEW ABOUT THE BEST DESERT IN MOROCCO
Nestled in the heart of North Africa, Morocco boasts a diverse landscape that includes majestic mountain ranges, lush oases, and, of course, its captivating deserts. The deserts of Morocco hold a magnetic allure for adventurous travelers and intrepid explorers seeking an otherworldly experience amidst the vast sea of sand. In this blog, we will embark on a virtual journey to explore the kinds of deserts in Morocco, their unique features, and the factors that make each one special.
KINDS OF BEST DESERTS IN MOROCCO
Morocco is home to three main deserts, each presenting its own distinct charm and character:
The Sahara Desert: Stretching across several countries, the Sahara Desert also claims a significant portion of Morocco's southeastern region. As the largest hot desert in the world, it impresses visitors with its immense sand dunes, breathtaking sunrises and sunsets, and the endless horizon that seems to stretch into infinity. The iconic Erg Chebbi dunes near Merzouga are among the highlights of the Sahara, where travelers can partake in camel treks and sleep under the stars in traditional Berber camps.
The Erg Chigaga Desert: Situated further south, the Erg Chigaga Desert is characterized by its remote and untouched beauty. Compared to the Erg Chebbi dunes, Erg Chigaga offers a more tranquil and off-the-beaten-path experience. The towering sand dunes here are equally awe-inspiring and provide opportunities for sandboarding and peaceful solitude.
The Agafay Desert: Unlike the vast stretches of sand in the Sahara and Erg Chigaga, the Agafay Desert stands out for its rocky terrain. Located near Marrakech, this desert offers a more accessible and convenient escape for travelers with limited time. The stony landscape, adorned with scattered shrubs and wildflowers, creates a unique atmosphere perfect for desert picnics and stargazing.
THE DIFFERENCE BETWEEN DESERTS IN MOROCCO
While all three best desert in Morocco share some similarities, they also possess distinctive features that set them apart:
Geography and Landscape: The Sahara's vastness makes it an unparalleled desert landscape, with massive dunes reaching heights of up to 500 feet. Erg Chigaga's remoteness and less-visited status lend it an air of isolation and pristine wilderness. In contrast, the Agafay Desert captivates visitors with its moon-like rocky formations, creating a striking contrast to the sandy dunes of its counterparts.
Accessibility: The Erg Chebbi dunes are perhaps the most easily accessible of the three deserts, attracting a larger number of tourists. On the other hand, Erg Chigaga's relative seclusion requires more effort to reach, making it a preferred choice for travelers seeking a more authentic and secluded desert experience. The Agafay Desert, being closest to Marrakech, is perfect for a day trip or a short desert getaway.
Cultural Experiences: Each desert also offers unique cultural encounters. The Sahara Desert presents an opportunity to interact with the local Berber people and learn about their traditional nomadic lifestyle. Erg Chigaga's remoteness enhances the sense of immersion in Berber culture, while the Agafay Desert allows travelers to combine the desert experience with the vibrant atmosphere of Marrakech.
WHAT ARE THE CONSEQUENCES DO THE DESERT HAVE?
Erg Chigaga is located in a much more remote area, many km away from the nearest towns, so the feeling of isolation is greater, and this gives it a special charm.
Erg Chebbi is the more touristy desert of the two, being more accessible. It is the one that is usually included in multi-day packages in Morocco and this helps to have better camps and to be more organized (but there are more people).
Visiting the Erg Chigaga desert is more expensive (about €80), since it is further away and the costs are higher. A night in an Erg Chebbi camp can cost around €50.
WHICH BEST DESERT IN MOROCCO TO VISIT?
Morocco is home to several stunning deserts, each offering a unique experience and landscape. The two most popular and best desert in Morocco to visit are the Sahara Desert and the Erg Chebbi sand dunes.
Sahara Desert: The Sahara is one of the world's largest deserts, and a significant part of it stretches into southern Morocco. Visiting the Sahara allows you to experience vast sand dunes, picturesque landscapes, and an opportunity to witness breathtaking sunrises and sunsets. Merzouga and Zagora are popular starting points for Sahara desert excursions.
Erg Chebbi: Erg Chebbi is a specific region within the Sahara Desert, located near the town of Merzouga. It's famous for its towering sand dunes, some of which can reach up to 150 meters in height. Tourists often enjoy camel treks and camping in the desert to experience its beauty more intimately.
HOW TO CHOOSE A GOOD CAMP TO STAY IN THE DESERT?
But it is not only important to know which best desert in Morocco to visit, you also have to find a good camp that guarantees that the experience will be as enriching as possible. And for that, take these factors into account.
The most important thing is its location: the camps by law cannot be installed inside the desert itself, so they will be on its limits. This occurs in both deserts, so it is key that the chosen camp is very close to a set of dunes of a certain size, in order to walk to the top of one of them and enjoy the panorama. Always keeping in mind that we are NOT going to join any tour to see the sunset with a dromedary.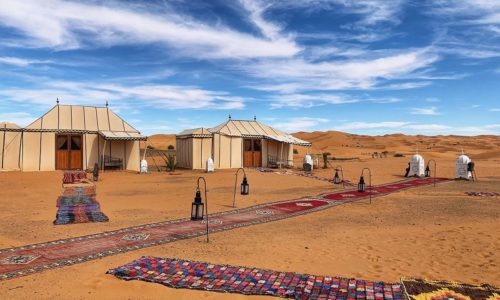 As we told you before, you will have to locate the exact location of the camp on Google Maps (satellite version) or Google Earth and see if there are considerable dunes within a radius of 500-700 meters. Walking more than 1 km up the dunes may be too much. This is the same for both deserts.
Then you have to opt for a standard camp or a deluxe camp. The biggest difference is that some have a private bathroom inside the tent, while the others are shared bathrooms. Also change the type of food, have or not electricity in the store, if they have a fan, details and more luxurious decoration… But no store has air conditioning (and thank you, remember that you are living an experience in the desert!). The camps usually have between 8 and 16 private tents, obviously the smaller the better.
These camps are contracted as part of a package, which usually includes food, transportation, some activity and a dance and song show at night, in addition to the night in a private tent (of a higher or lower category). These packages can be contracted in different ways:
Negotiate directly in nearby cities with local agencies.
Online on the websites of these agencies, or through pages such as booking, Airbnb or Civitatis (here is an example).
Within a larger package of several days in Morocco.
The camps are similar in both deserts, although we do have the feeling that they are more prepared in Erg Chebbi, with more beautiful tents and better facilities. Being a much more accessible location, maintenance is not so complicated. However, at the Erg Chigaga camp they let us take our beds out of the tent and sleep in the open (top experience!).
BEST DESERT TOURS IN MOROCCO