BEST DESERT IN MOROCCO TO VISIT
Are you confused to choose the best desert in Morocco to visit? Get to know the disadvantages and advantages between the best deserts in Morocco
What is the best desert to visit in Morocco? Erg Chebbi Or Erg Chigaga
Anyone who is planning a trip to Morocco for several days will have marked spending a night in the desert in red. This is one of the experiences that you have to do at least once in your life. Does it fit into your plans? Below we will tell you which desert to visit in Morocco, with a comparison between the two, in case you wonder which is the best desert in Morocco to visit?
And it is that in Morocco you can fulfill this dream twice! Because this country has two dune areas where a few camps have been set up where you can sleep: Erg Chigaga (from Zagora or M'hamid) and Erg Chebbi (from Merzouga). If you only have time to visit one of the two and you don't know which one to choose, we are going to compare both to help you answer the question "which desert to visit in Morocco?".
Get to know about the desert of Morocco
Actually, it is not that there are two deserts in Morocco. Both are part of the huge Sahara Desert… but how is it possible if they are so far from each other? We have a wrong idea of what a desert is. Not everything is large sand dunes, but the desert is made up of stretches of stony, very arid plains, called hammada, and areas of sand dunes, called erg.
If you have chosen to visit the Erg Chigaga desert, you will quickly realize that to reach the dunes (the erg) you will have to cross a flat terrain with small stones (the hammada).
Where are the best desert in Morocco?
The two deserts are located in the southeastern part of Morocco, close to the border with Algeria, but separated by 260 km in a straight line (by road 400-500 km). So to visit them you will have to do it from different places:
Erg Chigaga: from Zagora or Mhamid
Erg Chebbi: from Merzouga
The biggest difference is that the start of Erg Chigaga is about 40 km from Mhamid, and about 65 km from Zagora, so to get there you will have to hire a package with jeep transport (they usually include some intermediate stops, such as Berber camps , oasis, etc…). This tour is usually done in 2 hours.
On the contrary, Erg Chebbi is one step away (literally) from Merzouga and Hassilabied, so you can walk to some medium-sized dune from your own accommodation, or go to the camp by jeep, but in a much shorter journey. (obviously there is also the option of dromedaries, but we discarded it).
What consequences does the desert have?
Erg Chigaga is located in a much more remote area, many km away from the nearest towns, so the feeling of isolation is greater, and this gives it a special charm.
Erg Chebbi is the more touristy desert of the two, being more accessible. It is the one that is usually included in multi-day packages in Morocco and this helps to have better camps and to be more organized (but there are more people).
Visiting the Erg Chigaga desert is more expensive (about €80), since it is further away and the costs are higher. A night in an Erg Chebbi camp can cost around €50.
Natural differences of the deserts of Morocco
In terms of size, Erg Chigaga is larger, with an approximate extension of 25 x 15 km. Erg Chebbi reaches 20 km long by 10 km wide.
Second is the height of the dunes. Before going, we tried to find out which of the two deserts had the highest dunes, but the information we found was not very precise. Apparently, the height of the highest dune of Erg Chigaga is 300 meters, by 150 meters of Erg Chebbi. However, when we visited both deserts we realized that it is not something to obsess over either. The important thing is to choose a camp that is close to a group of dunes of a certain size. To do this, we recommend using Google Maps or Google Earth and locate the camp where you will stay that night. If you see that the nearby dunes cast enough shade, you have succeeded. You can also use the measure distance tool, and search in a radius of about 500-700 meters from the camp, beyond that it's a bit heavy to walk.
Finally, the color of the sand is different in both deserts. In Erg Chigaga the sand is yellow, while in Erg Chebbi you have more reddish tones. We personally liked this second color more.
Although none of these three are decisive factors in choosing one desert or another, it is good that you take it into account.
How to choose a good camp in the Sahara desert in Morocco?
But it is not only important to know which desert to visit in Morocco, you also have to find a good camp that guarantees that the experience will be as enriching as possible. And for that, take these factors into account.
The most important thing is its location: the camps by law cannot be installed inside the desert itself, so they will be on its limits. This occurs in both deserts, so it is key that the chosen camp is very close to a set of dunes of a certain size, in order to walk to the top of one of them and enjoy the panorama. Always keeping in mind that we are NOT going to join any tour to see the sunset with a dromedary.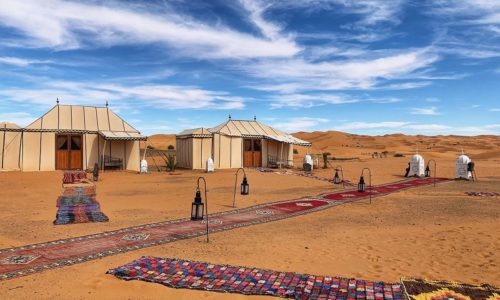 As we told you before, you will have to locate the exact location of the camp on Google Maps (satellite version) or Google Earth and see if there are considerable dunes within a radius of 500-700 meters. Walking more than 1 km up the dunes may be too much. This is the same for both deserts.
Then you have to opt for a standard camp or a deluxe camp. The biggest difference is that some have a private bathroom inside the tent, while the others are shared bathrooms. Also change the type of food, have or not electricity in the store, if they have a fan, details and more luxurious decoration… But no store has air conditioning (and thank you, remember that you are living an experience in the desert!). The camps usually have between 8 and 16 private tents, obviously the smaller the better.
These camps are contracted as part of a package, which usually includes food, transportation, some activity and a dance and song show at night, in addition to the night in a private tent (of a higher or lower category). These packages can be contracted in different ways:
Negotiate directly in nearby cities with local agencies.
Online on the websites of these agencies, or through pages such as booking, Airbnb or Civitatis (here is an example).
Within a larger package of several days in Morocco.
The camps are similar in both deserts, although we do have the feeling that they are more prepared in Erg Chebbi, with more beautiful tents and better facilities. Being a much more accessible location, maintenance is not so complicated. However, at the Erg Chigaga camp they let us take our beds out of the tent and sleep in the open (top experience!).
So which desert to visit in Morocco?
Before traveling and with all the information we had, we were convinced that the experience would be more special in Erg Chigaga. Basically because it is in a more remote place, because it is a bigger desert, with higher dunes and because it is much less touristy. And all these premises were fulfilled.
In Erg Chebbi the camp was much better, but all the tents were occupied and other camps were just as full around it. There is no interaction with the other camps, but there is no real feeling of being in a remote place.
But in terms of beauty, both deserts are extremely beautiful. The experience that you are going to live will be just as spectacular no matter which desert you choose.
We will summarize in our opinion, which of the two deserts wins in different factors:
Sensation of being in an isolated place: Erg Chigaga
Less Tourist Circus: Erg Chigaga
Dune size and landscape: both
Quality of the camps: Erg Chebbi
Price: Erg Chebbi
Ease of getting there: Erg Chebbi
If you have enough time and the route you are planning on your trip to Morocco does not affect you, we would opt for Erg Chigaga. But if you can only visit Erg Chebbi or it is much easier for you to include it in your trip, you can rest easy because the experience will be just as wonderful. We cheated and by visiting both we got out of trouble.
We hope that after seeing the differences between Erg Chebbi Erg Chigaga you can now decide on which desert to visit in Morocco. And you, have you been to either of them? What is your favorite?
Best Morocco desert tours