WHAT TO SEE & THINGS TO DO IN CHEFCHAOUEN
Enjoy these best 10 Things To Do In Chefchaouen which is considered the most visited city in Morocco and where the tourist will enjoy a trip back in time
Before we get into these Best 10 things to do in Chefchaouen. Chefchaouen is Nestled in the heart of the Rif Mountains in Northern Morocco, Chefchaouen is a hidden gem often referred to as the "Blue Pearl" or "Blue City" due to its stunning blue-washed buildings. With its picturesque streets, rich history, and vibrant culture, Chefchaouen has become a must-visit destination for travelers seeking a unique and enchanting experience. In this blog, we'll take you on a journey through the city's history, how to get there, and the top things to see and do while visiting this magical Moroccan town.
Chefchaouen is a destination that will leave you mesmerized and inspired. From its cobalt-blue streets to its rich cultural heritage, this "Blue Pearl" of Morocco offers a treasure trove of experiences for every traveler. So, pack your bags, grab your camera, and get ready to create memories that will last a lifetime in this magical Moroccan town.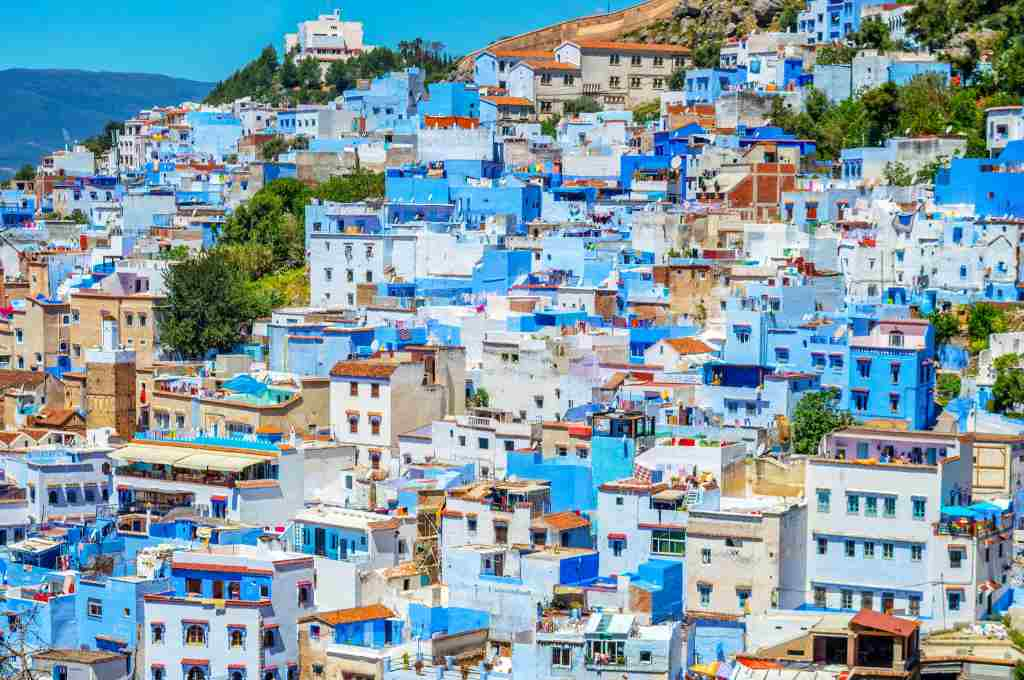 BRIEF HISTORY ABOUT CHEFCHAOUEN
Chefchaouen, founded in 1471, has a fascinating history that adds to its allure. The city was originally established as a fortress by the Berber chieftain Moulay Ali Ben Moussa Ben Rached El Alami to resist the Portuguese invasion. Later, in the 15th century, Chefchaouen became a haven for Muslim and Jewish refugees fleeing the Spanish Reconquista. The Jewish influence is still evident in the Mellah, the old Jewish quarter, which features a synagogue and historical artifacts.
HOW TO GET TO CHEFCHAOUEN?
Chefchaouen is accessible by various means of transportation, and each option offers a unique experience of Morocco's diverse landscapes.
Fly: If you're coming from abroad or other Moroccan cities, you can fly to Tangier Ibn Battuta Airport, which is the nearest international airport. From there, you can take a taxi or rent a car to Chefchaouen, approximately a 2 to 3-hour drive.
Public Transport: Morocco's reliable network of buses connects major cities, and you can easily find a bus from Tangier, Fez, or other nearby towns to Chefchaouen. Buses are cost-effective, and the journey provides scenic views of the countryside.
Private Car: Renting a car gives you the freedom to explore the region at your own pace. The drive from Tangier or other major cities is straightforward, and the roads are well-maintained.
Transport Touristic: As we are a tour operator based in Morocco, we organize trips around Morocco including Chefchaouen, starting the trip from anywhere in Morocco. If you are looking to plan a trip with and need assistance to cutomise your trip, feel free to contact us.
BEST 10 THINGS TO DO IN CHEFCHAOUEN
Welcome to Chefchaouen, a picturesque town nestled in the Rif Mountains of Morocco. Often referred to as "The Blue Pearl," Chefchaouen is famous for its stunning blue-painted streets, enchanting alleys, and rich cultural heritage. Visiting this charming town is like stepping into a fairytale, where time seems to slow down, and the vibrant blue hues evoke a sense of tranquility and wonder. In this blog, we'll take you on a virtual journey through best 10 things to do in Chefchaouen, highlighting the top sights to see and things to do in Chefchaouen during your visit.
1. WANDER THE BLUE ALLEYS:
Upon arriving in Chefchaouen, the first things to do in Chefchaouen will captivate you is the sea of blue-painted buildings. Stroll through the winding streets and alleyways, and you'll find yourself immersed in a unique and magical atmosphere. The blue color is not only aesthetically pleasing but also holds cultural significance. Locals believe that the blue paint wards off mosquitoes and keeps the town cool during hot summers.
The Chefchaouen Kasbah is a historic fortress located at the heart of the town. Built in the 15th century, the Kasbah served as a stronghold against invading forces. Today, it houses a museum showcasing traditional artifacts, intricate Moroccan crafts, and historical exhibits. As you climb to the top of the Kasbah, you'll be rewarded with a breathtaking panoramic view of the entire town.
Plaza Uta el-Hammam is one of the best things to do in Chechaouen, and it is the central square of Chefchaouen and a vibrant hub of activity. Surrounded by cafes and restaurants, it's an ideal place to relax, people-watch, and soak in the lively atmosphere. Don't forget to try some traditional Moroccan delicacies, like couscous or tagine, at one of the local eateries.
4. TASSEMATANE NATIONAL PARK:
For nature enthusiasts, a visit to Talassemtane National Park is a must. Just a short drive from Chefchaouen, this beautiful park offers a range of hiking trails, scenic viewpoints, and cascading waterfalls. The lush greenery provides a refreshing escape from the town's blue dominance, and the varied wildlife adds to the charm of this natural paradise.
A hike up to the abandoned Spanish Mosque rewards you with an unforgettable panoramic view of Chefchaouen and the surrounding countryside. The walk itself is an adventure, taking you through rocky terrain and scenic landscapes. It's the perfect spot to catch a magical sunset or sunrise over the blue city.
6. SHOPPING IN THE LOCAL CRAFTS:
Chefchaouen is a shopper's delight, especially for those interested in traditional Moroccan crafts. The town is known for its handmade rugs, intricately designed pottery, leather goods, and textiles. Support the local artisans and take home a unique piece of Chefchaouen's heritage as a souvenir.
7. EXPERIENCE TRADITIONAL HAMMAM:
To fully immerse yourself in Moroccan culture, indulge in a traditional hammam experience. Hammams are communal bathhouses where locals cleanse and socialize. Several establishments in Chefchaouen offer visitors the chance to enjoy a pampering and rejuvenating hammam ritual.
8. PHOTOGRAPHY AND ARTISTIC EXPLORATION:
For photographers and artists, Chefchaouen is a true gem. The blue-washed buildings and vibrant colors make for stunning compositions. Capture the essence of the town through your lens or take out your sketchbook to create your masterpiece inspired by the breathtaking surroundings.
9. ATTEND LOCAL FESTIVALS:
If you happen to visit Chefchaouen during one of its many festivals, you're in for a treat. The town celebrates several religious and cultural events throughout the year, with lively parades, traditional music, and local dances. These festivals offer a unique glimpse into the soul of the community and their cherished traditions.
10. ENGAGE WITH FRIENDLY LOCALS:
The last one of the things to do in Chefchaouen, immerse yourself in the warm hospitality of the locals. Moroccans are known for their friendliness and welcoming nature. Engage in conversations, learn about their customs, and savor the moments of connection that make your travel experience truly unforgettable.
BEST MOROCCO TOURS TO CHEFCHAOUEN
Tours from Marrakech:
Tours from Casablanca:
Tours from Tangier:
FREQUENTLY ASKED QUESTIONS ABOUT TRAVELING TO CHEFCHAOUEN
W'd be happy to answer any frequently asked questions about traveling to Chefchaouen:
Where is Chefchaouen located? 
Chefchaouen is a city located in the northwest region of Morocco, in the Rif Mountains. It is situated approximately 110 kilometers southeast of Tangier and about 65 kilometers inland from the Mediterranean coast.
How do I get to Chefchaouen? 
The nearest major airport to Chefchaouen is the Tangier Ibn Battuta Airport (TNG). From there, you can take a taxi or hire a private driver to reach Chefchaouen. The journey takes around 2 to 3 hours by road. You can also take a bus or shared taxi from other major cities in Morocco like Fes or Casablanca.
Is Chefchaouen safe for tourists? 
Chefchaouen is generally considered a safe destination for tourists. The city is known for its friendly locals and relaxed atmosphere. However, like any travel destination, it's essential to stay vigilant and take common-sense precautions, such as keeping your belongings secure and being aware of your surroundings.
What is Chefchaouen famous for? 
Chefchaouen is renowned for its picturesque blue-washed buildings, which give the city a unique and charming character. The blue-painted streets and buildings have made it a popular destination for photographers and travelers seeking a visually stunning experience. Additionally, Chefchaouen offers a vibrant medina (old town), bustling markets, and opportunities to explore the beautiful Rif Mountains.
When is the best time to visit Chefchaouen? 
The best time to visit Chefchaouen is during the spring (April to May) and autumn (September to October) seasons. These months offer milder temperatures and more pleasant weather for exploring the city and surrounding areas. Summer (June to August) can be quite hot, while winters (November to February) can be cold, especially in the evenings.
What should I wear while visiting Chefchaouen? 
Morocco is a conservative country, so it's advisable to dress modestly, especially when visiting religious sites and the medina. For both men and women, covering shoulders and knees is respectful. Loose-fitting, breathable clothing is recommended, as the weather can be warm during the day and cooler at night.
What are the must-visit attractions in Chefchaouen? 
Some of the must-visit attractions in Chefchaouen include the blue-painted streets and buildings in the medina, the Spanish Mosque for panoramic views of the city, the Ras El Maa waterfall, and the local markets where you can find handicrafts, textiles, and traditional Moroccan goods.
Is English widely spoken in Chefchaouen? 
While Arabic is the official language of Morocco, many people in Chefchaouen, especially those working in the tourism industry, speak some English. However, knowing a few basic phrases in Arabic or French (another widely spoken language) can be helpful and appreciated by the locals.