WHAT TO SEE & THINGS TO DO IN CHEFCHAOUEN
The most visited city in Morocco and where the tourist will enjoy a trip back in time
Chefchaouen is known as Morocco's "Blue Pearl" because of its beautiful blue houses and streets. People have been wondering why Jewish immigrants painted their houses blue for years. This mystery lends the city its allure and contributes to its long-standing popularity as a tourist destination. Spend a day or two enjoying all of the best things to do in Chefchaouen, and three days or more if you want to take in the breathtaking scenery of the Riff Mountains.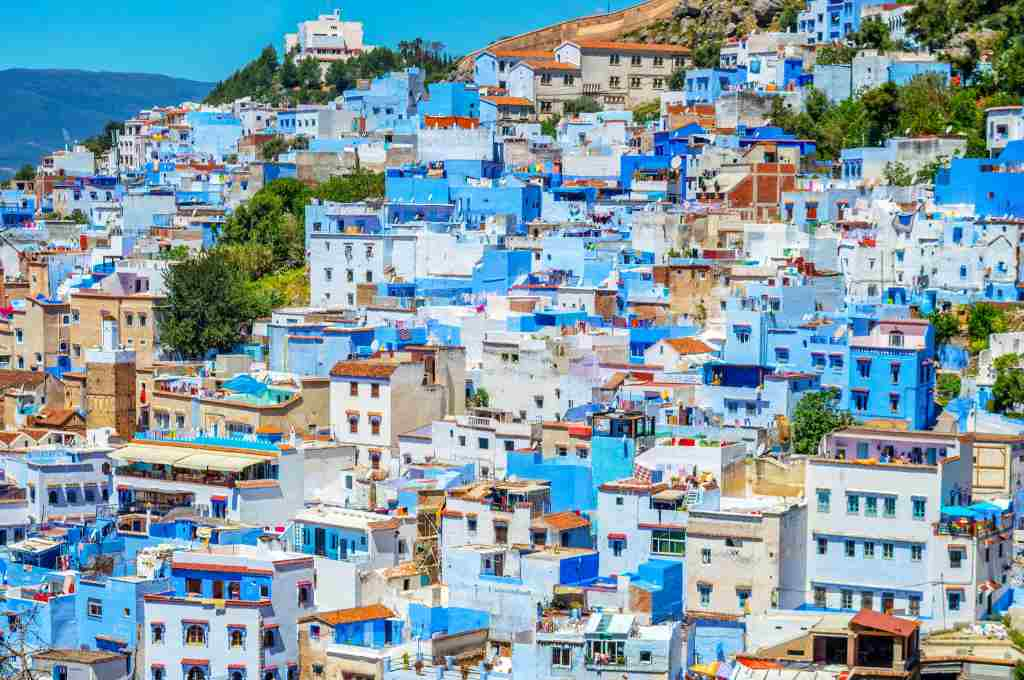 The most important reason to visit Chefchaouen is for its beautiful streets lined with blue-painted houses. There are numerous explanations for why the walls are blue. Some argue that it is for practical reasons, such as keeping mosquitos at bay or keeping homes cooler.
Others believe that the blue represents the sky and heaven, as well as the colors of the Mediterranean sea and the nearby Ras el Maa waterfall. Locals now continue to paint their houses blue, either to honor these traditions or to attract tourists who come to Chefchaouen for its picture-perfect streets.Chefchaouen is much quieter and calmer than other Moroccan cities, so you can spend hours wandering the blue alleys and photographing cute porches and doorways in the sun. The city's blue houses are unquestionably the best thing to do in Chefchaouen!
Do Shopping in the Medina
Visit the Medina's narrow, blue, twisting streets and souks! Although the souks are not as large as those in other Moroccan cities such as Fes, they remain a popular shopping destination. This is due to the fact that it offers many indigenous handicrafts that are not available elsewhere in Morocco, such as wool garments, woven blankets, and woven baskets.
In between the handicrafts, you'll frequently find pots of bright-colored paint powders in a variety of pastel colors, creating a lovely scene against the blue walls. Tourists enjoy goat cheese, which is served with a variety of dishes. It's definitely worth a try, and it's a tasty thing to do in Chefchaouen.
The Kasbah, an old Moroccan fort, is located in the main square. This structure has served many functions over the years, most notably as a prison, and is now an ethnographic museum and art gallery. Inside, there are also lovely Spanish-style gardens that provide a welcome respite from the city. Discover the fascinating history of this region through the display of ancient artifacts, clothing, instruments, and traditional decorations and crafts. Climbing the fort tower provides breathtaking views of the city.
Many events take place in and around Chefchaouen's main square, Plaza Uta El-Hammam. The square, located in the heart of the medina, is surrounded by restaurants, shops, the Kasbah, and the Grand Mosque. The Grand Mosque is still used for religious worship and is therefore not open to tourists; however, its distinctive octagonal minaret can be seen from the square. Sit in the center of the cobbled square by the tree and people watch for a break from sightseeing – a fun thing to do in Chefchaouen.
Enjoy the scenery of the Blue city of Chefchaouen
The Riff Mountains provide an ideal setting for stunning nature and wildlife. We didn't leave town, but we've heard good things about these places from other travelers:
Waterfall at Ras El Maa; This is a small but lovely waterfall on the outskirts of the medina, surrounded by lovely woodland. Sip a mint tea here, dangle your feet in the cool mountain water, and observe locals washing their clothes. It is accessible via the hiking trail that leads up to the Spanish Mosque, so it is a nice thing to do in Chefchaouen if you have time to stop by.
Talassemtane National Park; This fantastic national park, full of natural wonders, is less than 45 minutes drive from Chefchaouen. Hiring a guide to take you on some memorable hikes here is a good idea.
How to get to Chefchaouen?
To Morocco Travel would be happy to organize your dream tour to Chefchaouen; our expert team are able to plan your trip that would be fits your need, also if you have your own trip ideal feel free to contact us.
Take a look to some trips that are including visiting Chefchaouen.
Best Morocco Tours to Chefchaouen
Tours from Marrakech:
Tours from Casablanca:
Tours from Tangier: