MOROCCO DESERT TOURS FROM CASABLANCA
We have customized some desert tours from Casablanca according to the request of previous customers. And as the Sahara desert is the highlight of tours in Morocco. Therefore, we have planned all the itineraries to Sahara desert and some of them to the north of Morocco. In addition, we customize tours from Casablanca to cultural, economic and tourist destinations
BOOK YOUR DREAM PRIVATE TOURS FROM CASABLANCA
THE BEST MOROCCO TOURS FROM CASABLANCA
Casablanca is the largest, most modern and cosmopolitan city in Morocco, as well as its main port. It is considered the economic and commercial center of the country, hosting the main industrial facilities and international companies based in Morocco.
Casablanca can be explored and enjoyed on foot. Discovering the spectacular Hassan II mosque with its glass floor, getting lost in the old Medina or touring the most modern area with its Art Deco buildings are some of the attractions of this city.
It is a mixture between the traditional and the modern. It has the appearance of a modern city, whose growth is due to the French protectorate, which developed wide avenues, public parks and Hispano-Moorish buildings. Here, men and women mix more than in any other city in Morocco.
Despite its modern life, it also preserves elements of traditional Morocco, such as the Hassan II Mosque, a marvel of modern religious architecture. Its roof opens automatically, the floor is heated and it has a system against earthquakes.
It was built to commemorate the 60th birthday of Moroccan King Hassan II and is the third largest mosque in the world with capacity for 25,000 faithful inside and another 80,000 on the outside esplanade. Its minaret is the second tallest in the world and emits laser beams in the direction of Mecca. It sits on an artificial island in the Atlantic Ocean in reference to a verse from the Qur'an that states "Allah's throne is in the water."
POPULAR MOROCCO DESERT TOURS FROM CASABLANCA
Here you will find the best Morocco desert tours from Casablanca starting from Casablanca, and ending in the city you want.
All our tours are adjusted to the wishes of our clients. We bring our experience to offer the best in accommodation, private transportation, Berber driver/guide (languages: Spanish, English, French, Italian…), and activities (Quads, Sandboarding, Yoga…) making your trip unique and unforgettable. With To Morocco Travel we will make your trip come true.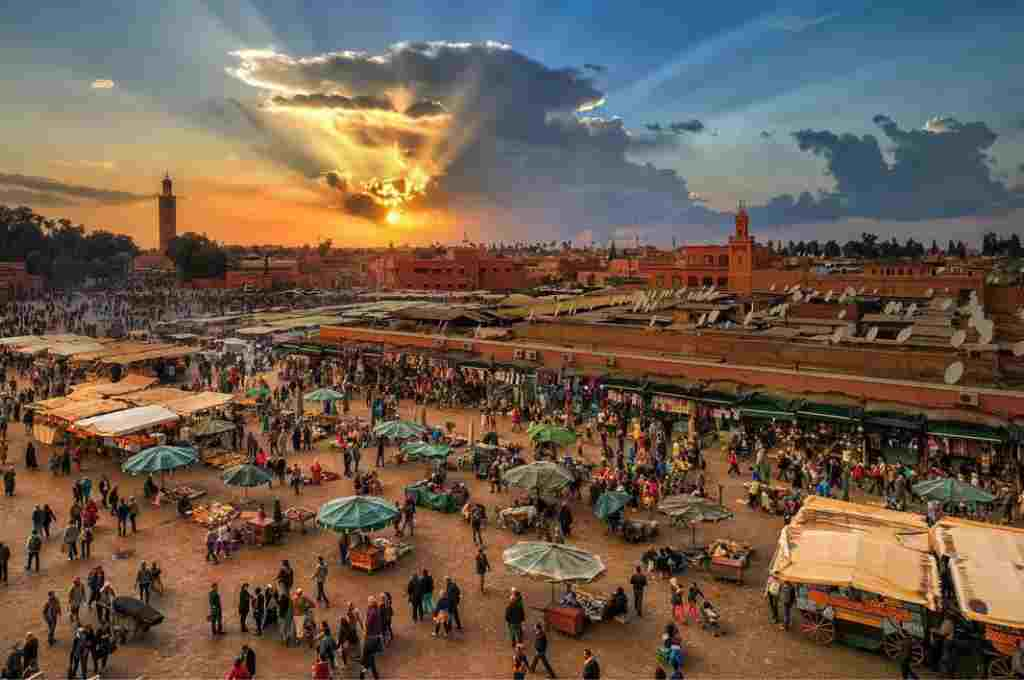 12-Day Morocco desert tour from Casablanca
12 days tour from Casablanca is one of the long tours in Morocco, a tour with a blend of culture, nature, and adventure…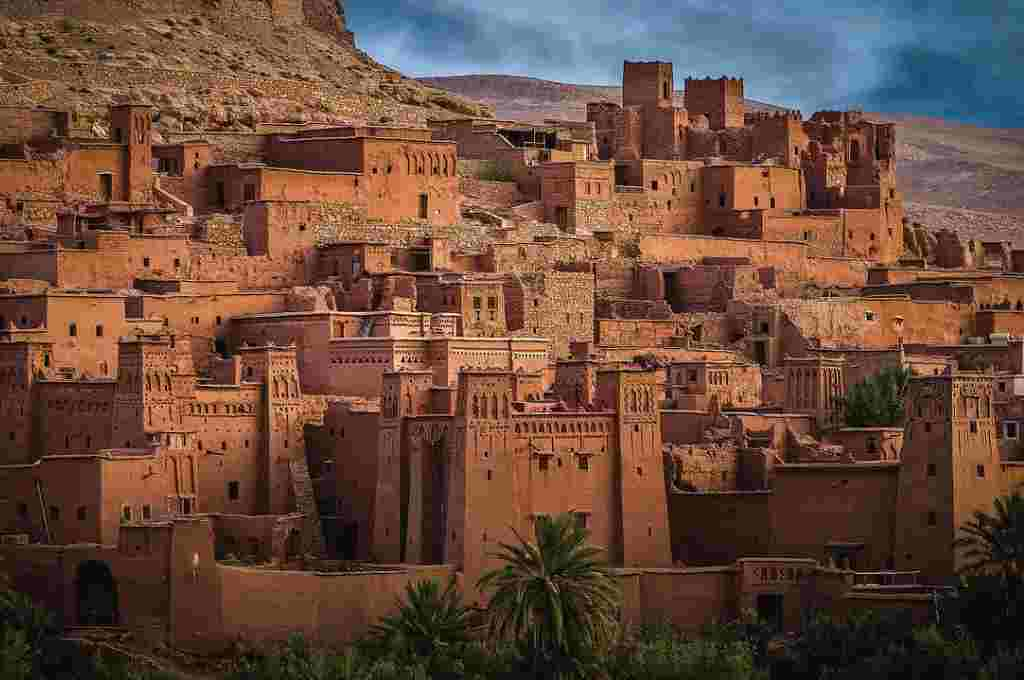 5-Day desert tour from Casablanca to Marrakech
This tour is the most famous desert tours sold from casablanca, you will see the Hassan Tower, …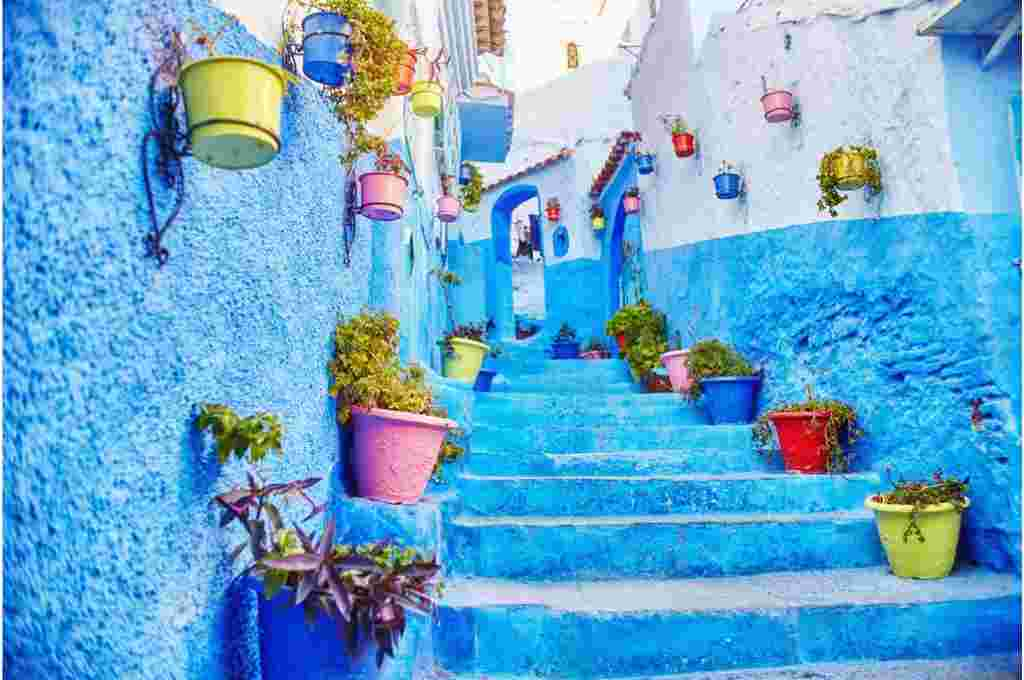 8-Day tour from Casablanca to Merzouga desert
In this desert tour you will visit many attractions, ans sites like Mountains, valleys, deserts and many more…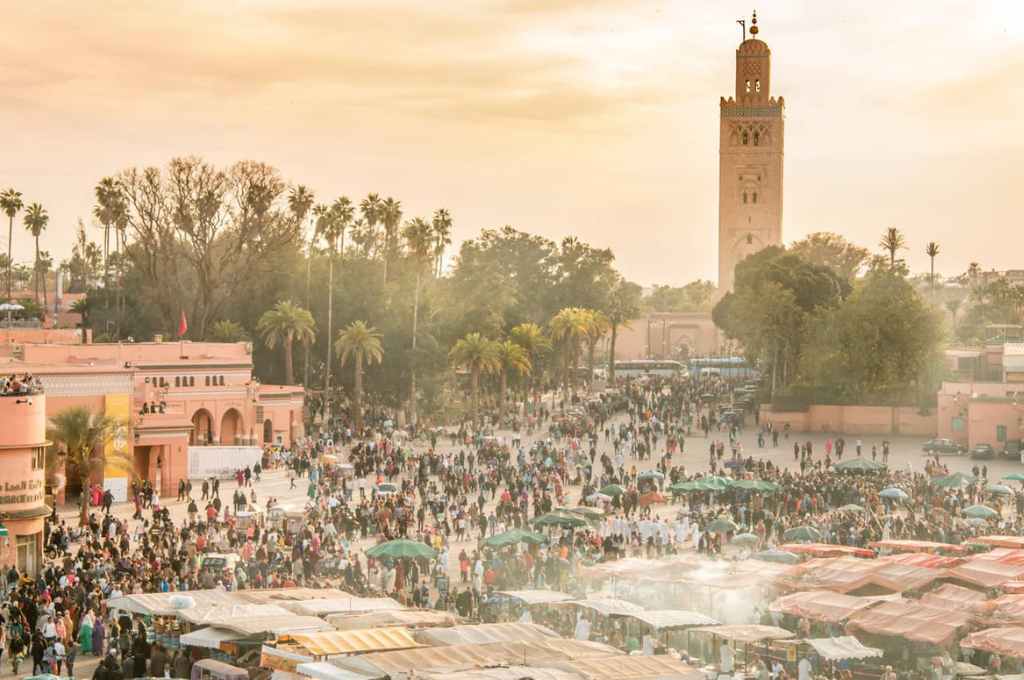 6-Day Imperial cities tour from Casablanca
If you are obsessed of knowing the rich history and culture of Morocco this 6-day tour from Casablanca is the right choice…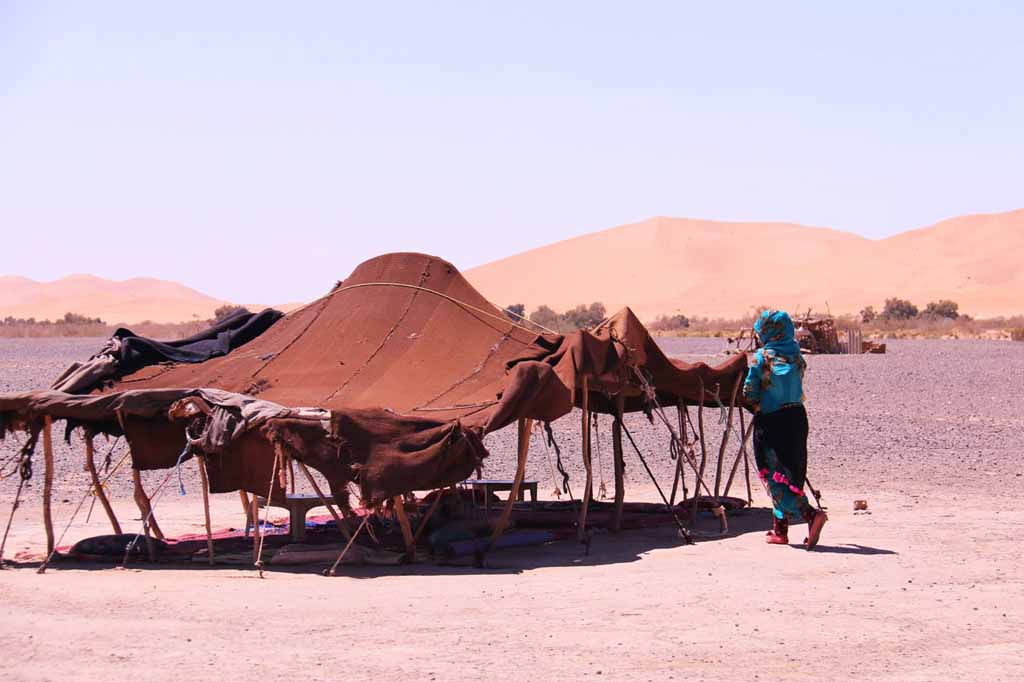 9-Day desert tour from Casablanca to Marrakech
This tour is the most famous desert tours sold from Casablanca, you will cover the best sites and places, …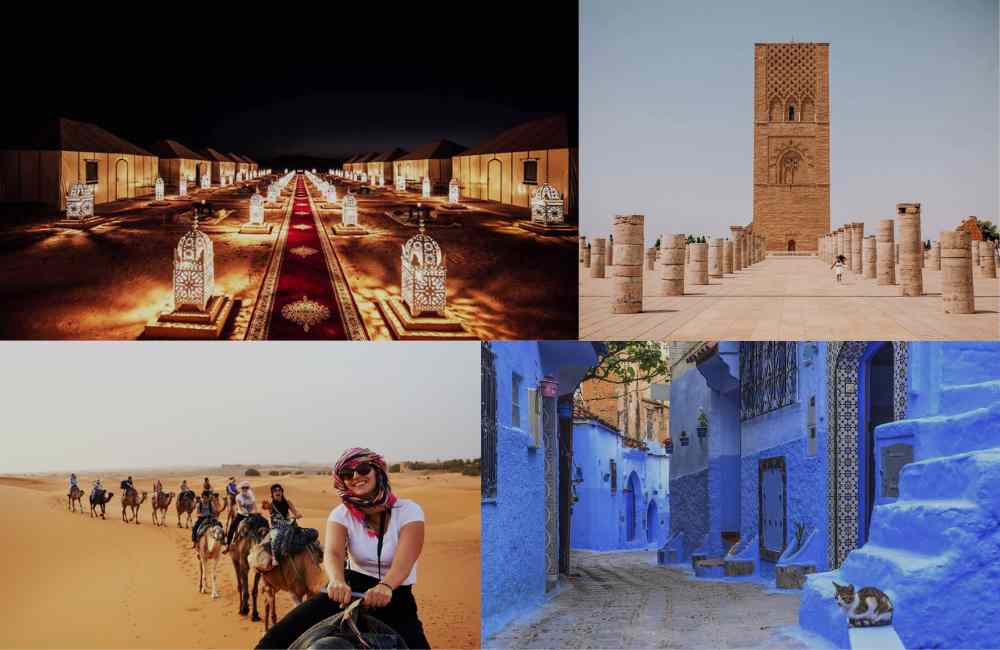 10-Day desert tour from Casablanca to Marrakech and Chefchaouen
Top-rate 10 days tour from Casablanca to discover the most interested places in Morocco including Chefchaouen,…
CUSTOMISE YOUR DESERT TOUR FROM CASABLANCA
Define Your Travel Objectives:
Determine the reason for your trip. Do you want to visit historical sites, eat local cuisine, relax on the beach, or learn about the culture? This will allow you to customize your itinerary accordingly.
Choose Your Destinations: 
Based on your interests, research the places you want to visit. Consider popular tourist destinations such as Marrakech, Fez, Chefchaouen, Rabat, and the Sahara Desert. Each location has its own set of attractions.
Make an itinerary:
Make a rough itinerary outlining your travel dates, destinations, and daily activities. Remember to factor in travel time between locations. Allow for some flexibility and relaxation in your schedule.
Accommodation:
Look for and book accommodations that meet your needs and budget. Casablanca and other cities have a wide range of accommodations, from luxury hotels to hostels and riads (traditional Moroccan guesthouses). If you have no any idea of the accommodation or need any help, we can do this favor for you, or if you book a trip with us we can manage it by our staff.
Cuisine and dining:
Moroccan cuisine is well-known for its rich flavors. Investigate local restaurants and food markets to sample traditional Moroccan dishes such as tagine, couscous, and Moroccan mint tea. Don't forget to try some street food.
Cultural Etiquette:
Learn about Moroccan cultural norms and etiquette. Respect local customs and dress modestly, especially when visiting religious sites.
Packing:
Pack clothing appropriate for the weather and cultural norms. Bring along some comfortable shoes for walking and exploring.
Currency and Budget:
The Moroccan Dirham (MAD) is the local currency. Keep some cash on hand, but credit cards are widely accepted in cities. Set a budget for your trip to keep track of expenses.
BEST THINGS TO DO IN CASABLANCA
Casablanca, Morocco's largest city, has a lot to offer visitors, from its vibrant culture to its historical landmarks. Private tours from Casablanca can be a great way to explore the city and its surroundings. Here are some of the best things to do in Casablanca, including private tours from Casablanca:
Hassan II Mosque: This stunning mosque is one of the largest in the world and a must-visit. Private tours often include a visit to the mosque and provide insights into its architecture and history.
Medina of Casablanca: Explore the old town of Casablanca, known as the Medina. Private guides can help you navigate the winding streets and discover hidden gems.
Casablanca Corniche: Enjoy a leisurely walk along the picturesque Corniche, with views of the Atlantic Ocean and numerous cafes and restaurants.
Rick's Café: If you're a fan of the movie "Casablanca," a visit to Rick's Café, a recreation of the famous nightclub from the film, is a must. Private tours can include a visit to this iconic spot.
Royal Palace of Casablanca: While you can't enter the palace, you can admire its impressive architecture and take photos from the outside.
Casablanca Cathedral: Explore the historic architecture of the Cathedral of Sacré-Cœur, which has been converted into a cultural center.
Ain Diab Beach: Spend some time relaxing on the beach, and perhaps include a private beachside picnic in your tour.
Museum of Moroccan Judaism: Learn about the rich history of Moroccan Jews and their cultural contributions at this informative museum.
Villa des Arts de Casablanca: This art museum showcases contemporary Moroccan art and is worth a visit if you have an interest in the arts.
Private Tours to Nearby Cities: Casablanca is well-connected to other cities like Rabat and Marrakech. Private tours can take you to these cities for a day of exploration.
Shopping: Explore the city's markets and boutiques with the help of a private guide. They can assist with bargaining and finding unique souvenirs.
Casablanca's Art Deco District: Discover the city's Art Deco architecture, which is unique in Morocco. Private guides can provide historical context and insights.
Historical and Cultural Tours: Private guides can customize tours based on your interests, whether it's history, culture, or architecture.
Join Us For A Memorable desert Trips From Casablanca
Morocco desert tours from Casablanca are the best way to explore and experience the imperial cities, and the Sahara Desert which covers over 80% of Morocco. The easiest way to experience the Moroccan desert tours from Casablanca is on a guided tour offered through our website.  Tour packages typically range from 55 Euros to 200 Euros depending on the duration. This includes a camel ride, transportation, hotel and camp accommodations The Morocco desert tours leaving from Casablanca are a fantastic opportunity to get to know the real Morocco In just 5 days 
We suggest you contact us. We will guide and advise you on itineraries and activities according to the type of trip you want and adjust to your budget. Request information and enjoy a desert trips from Casablanca that you will never forget.