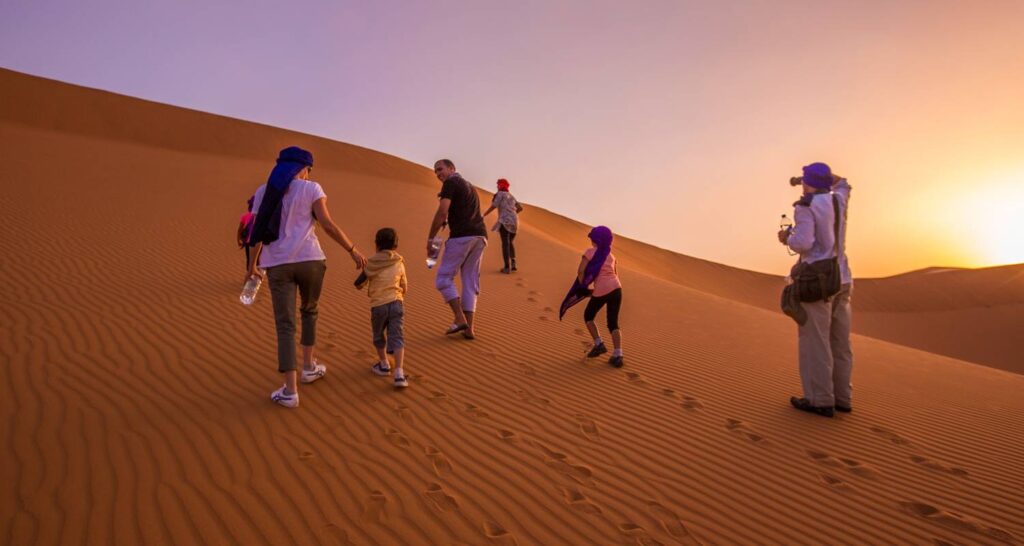 VACATION MOROCCO FAMILY TOUR
Life is a journey, and booking a Morocco family tour is the first step towards an extraordinary one
MOROCCO FAMILY TOUR VACATION - OVERVIEW
Morocco, a land of vibrant colors, rich history, and diverse landscapes, offers an excellent destination for family tours. Nestled in the northwest corner of Africa, this enchanting country beckons travelers with its bustling markets, ancient cities, and breathtaking natural beauty. From the majestic Atlas Mountains to the golden Sahara Desert, Morocco's diverse landscapes provide the perfect backdrop for a memorable family adventure. In this blog, we will explore the top family-friendly destinations and activities in Morocco, ensuring an unforgettable experience for travelers of all ages.
1. MARRAKECH. A LIVELY JOURNEY INTO HISTORY
Kickstart your family adventure in Marrakech, the "Red City" and a treasure trove of culture and history. The city's bustling medina, Djemaa el-Fna, will captivate you with its snake charmers, street performers, and bustling market stalls. Children will be delighted by the sights and sounds, while parents can explore the historic Bahia Palace or relax in one of the traditional Moroccan tea houses.
Marrakech also offers family-friendly accommodations in charming riads, traditional Moroccan houses converted into hotels. These riads provide a comfortable and authentic experience, with beautiful courtyards and rooftop terraces offering stunning views of the city.
2. FES: AN AUTHENTIC MOROCCAN EXPERIENCE
A visit to Morocco would not be complete without immersing yourself in the captivating city of Fez. Known for its well-preserved medieval architecture and winding streets, Fez offers a true step back in time. Wander through the narrow alleys of the medina, where artisans practice ancient crafts, such as pottery, leatherwork, and carpet weaving. Children will love exploring the maze-like streets, and parents will appreciate the opportunity to introduce their kids to centuries-old traditions.
Make sure to visit the Al Quaraouiyine University, considered the oldest university in the world, and explore the fascinating historical sites that provide an educational element to your family tour.
3. ESSAOUIRA: A COASTAL RETREAT FOR A MOROCCO FAMILY TOUR
Escape the bustling cities and head to Essaouira, a charming coastal town with a relaxed atmosphere. Known for its windswept beaches and vibrant blue-and-white buildings, Essaouira offers a welcome change of pace for families. Kids will love playing on the sandy shores, while parents can explore the well-preserved Portuguese architecture and bustling harbor.
The town also boasts various water sports, making it an ideal place for adventurous families to try surfing, windsurfing, or kiteboarding together.
4. ATLAS MOUNTAINS: NATURE'S PLAYGROUND
For families seeking outdoor adventures, the Atlas Mountains are a paradise waiting to be explored. Embark on a trek suitable for all ages and witness stunning panoramas of valleys and traditional Berber villages perched on the mountainsides. The mountains offer ample opportunities for hiking, horse riding, and even skiing during the winter months.
5. SAHARA DESERT OF MERZOUGA: A STUNNING ADVENTURE
A highlight of any Morocco family tour in Morocco is undoubtedly a trip to the majestic Sahara Desert. Take a camel trek into the dunes and witness the mesmerizing sunset over the vast landscape. Camping under the stars in traditional Berber tents will create cherished memories for everyone in the family. The calm and tranquil atmosphere of the desert allows for quality family time and stargazing, away from the distractions of modern life.
Scroll down to see some top-rated Sahara desert tours, started from 3 days and up:
MOROCCO FAMILY TOUR ITINERARY - 3 DAYS DESERT TRIP
DAY 1: Travel from Marrakech to high Atlas Mountains and Boumalne Dades.
Our vacation Morocco family tour is departure from Marrakech towards the south of Morocco crossing the High Atlas, by the spectacular port of Tizi N'Tichka (2260m), the place where we are going to do some stops for the landscapes of th mountains and Berber villages. then we will make a stop in the town of the films, Ksar Ait Ben Haddou, a beautiful town declared a World Heritage. We will travel the route of the thousand Kasbahs. We will stop in the Valley of the Roses and in the Valley of the Dades, where our overnight in. ( dinner and breakfast included ).
DAY 2: Travel from Dades valley to Sahara desert via Toudra Gorge
After breakfast we will visit the Todra Gorges, pass the palm grove of Tinghir and continue towards Erfoud passing also the palm grove of Tinjdad and Touroug.
Stop in Erfoud to visit the marble and fossil production workshop; then we continue towards the impressive dunes of Erg Chebbi, where our camel man is waiting for us to admire the sunset and spend the night in the middle of the dunes. Dinner and night in jaimas under the stars with live Berber music show. ( dinner and breakfast is included )
DAY 3: Travel from Sahara desert to Marrakech
We will rise to watch the sunrise over the dunes. After breakfast, departure to the palm grove of Tafilalet passing through the city of Rissani (the Alaouite dynasty and the capital of the ancient sultans). Route to Alnif, the oasis of Tazzarine and Nkob.
Then we go to Ouarzazate by the sublime Draa Valley; the Berber village of Agdz and the port of Ait Saoun (1660 meters high). Arrive at the end of the day wishing you had a great time. at this time your Morocco family tour in 3 days comes to the end.
See the full info about this 3 days tour
MOROCCO FAMILY TOUR ITINERARY - 4 DAYS DESERT TRIP
DAY 1: Travel from Marrakech to high Atlas Mountains and Dades Valley
Travel from Marrakech to fez ,Departure from Marrakech, morning at 08:00 AM, direction Dades Gorges. On the way we will cross the High Atlas Mountains, crossing the port of Tizi n'Tichka, making our way among many Berber nomads who inhabit the area.
We will continue via Ouarzazate crossing the valley of Rosas, to enter the gorges of Dades, where the so-called «route of the thousand kasbahs» begins. Accommodation in Dades valley and dinner at the hotel.
DAY 2: Travel from Dades Valley to Merzouga desert
Breakfast at the hotel. We head to the Toudra Gorges, where you can take a pleasant walk through its imposing canyon of walls over 200 meters high, until the exit to the desert through the palm grove of Tafilalet. Arrive at the hotel on foot of dunes, where you can walk along the fine sand of the Erg Chebbi, relax and enjoy this stunning landscape. In the evening, you will taste a delicious Moroccan dish. Overnight in the hotel.
DAY 3: Full day to explore the Sahra desert.
After a hearty Moroccan breakfast, we will climb to 4 × 4 to begin our tour around the dunes Erg Chebbi, desert region populated with sand: Among the many stops that await us, we will discover how and where nomadic families live in the area, Wild oases in the middle of nowhere, spectacular landscapes and small desert villages, palm groves… Inevitable stop at our pass through the village of Khamelia, of people from Mali, who will make us enjoy a beautiful concert of Gnawa music, while we taste a delicious tea.
On the way back to the hotel, our dromedaries await us to leave on an hour and a half route, making our way through dunes, until we reach the heart of the desert to contemplate the beautiful sunset. Surrounded by the Great Dune, and enjoying the music of drums, dinner and Moroccan tea, you can contemplate the immense sky of stars and sleep in tents in the camp in the Sahara desert.
DAY 4: Travel from Sahara desert to Fes
Early morning, after seeing the beautiful sunrise above the dunes, return by dromedary to the hotel. After breakfast, departure to the vast palm grove of Tafilalet passing through the town of Rissani (the Alaouite dynasty and the capital of the ancient Alaouite Sultans).
then we will take the road to Fes passing by the beautiful valley of Ziz, Errachidia, Midelt to the cedar forest where we will stop to visit the famous cedar of ę Gouraud» .
We will continue our journey through the middle Atlas until we reach Fez in the afternoon, the intellectual and historical capital of Morocco, divided into 3 parts : Fes el bali ( the old town ), the new part built during the French protectate and the Jewish quarter.
Fes has a beautiful medina with its doors and impressive walls, palaces… etc arrive in the afternoon end of your Morocco family tour vacation – Route from Marrakech 4 days desert Fes
Full info about this 4 days tour
MOROCCO FAMILY TOUR ITINERARY - 5 DAYS DESERT TRIP
DAY 1: Travel from Marrakech to high Atlas Mountains and Ouarzazate.
After breakfast, we start your Morocco Family tour adventure, The transfer by private minibus(s) over the high Atlas Mountain pass of Tizi-N-Tichka. This fascinating national road offers us breathtaking views in all directions. Our first stop is the Telouet Valley, where we will assist a small development project in this impoverished mountain region. We'll also see the ruins of a former Kasbah (fortress) that once controlled the caravan trade routes.
We then continue on to Ait Benhaddou, a perfect place to visit for Morocco family tour vacation (famous for Hollywood films such as Gladiator, The Mummy, Kingdom of Heaven, and Lawrence of Arabia), After discovering the kasbah, you'll have some free time to try some local cuisine. In the afternoon, we will travel to Ouarzazate, also known as "The Gate of the Desert". Dinner will be served at the hotel, where we spend the night in a comfortable tourist-class hotel with a small pool and a fantastic terrace overlooking. Perhaps we'll join our hosts in some local drumming this evening! The total travel time is about 4 hours. Breakfast and dinner are both included.
DAY 2: Travel from Ouarzazate to Sahara desert via Toudra Gorge.
The second day of or Morocco Family tour, We will leave for Toudra Gorge, a massive canyon in the Atlas Mountains. We'll stop in Skoura, in the Valley of a Thousand Kasbahs, for a short hike through the date palm oasis to see the strange sand castle-like homes. Soon after we arrive at our canyon hotel, we will spend some time exploring on foot and, if time allows, we will rock climb with your guides and participate in some creative challenges and games.
Today we travel to Morocco's most authentic location, the great Sahara dunes of Erg Chebbi. However, before leaving, we participate in a few canyon adventure challenges and a short trek through an amazing oasis plantation, possibly stopping at a Berber home for mint tea. We continue to the dunes, arriving late afternoon to find our camels waiting to take us one hour to a unique Nomadic style desert camp where we sleep in comfortable tents under the stars.
We can explore the high dunes as much as we want, climbing, jumping, rolling, and so on! Tonight, we'll listen to Sahara Berber drumming and possibly light a fire to keep warm – unless you prefer to dance! This is a must-do during any trip to Morocco. The total travel time is approximately 5 hours. Breakfast and dinner are both included.
DAY 3: Full day in Merzouga desert with 4x4 Car
This is an entire Desert day. If you're in the middle of the desert, it's well worth getting up early to see the most spectacular sunrise you've ever seen at the top of a dune near the camp and enjoy this natural gift. We return to Merzouga on camels after sunrise, where a hearty breakfast awaits us. Then we'll skirt the Erg Chebbi, a vast stretch of sandy desert that includes Morocco's Big Dune. which is more than 250 meters tall.
We then take the road that was previously used for the "Paris – Dakar" race, which ends in the mountains that border Algeria. Stop at Tissardmin oasis to see the fossil quarries that are still present in the area, then continue by road to see nomad settlements and learn their secrets and manners. The next stop will be at a viewpoint to view the Erg Chebbi hole. We'll then arrive at Kamilia Village, originally from Mali, where we'll enjoy a relaxing cup of tea while listening to a concert of Gnawa spiritual music. Transfer to your hotel and enjoy the afternoon free to explore the town or the dunes next to the hotel to watch the sunset.
DAY 4: Travel to Rissani, Draa Valley, and Dades valley
We say goodbye and leave the desert after breakfast and travel to Rissani to visit the market (daily market: Tuesday, Thursday, and Saturday), then to Erfoud to visit the fossilized marble manufacturers before continuing on to Touroug and Tinjdad palm groves. One hour later, we'll arrive at the Todra Gorges, one of the best places in the High Atlas. The river's course has carved out a cliff-sided canyon, which is popular among climbers due to its beauty and high rock sides. 
Lunch break in this wonderful location. A short walk through the gorges is highly recommended to fully appreciate the beauty of the landscape. In the afternoon, we'll travel to the Dades Valley, also known as the Figs Valley, and stop at the "Monkey Legs." Dinner and overnight stay in the Dades Gorges.
DAY 5: Travel to Marrakech acrossing the high Atlas Mountains
After breakfast, we start our 5 days tour Marrakech to Merzouga by enjoy one of the better views of the Dades valley from a strategic lookout in the mountains, where we can appreciate the large number of kasbahs and the scenic features of each. Then we continue along a road dotted with tourist-friendly kasbahs. After a few stops to enjoy the "Thousand Kasbahs Road," the Roses Valley, and the large Skoura palm grove, we'll arrive in Ouarzazate to see the Kasbah of Taourirt, the old residence of the Glaoui or Marrakech Pasha.
We can also go to the cinema studios and the Tue Cinema Museum if you're interested. Lunch in town is optional. In the afternoon, we begin our journey back to Marrakech, passing through the mountain port of Tizi N'Tichka and making photo stops along the way. We leave the moonscape behind to reach another colorful view. We'll arrive in Marrakech around 6 p.m., transfer to the hotel, and end of our 5 days desert tour from Marrakech and our Morocco family tour.
NOTE. Be aware that all these tours are possible to modify to suit your requirements tour, and if you don't find the exact tour you looking for you could see other:
INCLUDED AND EXCLUDED IN VACATION MOROCCO FAMILY TOUR
GOOD TO KNOW ABOUT FAMILY TOURS IN MOROCCO
This Morocco family tour vacation can be tailored to be more personalized and unique.
Here's a packing list you can print out to help you prepare for your Moroccan desert tour.
You can always consult your driver about skipping some stops to spend more time elsewhere.
These prices are subject to change based on the current exchange rate.
To reserve the car, we require a payment of 20% as the deposit of the total price.
We accept PayPal, bank transfers in Europe, credit cards, and cash (USD, Euro, GBP or MAD)
Children under the age of 12 receive a 25% discount, while children under the age of 5 are not charged.
PRICE OF THESE MOROCCO FAMILY TOUR VACATIONS
There is no a stable price for this Morocco family tour, to set a specific price we need some details of your requirements tour such as; number of travelers, type of accommodations ( luxury, medium or basic hotel ).
Fill up the contact form below and tell us about your exact needs, then you will get a special price for your Vacation Morocco family tour.
Here are some of pictures where the tour go through if you want to see more pics follow us o Instagram or Facebook, the links are in the top bar above.
BOOK YOUR MOROCCO FAMILY TOUR
Email us for any inquiry, and we happily to answer you ASAP.
Please make sure that your E-mail is correct to get our response.
MOROCCO FAMILY VACATIONS REVIEWS
Here are some of testimonials and the experiences of our great customers based on their experience with us click on the link below to see all what people said about our tour operator.
Best Marrakech to Merzouga 5 day Ever
My friends and I went to Morocco with To Morocco Travel and had a great time there thanks to our guides who did a brilliant job driving us to wonderful places. Also, we met other groups travelling like us and became good friends! Looking forward to schedule the next visit 🙂
Beautiful 4 days trip Marrakech to Merzouga
The best trip by far! I loved our tour with Hassan. He took us to all the must see attractions and he was very patient with us as we stopped by a few shops for souvenirs. Hassan also invited us to his house for tea! Super hospitable. He would definitely go back to Morocco again
Incredible Marrakech to Merzouga Desert trip
Unforgettable trip to the desert, the driver and guide showed us beautiful places, friendly and professional treatment. The camp between the dunes was wonderful, concert with the berebwres and delicious food. I recommend it 100%
FREQUENTLY ASKED QUESTIONS MOROCCO FAMILY VACATIONS
Here are some frequently asked questions (FAQ) about Morocco family tour:
What are the best family-friendly destinations in Morocco? 
Morocco offers many family-friendly destinations. Some popular ones include Marrakech, Fes, Essaouira, Casablanca, and the Atlas Mountains. Each location offers unique experiences suitable for families of all ages.
Are family tours in Morocco safe? 
Generally, Morocco is considered a safe country for tourists, including families. However, like any travel destination, it's essential to take necessary precautions and be aware of your surroundings. Stick to well-known tourist areas, follow local advice, and use reputable tour operators for added safety.
What activities can families enjoy in Morocco? 
Families can engage in a variety of activities in Morocco, such as camel rides in the desert, exploring ancient medinas, visiting historical landmarks, trying out traditional Moroccan cooking classes, and enjoying the vibrant markets and local culture.
How should we dress while on a family tour in Morocco? 
Morocco is a Muslim-majority country, and while it is relatively tolerant, it's essential to dress modestly, especially when visiting religious sites or local communities. For women, covering shoulders and knees is generally appreciated. Lightweight, breathable clothing suitable for warm weather is recommended.
What's the best time of year for a family trip to Morocco? 
The best time for a family tour in Morocco is during the spring (March to May) and autumn (September to November) when the weather is pleasant, and it's not too hot or crowded. These seasons offer comfortable temperatures for exploring various attractions.
Is it necessary to hire a guide for a family tour in Morocco? 
Hiring a local guide can enhance your experience in Morocco, especially if you want to learn about the culture, history, and hidden gems. A guide can also help with language barriers and provide valuable insights into the local way of life.
What is the cuisine like in Morocco, and is it suitable for children? 
Moroccan cuisine is flavorful and diverse, with dishes like tagines, couscous, pastilla, and various grilled meats and vegetables. The cuisine is generally suitable for children, but it can be a bit spicy in some regions. You can always ask for milder versions of dishes for kids.
How should we handle transportation during the family tour? 
Depending on your itinerary and preferences, you can use a combination of private transfers, taxis, and domestic flights to get around Morocco. It's essential to plan transportation ahead of time, especially when traveling with children, to ensure a smooth and comfortable journey.
Are there any specific customs or etiquette we should be aware of in Morocco? 
Yes, being aware of local customs and etiquette is important. For instance, it's polite to greet people with "Salam alaykum" (peace be upon you), and it's customary to accept offers of tea when visiting someone's home. Also, using your right hand for greetings and eating is considered respectful.
Can we bring children to visit the Moroccan Sahara Desert? 
Yes, children can visit the Sahara Desert in Morocco and enjoy the unique experience of camel rides and desert camping. However, it's essential to ensure their safety and comfort by choosing reputable tour operators and being well-prepared for the desert environment.