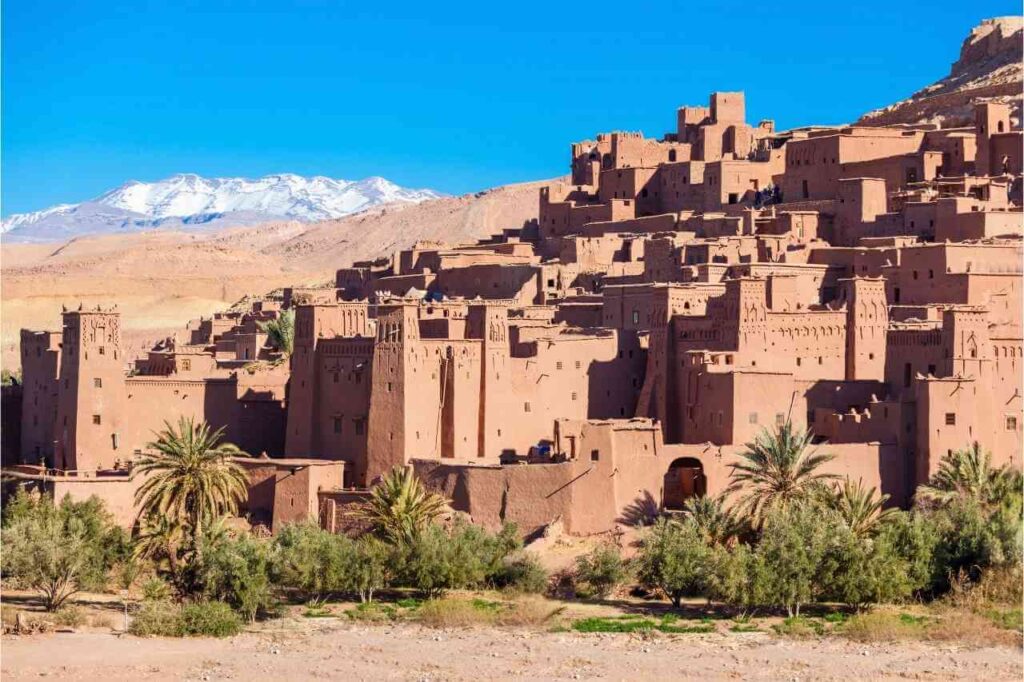 AIT BEN HADDOU DAY TRIP FROM MARRAKECH
Let us make your Ait Ben Haddou days trip from Marrakech comes true with experts
This Ait Ben Haddou day trip from Marrakech is one of our most popular excursions. Drive through the Atlas Mountains for an adventure. Tizi and Tikka pass up to Ait Ben Haddou, a UNESCO World Heritage Site, which is our main point of interest to visit its impressive Kasbah, which has served as a set for The Game of Thrones and other well-known films. 
In Ouarzazate, you'll also see the ancient Kasbah Taourirt, a 300-room palace, and the famous Atlas Film Studios.
ITINERARY OF AIT BEN HADDOU DAY TRIP FROM MARRAKECH
Day trip : Marrakech – Tizi - n'Tichka – Ait Benhaddou Ouarzazate
Our Ait Ben Haddou day trip from Marrakech will begin at 7:30 a.m. from Marrakech to Ouarzazate and Kasbah Ait Ben Haddou in an air-conditioned car or bus; at 8:00 a.m., we will depart for Ouarzazate via the Tizi-N-Tichka pass (2260m). 
You will discover an extraordinary region distinguished by the beauty of its landscapes dominated by Berber villages and farms. When we arrive in Ouarzazate, we will visit the former residence of the Pacha El Glaoui, the Taourirt kasbah, and the kasbah of Ait Ben Haddou, which has been designated as a UNESCO World Heritage Site and is one of the best preserved fortified cities in Morocco. 
Its distinct architecture and environment have made it an ideal filming location for a variety of film and television series productions, including Gladiator, Kingdom of Heaven, Babel, Prince of Persia, The Mummy, and, of course, Game of Thrones.
Once you finished your visitation, we will pick you up and heading to Marrakech, arriving in the evening. Here your Ait Ben Haddou Day trip from Marrakech comes to the end.
NOTE: If you have any questions about this Ait Ben Haddou day trip from Marrakech, please let us know. If you require anything else that we haven't mentioned above, please let us know.
INCLUDED AND EXCLUDED IN MARRAKECH TO AIT BEN HADDOU DAY TRIP
GOOD TO KNOW ABOUT AIT BEN HADDOU DAY TRIP FROM MARRAKECH
You can always consult your driver about skipping some stops to spend more time elsewhere.
This Ait Ben Hadou day trip from Marrakech could be personalize to fits your requirements.
These prices are subject to change based on the current exchange rate.
To reserve the car, we require a 20% deposit of the total price.
We accept PayPal, bank transfers in Europe, credit cards, and cash (USD, Euro, GBP or MAD)
Children under the age of 12 receive a 25% discount, while children under the age of 5 are not charged.
Email Us For Any Inquiry, And We Happily To Answer You ASAP.
This Ait Ben Hadou Day trip from Marrakech may not fits your requirements or you have another adea, you could fill out the contact form below and let us know your needs.
GALLERY OF AIT BEN HADDOU DAY TRIP FROM MARRAKECH
AIT BEN HAADDOU DAY TRIP FROM MARRAKECH - REVIEWS
Reviews About Our Marrakech Day Trip To Ait Ben Haddou
Best route and guides so far!
My friends and I went to Morocco last year and had a great time there thanks to our guides who did a brilliant job driving us to wonderful places. Also, we met other groups travelling like us and became good friends! Looking forward to schedule the next visit 🙂
Fue una experencia increíble con el guía Mohammed! Más que guía se convirtió en un amigo para todos nosotros, hicimos un gran grupo. Las visitas eran de lo más divertido a la vez que bonitas. Recomendable 100% y si volviera a Marrakech no dudaría en volver a elegirlo!
PLACES TO VISIT IN AIT BEN HADDOU DAY TRIP FROM MARRAKECH
In this excursion from Marrakech to ouarzazate Ait Ben Haddou, we will go through the several amazing places that worth to visit some of them are here to read about.
Morocco's Atlas Mountains are a remarkable area of stunning scenery, rural Berber villages, ruined Kasbahs and great hiking. and this is your chance to pass by the famous range of the Atlas and enjoy by yourself.
Life in the Atlas Mountains' Berber villages is still lived in a traditional manner. Women tend to the fields, while shepherds lead their nomadic flocks through some of the most beautiful scenery on the planet. and through this Ait Ben Haddou day trip from Marrakech we will do a stop to visit one of the Argan oil coopertive in the village.
The most famous ksar in the Ounila Valley is Ait-Ben-Haddou, which is located in the foothills on the southern slopes of the High Atlas in the Province of Ouarzazate city. kasr is a striking example of southern Moroccan architecture. The ksar is primarily a grouping of dwellings. Houses crowd together inside the defensive walls, which are reinforced by angle towers and pierced by a baffle gate – some modest, others resembling small urban castles with their high angle towers and upper sections decorated with clay brick motifs – but there are also buildings and community areas.
RELATED DAY TRIPS TO EXCURSION TO AIT BENHADDOU FROM MARRAKECH
See some of other day trips from Marrakech if you interested in:
We are here for any suggestions, advice and Reservation. CONTACT US