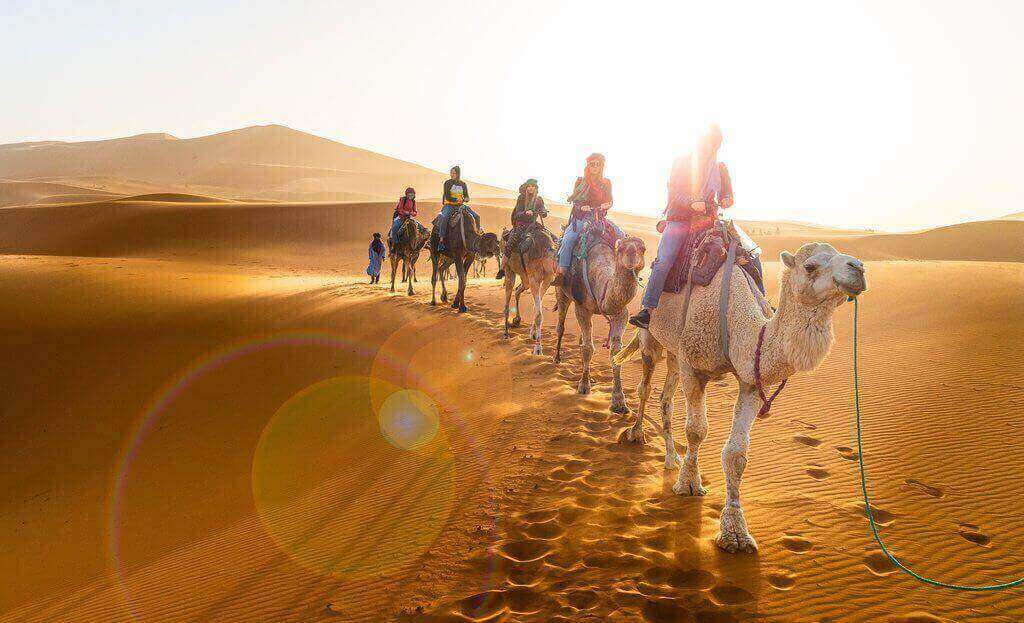 3 DAYS MARRAKESH TO FES DESERT TOUR
Are you looking for a 3 days Marrakesh to Fes desert tour via Merzouga that starts from Marrakech and ends in Fes, you are in the exact place, this tour is one of the best private desert tours from Marrakech, which allows you to explore the most famous places in Morocco. 
This 3-day tour Marrakech to fes will take you deep into the high Atlas mountains, valleys, and Sahara desert of Merzouga with an overnight in the luxury camp in the desert, while on the 3rd day, you will be in the imperial city of Fes where you can have time to explore Fes Medina.
Note: If you want to modify this trip, let us know your idea or travel plans and we can create a similar or different program, which matches your requirements.
THE HIGHLIGHTS OF THIS MARRAKESH TO FES DESERT TOUR 3-DAY
A 3 days tour from Marrakech to Fes takes you on a journey through captivating landscapes, historical sites, and vibrant cities. Here are the highlights of this tour:
Travel through the scenic High Atlas Mountains, enjoying breathtaking views and picturesque landscapes.
Visit the UNESCO-listed Kasbah Ait Ben Haddou, an ancient fortified village that has served as a backdrop for numerous films and TV shows.
Drive along the stunning Valley of Roses, famous for its fragrant rose gardens.
Visit the Todra Gorges, featuring towering cliffs and a picturesque canyon.
Embark on a camel trek into the mesmerizing Erg Chebbi sand dunes, experiencing the magical beauty of the Sahara.
Watching the breathtaking sunset over the dunes.
Spend the night in a traditional desert camp, immersing yourself in the tranquility and allure of the desert.
Watching the captivating sunrise over the Sahara Desert.
Passing through the Ziz Valley, a green oasis dotted with palm trees.
Drive through the scenic Middle Atlas Mountains.
Stopping at the cedar forests of Azrou, where you can encounter Barbary macaque monkeys.
Visit the Ifrane city known as Switzerland of Morocco.
ITINERARY OF MARRAKECH TO FES DESERT TOUR 3 DAYS
Please read carefully about this itinerary of 3 days Marrakesh to Fes Desert tour to see what your will expect and visit.
DAY 1 :
Marrakesh - Atlas Mountanias - Ait Benhaddou - Ouarzazate - Dades Valley:
Our 3 days Marrakesh Fes desert tour will depart from Marrakech in the morning around and cross the High Atlas Mountains; rises more than 4000 meters altitude, enjoying the scenic views and Berber villages. Visit the UNESCO World Heritage site of Ait Ben Haddou, a fortified ksar (village) with stunning architecture. Ait Ben Haddou's picturesque setting and historical charm have made it a popular filming location for both Hollywood and international productions. It has appeared in numerous films and TV shows, including "Lawrence of Arabia," "Gladiator," "Game of Thrones," and "The Mummy."
Continue our tour through Ouarzazate city, known as the "Hollywood of Africa," and optional to visit the Atlas Studio. Later on, drive through the Valley of Roses, famous for its rose plantations, and reach the Dades Gorges with the last stop at the rock formations called "Monkey's Fingers."
Overnight stay in a hotel or traditional riad in the Dades Gorges.
DAY 2 :
Dades Valley - Todgha Gorge - Merzouga desert
After the breakfast at the hotel we depart around 8:00 am, we will drive to the Todra Gorges, where you can take a short walk along the towering cliffs. subsequently, we will do an optional stop at the Berber shop to have some free pictures with Berber costume, after lunch, continue the tour towards Erfoud, known for its fossil workshops and the annual Date Festival; it's the best place if you want to taste the high-quality dates.
Arrive in Merzouga, a village on the edge of the Sahara Desert, where we will experience a camel trek into the Erg Chebbi dunes, enjoying the sunset along the way, also have a free time sitting over the dunes to admire its golden-colored and nature gift.
Arrive at a desert camp, where you'll spend the night in traditional nomadic tents. Enjoy a traditional dinner, local music, and stargazing in the desert.
DAY 3 :
Merzouga - Ziz Valley - Midle Atlas - Azrou - Ifrane - Fes:
The last day of  our Marrakech Fes desert tou 3-day, we prefer to wake up early to watch the captivating sunrise over the sand dunes and take memorable photos. After a fresh breakfast at the camp, we will return to the edge of the sands on camelback or 4×4 car.
Depart for Fes, passing through the Ziz Valley with its palm groves and panoramic views with stop for a break. Then drive through the Middle Atlas Mountains, making a stop at the cedar forests of Azrou, where you can encounter friendly Barbary macaque monkeys.
Continue the journey to Ifrane city, known as the Switzerland of Morocco, you have a free time to walk in its cleanest streets. Finally arrive in Fes, one of Morocco's most ancient and culturally rich cities, where the 3 days Marrakesh to Fes desert tour ends.
EXCLUSIONS AND INCLUSIONS IN 3 DAYS MARRAKESH TO FES DESERT TOUR
Here are some inclusions and exclusions you can expect in this Marrakesh Fes desert tour 3 days:
Transportation: comfortable air-conditioned vehicle.
Pick up and Drop off at your Hotels and Airport.
One night at the hotel; private room with private toilet.
One night at the camp; private tent with private toilet.
Visit the fortified Kasbah of Ait Benhaddou.
Camel trekking: A camel ride into the Sahara desert per each.
Meals: daily breakfast and dinner.
Professional guide/driver: A knowledgeable and experienced guide/driver.
Lunch meals
Drinks
Entrance fees: entrance fees to Atlas Studio
Personal expenses: Any personal expenses such as souvenirs, tips, or additional activities.
It's important to carefully read the details provided by us to have a clear understanding of what is included and excluded in the 3 days tour Marrakech to Fes you are considering.
EXTRA INFO ABOUT THE 3 DAYS DESERT TOUR FROM MARRAKECH TO FEZ
Certainly! Here's some essential information to know before embarking on a 3 days tour from Marrakech to Fes:
Weather and Clothing: Morocco experiences a range of climates. It's important to check the weather forecast for your travel dates and pack accordingly. In general, the desert regions can be hot during the day and cold at night, so it's advisable to bring layers, including a light jacket or sweater for cooler evenings. Comfortable walking shoes are recommended for exploring the attractions.
On this 3 days Marrakech to fes desert tour, you have only one night in the desert, but if you want to have two nights in the desert we recommended you to choose this Marrakech to Fes 4 days, or 5 days tour Marrakech to Fes for a smoothly visitation in Morocco
Currency: The official currency of Morocco is the Moroccan Dirham (MAD). It's a good idea to have some local currency with you for small purchases and tipping. Currency exchange can be done at airports, banks, or authorized exchange offices in Marrakech or Fes. Credit cards are widely accepted in major establishments, but it's advisable to carry some cash for smaller vendors and markets.
If you want to end this private tour in Marrakech, take a look at this 3 days tour Marrakech to Merzouga .
You could always ask your driver about skipping some stops to spend more time elsewhere.
These prices are subject to change based on the current exchange rate.
To reserve the car, we require a payment of 25% as the deposit of the total price.
We accept PayPal, bank transfers in Europe, credit cards, and cash (USD, Euro, GBP or MAD).
Children under the age of 12, will receive a 25% discount, while children under the age of 5 are not charged.
MARRAKECH TO FES DESERT TOURS 3 DAYS PRICE
We are very careful about listing the price for each service we offer. The tour quote is reasonably priced. To offer you the best special price, we need first to know about your tour needs, such as the category of the accommodations (premium, medium, or basic accommodation).
See some of the hotels below that we suggested, or fill out the contact form below and tell us about your exact needs, and get a special price for your dream tour.
These are some hotels we recommended to stay during this 3 days Marrakesh to Fes desert tour, based on their high-quality services, if you have already an idea of your own, it is possible to change these below.
Basic Lodge:  1st Night at Hotel Babylon Dades or Similar – 2nd Night at Akabar Camp or similar.
Medium Lodge:  2nd Night at Hotel Kasr Sultan or Similar – 2nd Night at Ideal Desert Camp or similar.
Luxury Lodge: 3rd Night at Hotel Xaluca Dades or Similar – 2nd Night at Luxury Oasis camp or similar.
Email us for any inquiry about your 3 days Marrakesh to Fes desert tour, we happily to answer you ASAP.
Please make sure that your E-mail is correct to get our response.
3 DAYS MARRAKESH TO FES DESERT TOUR - REVIEWS
Here are some reviews of our great customers based on their experience with us. Click on the link below to see all what people said about our 3 days Marrakesh to Fes desert tour.
Best Marrakesh Fes deser tour Ever
I really recommend you to do your tour with To Morocco Travel. Before our trip, Hassan answered to all of our questions very fast and offered his help the hole time. I can say that the van that we used to go to the desert was very comfortable for a long trip. Riads and camping where we stayed at the desert were nice, clean and we had always a delicious dinner and breakfast.

Hassan was a very good tour guide, friendly, he explained everything and the most important, even we were just girls, we felt safe the hole time because he was always by our side.
Amazing 3 days Marrakech to Fes
The best trip by far! I loved our tour with Hassan. He took us to all the must see attractions and he was very patient with us as we stopped by a few shops for souvenirs. Hassan also invited us to his house for tea! Super hospitable. He would definitely go back to Morocco again…
Incredible desert experience
It was a truly unforgettable experience that offers a unique opportunity to explore the desert and unique cities in Morocco. With the guide of Lahcen, we got to ride dirt bikes and camels through dunes and spent great time under stars in the desert. We also experienced the local music, food and traditions, which were impressive. I highly recommend to everyone that don't hesitate to grab the chance to disconnect from the modern world!
Here is the short Video about Marrakesh to Fes Desert Tour 3 day, if you want to see more pics and video follow us o Instagram or Facebook, the links are in the top bar above.
FAQ OF MARRAKECH DESERT TOUR TO FES 3 DAYS
Is it possible to take a day trip to the Sahara Desert from Marrakech?
A day trip to the Sahara desert from Marrakech is not possible. Merzouga, the Sahara's gateway, is about 350 miles or 560 kilometers from Marrakech, through winding mountain passes and dizzying curves. As a result, you shouldn't expect to reach the Sahara in a single day from Marrakech.
Is it worthwhile to visit the Sahara Desert?
The Sahara Desert is the largest hot desert in the world and is a bucket-list destination for many. The idea of spending a night in a tent under a million stars and climbing sand dunes to watch the sunset is certainly appealing.
What is the closest city to the Sahara desert?
The best and most direct route to the Sahara is through Morocco, with Errachidia being the closest major city to the desert.
What is the best time of year to visit Sahara?
When is the best time to visit the Sahara? Most likely in the autumn (September-November) or early spring (March-early April). With scorching heat in the summer and freezing temperatures at night in the winter, avoiding these extremes will make your desert stay more comfortable.
Is it possible to sleep in the Sahara desert?
While it is possible to visit as a day trip, I recommend sleeping in the Sahara for a truly unique experience. If visiting the Sahara Desert is on your bucket list, keep the following tips in mind: Keep in mind the Moroccan temperatures.
What is the Policy on Cancellation?
If you cancel at least 4 days before the trip date, you will receive a full refund.