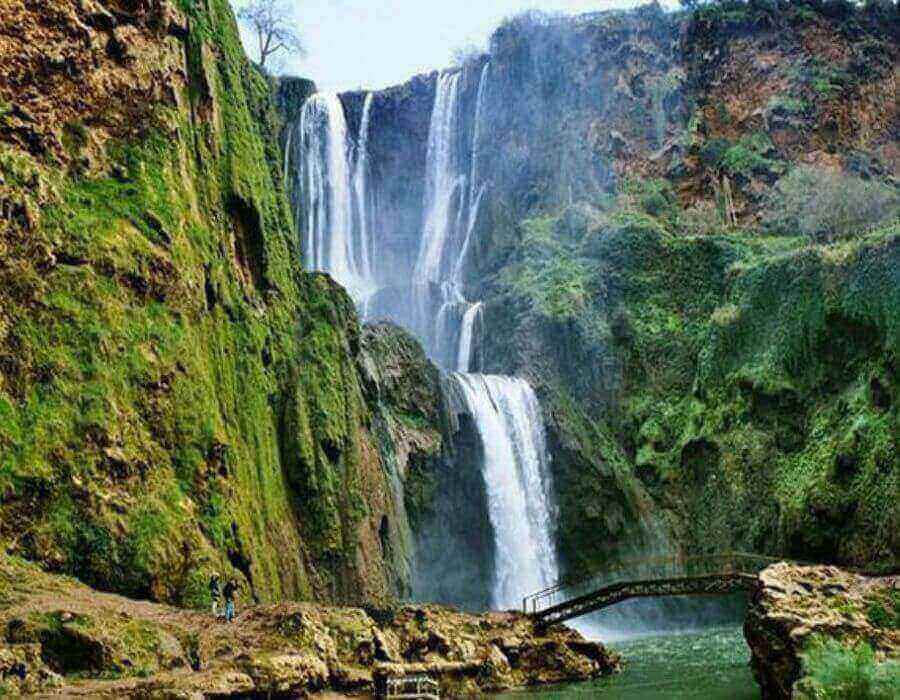 MARRAKECH TO OUZOUD WATERFALLS DAY TRIP
Travel is the only thing you can buy that makes you richer. Take the first step and book your enriching Marrakech to Ouzoud Waterfalls day trip now.
This Marrakech to Ouzoud waterfalls day trip is one of the most amazing places to visit while visiting Marrakech. They are natural attractions of the Moroccan Atlas and are located about 1450 kilometers north east of Marrakech. On our way to the Ouzoud waterfalls, we'll stop at a few interesting places. We will see magnificent waterfalls of about 100 meters in height as well as beautiful natural landscapes. We'll take a long walk down to the bottom of the waterfall to learn about another way of life, and our meals will be served in the same spot with the most incredible view.
Tour: Marrakech to Ouzoud Waterfall Day Trip
Duration: Full day (typically from early morning to late afternoon)
Distance: Approximately 150 kilometers from Marrakech to Ouzoud Waterfalls
Highlights: Ouzoud Waterfalls, Berber villages, stunning landscapes, boat ride near the falls, local wildlife (macaque monkeys), traditional Moroccan lunch.
ITINERARY OF MARRAKECH TO OUZOUD WATERFALLS DAY TRIP
FULL ITINERARY OF MARRAKECH TO OUZOUD WATERFALLS DAY TRIP
8:00 AM: Departure from Marrakech Your Marrakech to Ouzoud Waterfalls day trip will begin with a comfortable early morning pick-up from your hotel or a designated meeting point in Marrakech. You'll meet your tour guide and fellow travelers and hop aboard the air-conditioned vehicle for your journey to Ouzoud Waterfalls.
10:30 AM: Arrival at Ouzoud Waterfalls After a scenic drive through the Moroccan countryside, you'll arrive at the stunning Ouzoud Waterfalls. These impressive waterfalls, located in the Atlas Mountains, are one of Morocco's most beautiful natural attractions.
10:45 AM – 3:30 PM: Exploring Ouzoud Waterfalls During this time, you'll have the opportunity to explore the Ouzoud Waterfalls and its surroundings. Your tour guide will lead you on a guided walk along well-maintained paths, providing interesting information about the area's history, geology, and wildlife.
You'll witness the majesty of the cascading waterfalls, which drop about 110 meters in three tiers. Take in the lush greenery, enjoy the refreshing mist, and keep an eye out for playful Barbary macaques that often inhabit the area.
12:30 PM: Lunch Around midday, you'll stop at a local restaurant overlooking the waterfalls for a delicious traditional Moroccan lunch. Savor the flavors of tagines, couscous, and other local delicacies while taking in the breathtaking views.
3:30 PM: Departure from Ouzoud After spending a memorable time at Ouzoud Waterfalls, you'll head back to Marrakech.
6:00 PM: Return to Marrakech You'll arrive back in Marrakech in the late afternoon, where your driver will drop you off at your hotel or a convenient central location. Here is the end of our Marrakech to Ouzoud waterfalls day trip.
INCLUDED AND EXCLUDED IN MARRAKECH TO OUZOUD WATERFALLS DAY TRIP
GOOD TO KNOW ABOUT MARRAKECH TO OUZOUD WATERFALLS DAY TRIP
You can always consult your driver about skipping some stops to spend more time elsewhere.
This Ouzoud Waterfalls day trip from Marrakech could be personalize to fits your requirements.
These prices are subject to change based on the current exchange rate.
To reserve the car, we require a 20% deposit of the total price.
We accept PayPal, bank transfers in Europe, credit cards, and cash (USD, Euro, GBP or MAD)
Children under the age of 12 receive a 25% discount, while children under the age of 5 are not charged.
WHAT TO BRING IN THIS OUZOUD WATERFALL DAY TRIP
Comfortable walking shoes for exploring the waterfalls
Sunscreen, sunglasses, and a hat to protect against the sun
Camera or smartphone to capture the breathtaking scenery
Extra cash for souvenirs or any personal expenses
Water to keep yourself hydrated during the trip
BOOK YOUR DAY TRIP TO OUZOUD WATERFALL
Email Us For Any Inquiry, And We Happily To Answer You ASAP.
This excursion to Ouzoud Waterfalls from Marrakech may not fits your requirements or you have another adea, you could fill out the contact form below and let us know your needs.
RELATED DAY TRIP TO OUZOUD WATERFALL EXCURSION FROM MARRAKECH
See some of other day trips from Marrakech if you interested in: