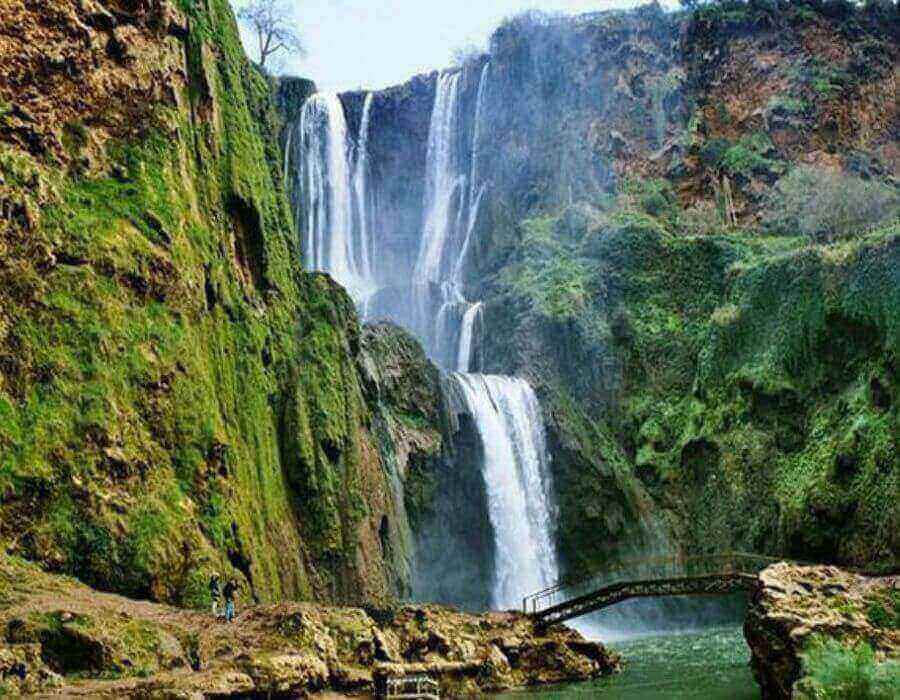 MARRAKECH TO OUZOUD WATERFALLS DAY TRIP
Let us make your Marrakech to Ouzoud waterfall day trip come true with experts
This Marrakech to Ouzoud waterfalls day trip is one of the most amazing places to visit while visiting Marrakech. They are natural attractions of the Moroccan Atlas and are located about 1450 kilometers north east of Marrakech. On our way to the Ouzoud waterfalls, we'll stop at a few interesting places. We will see magnificent waterfalls of about 100 meters in height as well as beautiful natural landscapes. We'll take a long walk down to the bottom of the waterfall to learn about another way of life, and our meals will be served in the same spot with the most incredible view.
ITINERARY OF MARRAKECH TO OUZOUD WATERFALLS DAY TRIP
Day trip : Marrakech to Ouzoud Waterfall
Our Marrakech to Ouzoud waterfalls day trip will begin. At 9:00 a.m., we'll depart from your hotel/riad and head to the Ouzoud Waterfalls. Take advantage of this day trip from Marrakech to Ouzoud waterfalls to get away from the country's arid landscape and enjoy the contrast that provides us with the greenery of this area. During our journey, we'll see small villages made of red mud and farming terraces built on the sides of mountains, next to a cool river that runs through the valley. We'll have some free time upon arrival to marvel at the sight of these beautiful falls, and if we're lucky, we'll catch a glimpse of the waterfall.
After numerous photo opportunities, you will return to Marrakech in the early evening and this is our end point of our Marrakech to Ouzoud Waterfalls day trip.
NOTE: If you have any questions about this day trip from Marrakech, please let us know. If you require anything else that we haven't mentioned above, please let us know.
INCLUDED AND EXCLUDED IN MARRAKECH TO OUZOUD WATERFALLS DAY TRIP
GOOD TO KNOW ABOUT MARRAKECH TO OUZOUD WATERFALLS DAY TRIP
You can always consult your driver about skipping some stops to spend more time elsewhere.
This Ouzoud Waterfalls day trip from Marrakech could be personalize to fits your requirements.
These prices are subject to change based on the current exchange rate.
To reserve the car, we require a 20% deposit of the total price.
We accept PayPal, bank transfers in Europe, credit cards, and cash (USD, Euro, GBP or MAD)
Children under the age of 12 receive a 25% discount, while children under the age of 5 are not charged.
Email Us For Any Inquiry, And We Happily To Answer You ASAP.
This excursion to Ouzoud Waterfalls from Marrakech may not fits your requirements or you have another adea, you could fill out the contact form below and let us know your needs.
REVIEWS OF MARRAKECH TO OUZOUD WATERFALL DAY TRIP
Reviews About Our Marrakech Day Trip To Ouzoud Waterfall
Best route and guides so far!
My friends and I went to Morocco last year and had a great time there thanks to our guides who did a brilliant job driving us to wonderful places. Also, we met other groups travelling like us and became good friends! Looking forward to schedule the next visit 🙂
Fue una experencia increíble con el guía Mohammed! Más que guía se convirtió en un amigo para todos nosotros, hicimos un gran grupo. Las visitas eran de lo más divertido a la vez que bonitas. Recomendable 100% y si volviera a Marrakech no dudaría en volver a elegirlo!
RELATED DAY TRIP TO OUZOUD WATERFALL EXCURSION FROM MARRAKECH
See some of other day trips from Marrakech if you interested in:
We are here for any suggestions, advice and Reservation. CONTACT US