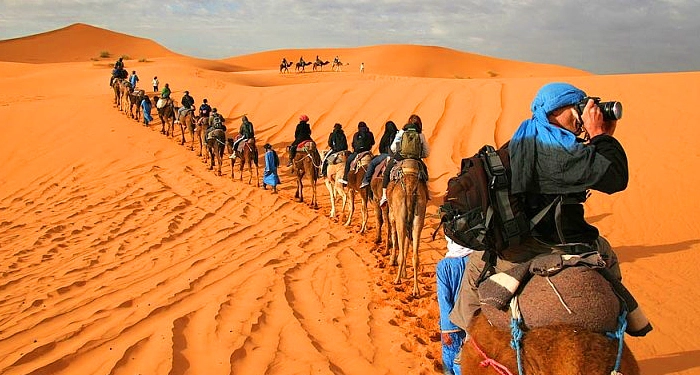 MARRAKECH TO MERZOUGA 2 DAY TOUR
This Marrakech to Merzouga 2 day tour, typically includes a journey through the stunning Atlas Mountains and a visit to Ait Benhaddou, an ancient fortified city and UNESCO World Heritage site. The tour also includes a visit to Ouarzazate, known as the "Gateway to the Sahara," as well as a drive through the picturesque Draa Valley.
The tour's highlight is a desert adventure in Merzouga, where you can ride camels across sandy dunes and spend the night in a traditional Berber camp. You can enjoy a sunset over the Sahara, a traditional Moroccan dinner, and live music under the stars.
THE HIGHLIGHT OF 2 DAYS TOUR FROM MARRAKECH TO MERZOUGA
This Marrakech to Merzouga 2 day tour is an exciting trip that offers a glimpse into Morocco's culture, history, and natural beauty. Here are some of the highlights of the trip:
Across the High Atlas Mountains via the Tizi n'Tichka pass, enjoying breathtaking views of the landscape.
Stop at the Kasbah Ait Ben Haddou, a UNESCO World Heritage Site
Visit the Draa Valley, known for its lush date palm groves and ancient kasbahs.
Embark on a camel trek into the Sahara Desert, enjoying the sunset along the way.
Spend the night in a traditional Berber camp, where you can experience the nomadic way of life and enjoy a delicious dinner under the starry sky.
Wake up early to watch the sunrise over the dunes.
Visit the enchanting Todra Gorge.
Overall, this Marrakech to Merzouga 2 day tour offers an unforgettable experience that combines natural wonders, cultural immersion, and outdoor activities, making it a must-do for anyone visiting Morocco.
DETAILS ITINERARY OF MARRAKECH TO MERZOUGA 2 DAYS TOUR
A 2 days tour from Marrakech to Merzouga is a popular itinerary for those interested in experiencing Morocco's desert landscapes and Berber culture. Here's a brief overview of what to expect in this Marrakech 2 day itinerary:
Day 1:
TRAVEL FROM MARRAKECH TO HIGH ATLAS MOUNTAINS, DADES VALLEY AND END IN MERZOUGA DESERT
The 2 day tour from Marrakech to Merzouga is an exciting adventure that takes you through the breathtaking Atlas Mountains and deep into the Sahara Desert. The first day of the tour will begin with a drive from Marrakech to Merzouga, with a stop at the Tizi n'Tichka pass for a breathtaking view of the surrounding mountains. The journey will then take you to Ouarzazate, where you will see the Atlas Film Studio from outside.
Then you'll travel to Merzouga, where you'll take a camel ride into the desert to see the stunning sunset, after that, go down to the camp where you will have a traditional dinner followed by the Berber drumming party around the bonfire.
DAY 2:
TRAVEL FROM MERZOUGA DESERT TO MARRAKECH
On the second day, you'll wake up early to watch the magical sunrise in the desert and return to the camp for a breakfast. You'll then drive towards the Draa Valley, passing through picturesque villages and palm groves. Along the way, you'll have the opportunity to stop in Agdz to catch a stunning panoramic view. Finally, you'll return to Marrakech, marking the end of your Marrakech to Merzouga 2 day tour.
This 2 days desert tour from Marrakech is perfect for those who want to experience the beauty of the Moroccan desert, ride camels, and learn about the local culture and history. This Marrakech 2 day itinerary can be customized according to your preferences and interests, and the tour can be extended to include more activities and destinations if desired.
INCLUDED & EXCLUDED IN 2 DAYS TOUR FROM MARRAKECH TO MERZOUGA DESERT
A typical 2 days tour from Marrakech to Merzouga desert will usually include and exclude the following:
GOOD TO KNOW ABOUT THIS 2 DAYS DESERT TOUR FROM MARRAKECH
If you're planning a 2 day tour from Marrakech to Merzouga, here are some things you should know:
The drive from Marrakech to Merzouga is long: it takes approximately 9 hours, so be prepared for a long day on the road.

This Marrakech to Merzouga 2 day tour can be customized to be more personalized.

Remember that the weather can be quite hot during the summer and extremely cold at night.

Bring enough cash with you because there may not be ATMs along the way. It's also a good idea to have some small bills on hand for small tips and purchases.

Make sure you're dressed appropriately for the desert climate. To keep cool during the day, wear loose, comfortable clothing and a hat. while warm layers will keep you comfortable at night.

Alcoholic drinks (available to purchase)

We accept the following payment methods: PayPal, bank transfers in Europe, credit cards, and cash (USD, Euro, GBP, or MAD)

Children under the age of 12 receive a 25% discount, while children under the age of 5 are not charged.
Overall, a 2 day trip from Marrakech to Merzouga is an incredible experience that will introduce you to Morocco's stunning natural beauty. Just make sure you're ready for the long journey as well as the unique challenges of the desert environment.
2 DAYS TOUR MARRAKECH OT MERZOUGA PRICE
The price of the 2 days Marrakech desert tour can vary depending on the season, the number of people in the group, and the level of accommodation. Generally, a budget-friendly tour can cost around $260 per person, while a more luxurious tour can cost upwards of $300 per person.
Email us for any inquiry, and we happily to answer you ASAP.
Please make sure that your E-mail is correct to get our response.
MARRAKECH TO MERZOUGA 2 DAY TOUR - REVIEWS
Here are some reviews of our great customers based on their experience with us click on the link below to see all what people said about this Marrakech to Merzouga 2 day tour.
Best Marrakech to Merzouga 2 day Ever
My friends and I went to Morocco with To Morocco Travel and had a great time there thanks to our guides who did a brilliant job driving us to wonderful places. Also, we met other groups travelling like us and became good friends! Looking forward to schedule the next visit 🙂
Beautiful 2 days trip Marrakech to Merzouga
The best trip by far! I loved our tour with Hassan. He took us to all the must see attractions and he was very patient with us as we stopped by a few shops for souvenirs. Hassan also invited us to his house for tea! Super hospitable. He would definitely go back to Morocco again
Incredible Marrakech to Merzouga Desert trip
Unforgettable trip to the desert, the driver and guide showed us beautiful places, friendly and professional treatment. The camp between the dunes was wonderful, concert with the berebwres and delicious food. I recommend it 100%
FREQUENTLY ASKED QUESTIONS
Is this a private or group tour?
Only a private option is available for the 2-day tour from Marrakech to Merzouga.
How long does the camel journey take?
The camel ride to the camp takes about one hour.
Is there another way to get to the camp besides Camels?
Yes, for travelers who prefer not to ride camels, we use a 4×4 car to transport them to and from the camp at no extra cost. You simply need to notify us at the time of booking.
Cancelation Policy:
To receive a full refund, cancel at least 15 days before the start date of the experience.
Are the tents at desert camp private or shared?
The tents are always private, but the bathrooms at standard camp are shared, whereas at luxury camp, the tents are private with private bathroom.
Can we hire a quad bike in the Merzouga desert?
Of course, yes, simply you should only let your driver or guide know about your activities in the desert.
Why the 2 Day Desert Tour Marrakech?
The 2 Days Sahara Desert Tour to Erg Chebbi dunes and back to Marrakech are highly recommended simply if you are on a tight schedule.
TOP-RATED DESERT TOURS FROM MARRAKECH