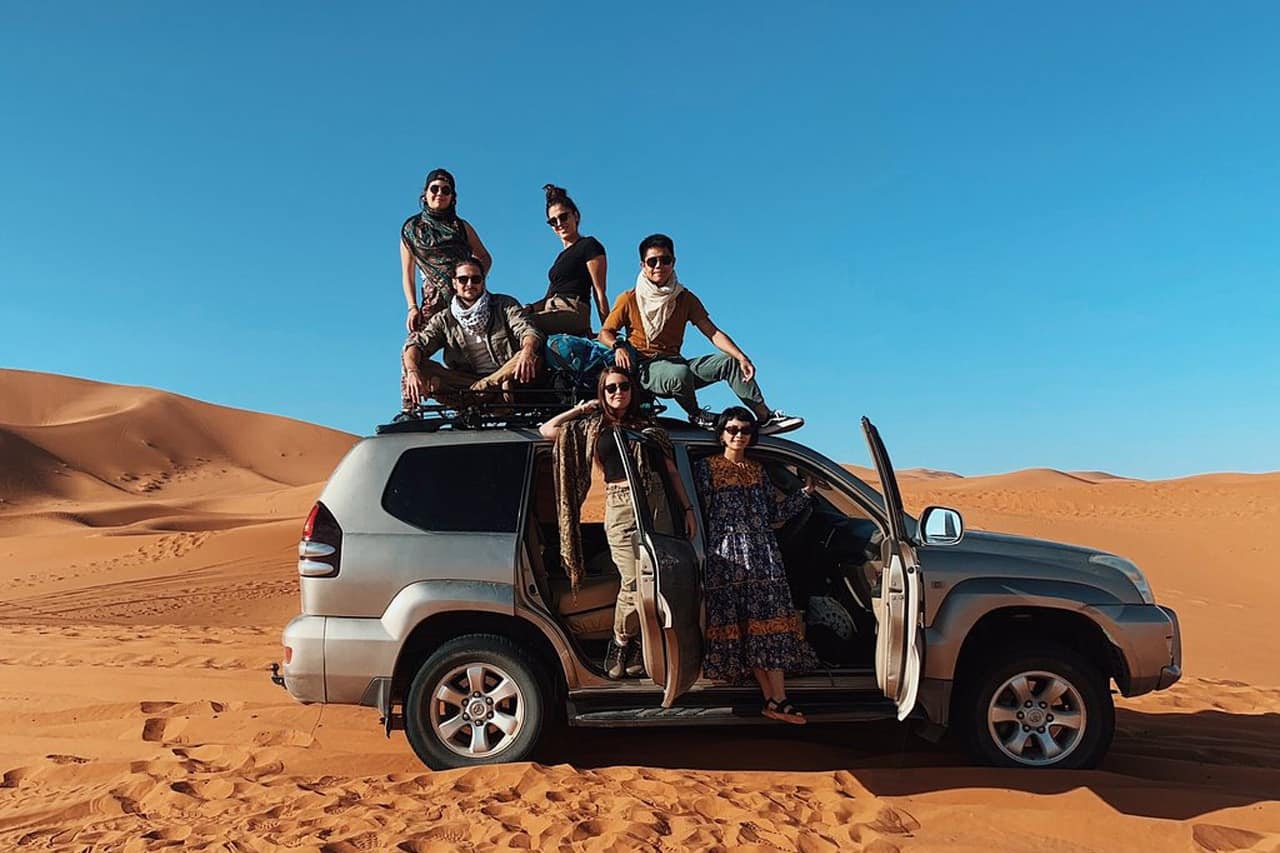 4 DAYS FES TO MARRAKECH DESERT TOUR
LET US MAKE YOUR 4 DAYS FES TO MARRAKECH DESERT TOUR COME TRUE
This 4 Days Fes To Marrakech Desert Tour is one of the popular tours start from Fes and joying our trip through the remarkable winding roads and Berber villages of the Middle Atlas Mountains, and sightseeing the full day in the Sahara Merzouga to discover and explore the real Sahara locals, visit Dades valley, Todra Gorge. 
Start our last adventure by walking through the old buildings of Ouarzazate including UNESCO kasbah Ait Ben Haddou and discovering its old vibes and crowded Souks.
THE HIGHLIGHT OF 4 DAYS FES TO MARRAKECH DESERT TOUR :
Enjoying the beautiful panoramic views
Get to know the authentic Berber Villages
Several stops at the high Atlas Mountains
Visit the UNESCO Kasbbah Ait Benhaddou
Drive along Dades Valley
Short walk in Todra Gorge; canyons
Experience the camel ride in the desert.
Enjoy watching magic sunset over the sand dunes in the desert
Try the sand-boarding in the dunes in your own.
Enjoy watching sunrise in the desert 
Overnight in the Berber camp.
Enjoy watching the starry sky.
TOUR ITINERARY OF 4 DAYS FES TO MARRAKECH DESERT TOUR
DAY 1: Fes – Ifrane – Midelt – Merzouga
Our best 4 Days Fes to Marrakech desert tour begins the early morning by picking you up from your Hotel or Riad in Fes, and then start our Trip Desert Fes through the winding roads and Berber villages of the Middle Atlas Mountains. 
We will do over stops included in Imouzzer, the little Berber village with remarkable green landscapes and flowing rivers. 
Next, we will continue our Fes Desert Tours 4 Days to Ifrane, "known as Switzerland city", to admire the cool Mountains weather and the magnificent French architecture, which gives Ifrane its unique sophisticated touch. 
After that, we will continue towards the spectacular Cedar Forests in Azrou, to wander through the highest trees, have some pure air and feed the little cute monkeys. after We will go in our Fes to Marrakech Desert Tour to Midelt, the Berber town of rocks and fossils, where we will enjoy a tempting Berber Tagine for lunch. 
Our final stop would be in the Merzouga, where your experience trekking camel waiting for you to ride your camels through the high golden Dunes of Erg Chebbi, as we admire the captivating sunset and the fabulous Sahara calmness. 
We will spend the first night of Fes To Marrakech Desert Tour in an exotic luxury Camp, gathering around the campfire and staring at the fascinating starry sky.
DAY 2: Entire Day To Sightseeing the Sahara Desert
The second day of our 4 Days Fes To Marrakech Desert Tour In the morning after breakfast, we will do an amazing expedition tour around desert Merzouga start from camel trek back, finding a vehicle 4×4 waiting for us.
Drive through the Erg Chebbi dunes, visit the nomadic family, before we head to the village of dark-skinned people (village of the Gnaoua) originally slaves of Sudan, there we will wander through the village discovering its most delicious food, traditions, and the typical Sahara life like listening to a Gnaoua music and their experience of the lifestyle.
The overnight will be in the hotel.
DAY 3: Merzouga – Rissani – Tinghir – Todra Gorges – Dades valley –skoura – Ouarzazate
We will get up early to enjoy watching the magical combination of golden Sands and beautiful sunrise.
After that, We will say goodbye to the charming Sahara Desert and drive through the green Oases in the middle of the bare Sahara.
We will do several stops, especially the main stop in Todra Gorges to enjoy a walk under the 300 meters high cliffs, the spectacular high orange cliffs, making a fascinating destination for adventure and nature lovers.
Also, we will take you through the authentic mud buildings and the Berber local life, and then continue our Fes to Marrakech Sahara Tours via Dades valley, the little green paradise in the Desert.
After a sweety and tasty lunch in a local restaurant, we will head to The Valleys of Roses and Skoura, as you immerse yourself in the enrich Berber culture.
Next on our 4 Days Tour from Fes to Merzouga Desert, we will stop in Ouarzazate, the door of the Desert. Our overnight would be spent in a traditional Hotel, with a perfect view of the Atlas Mountains.
Day 4: Ouarzazatte– Ait Benhaddou- Tizi N'tichka Pass- Marrakech
We will start our last adventure by walking through the old buildings of Ouarzazate, Reaching to a first major stop for sightseeing, it is the Kasbah of Ait Ben Haddou, a UNESCO world heritage site, is also known for a set of major Hollywood epics filmed, such as Game of Thrones, Kingdom of Heaven, Lawrence of Arabia, and Gladiator, etc.
As well as get to know some of the events and architectural mystery of the village discovering its old vibes and crowded Souks.
Last, we will cross the winding, adventurous roads of TIZI'N Tichka Pass, passing by thousand Kasbahs going back to Marrakech.
Our endpoint would be in Marrakech The red city, where you will discover a new world of Red streets, walls, and crowded squares.
Your 4 days Fes to Marrakech desert tour will come to an end with a drop-off at your hotel or Riad.
INCLUDED & EXCLUDED OF THIS 4 DAYS FES TO MARRAKECH DESERT TOUR
Private Transport A/C in Minibus or 4×4 car vehicle with English speaking guide/driver.
Pick up & Drop off from and to your accommodation.
3 Nights in the hotel, (private room with bathroom).
1 Night in the luxury camp (private tent with bathroom).
Camel ride for each in the desert.
Daily Breakfast and Dinner.
4×4 car for exploring in the Sahara desert.
Lunch meals.
Beverages.
Entrance fees, other personal expenses and gratuities.
GOOD TO KNOW ABOUT THIS 4 DAYS TRIP FROM FES
IMPORTANT TO READ ABOUT THIS 4 DAYS FES TO MARRAKECH DESERT TOUR
This Fes desert trip can be tailored to be more personalized and unique.
Quad bike & Buggies in the dunes can be excluded as an extra.
Alcoholic drinks (available to purchase)
Here's a packing list you can print out to help you prepare for your Moroccan desert tour.
You can always consult your driver about skipping some stops to spend more time elsewhere.
These prices are subject to change based on the current exchange rate.
You can ask if others are interested in sharing the tour, or let us know if you are interested in this yourself if you book early.
To reserve the car, we require a 20% deposit of the total price.
We accept PayPal, bank transfers in Europe, credit cards, and cash (USD, Euro, GBP or MAD)
Children under the age of 12 receive a 25% discount, while children under the age of 5 are not charged.
ACCOMMODATION OF 4 DAYS TOUR FROM FES TO MARRAKECH
CHOOSE YOUR FAVORITE ACCOMMODATION FOR THIS 4 DAYS FES TO MARRAKECH DESERT TOUR
1st Night at Riad Serai, Dar Merzouga or similar
2nd Night at Ideal Desert Camp or similar
3rd Night at Hotel Les Jardines, Hotel Amlal or similar
NOTE: you are free to mix between the accommodations.
For more info about these accommodation feel free to contact us.
Email us for any inquiry, and we happily to answer you ASAP.
Please make sure that your E-mail is correct to get our response.
Reviews about our 4 days Fes to Marrakech desert tour
Top 4 days Sahara desert tour Ever
My friends and I went to Morocco with To Morocco Travel and had a great time there thanks to our guides who did a brilliant job driving us to wonderful places. Also, we met other groups travelling like us and became good friends! Looking forward to schedule the next visit 🙂
Best desert trip from Fes ever
The best trip by far! I loved our tour with Hassan. He took us to all the must see attractions and he was very patient with us as we stopped by a few shops for souvenirs. Hassan also invited us to his house for tea! Super hospitable. He would definitely go back to Morocco again
Incredible Fes trip to the desert of Merzouga
Unforgettable trip to the desert, the driver and guide showed us beautiful places, friendly and professional treatment. The camp between the dunes was wonderful, concert with the berebwres and delicious food. I recommend it 100%
RELATED TOURS OF 4 DAYS FES TO MARRAKECH DESERT TOUR