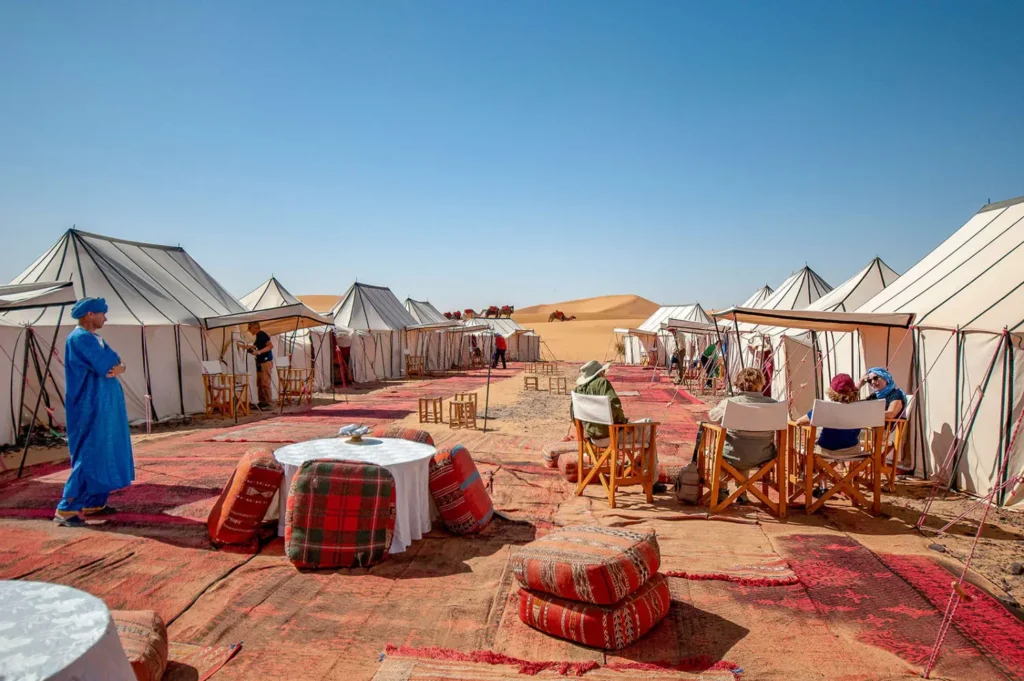 2 DAYS TOUR FROM MARRAKECH TO ZAGORA DESERT
This 2 days tour from Marrakech to Zagora desert is a popular option for travelers who want to explore the Moroccan desert but have limited time
This 2 days tour from Marrakech to Zagora is a popular option for travelers who want to experience the Moroccan desert but have limited time. The tour typically includes a visit to the UNESCO World Heritage site of Ait Benhaddou, a camel ride in the desert, and an overnight stay in a traditional nomad tent.
Be aware that Zagora is a rocky kind of desert that has no big sand dunes, unlike the Merzouga desert.
THE HIGHLIGHTS OF THIS 2 DAYS TOUR FROM MARRAKECH TO ZAGORA
The 2 days tour from Marrakech to Zagora desert offers some great highlights and experiences, including:
Ait Ben Haddou: You'll have the chance to visit the UNESCO-listed Kasbah of Ait Ben Haddou
The Draa Valley: As you drive through the Draa Valley, you'll pass by palm groves, kasbahs, and small Berber villages.
Camel Ride: You'll experience a camel ride (around 1 hour) to reach the desert camp in Zagora.
Desert Camp: Spending a night in a Berber tent in the Zagora desert is a unique experience that allows you to immerse yourself in the desert culture and enjoy traditional Moroccan food, music, and hospitality.
Sunrise and Sunset: You'll have the chance to watch the sunrise and sunset over the dunes, which is a magical and unforgettable experience.
Optional Activities: Depending on your preferences, you can also enjoy some optional activities such as longer camel rides, or Quad baking…
Overall, this 2 days Zagora desert tour offers a glimpse into the beauty and diversity of Morocco's landscapes and culture, and provides an excellent opportunity to experience the desert on a budget.
ITINERARY OF MARRAKECH TO ZAGORA 2 DAYS DESERT TOUR
DAY 1 :
Marrakech – Tizi-N-Ticha – Ouarzazate – Agdez – Draa Vally – Zagora:
On the first day of the tour, travelers depart early in the morning from Marrakech and drive across the High Atlas Mountains, passing through the Tizi n'Tichka pass with some over stops. We stop at Ait Benhaddou, an ancient kasbah that has been featured in many films and TV shows. After exploring the kasbah, we will continue driving through the Draa Valley, passing through Berber villages and palm groves. We arrive in Zagora in the afternoon and take a camel ride to a Berber camp in the desert. Wewill enjoy dinner and spend the night in a traditional nomad tent under the stars.
DAY 2:
Zagora – Draa valley – Agdez – Ouarzazate – Tizi N'Ticha - Marrakech
On the second day, we will wake up early to watch the magical sunrise over the desert. After breakfast, we will take a camel ride back to Zagora and drive back to Marrakech. We will stop in the village of Agdez for a beautiful panoramic view. we then drive through the High Atlas Mountains and arrive back in Marrakech in the evening.
This 2 days tour from Marrakech to Zagora offers a taste of the Moroccan desert and includes some of the highlights of the region, such as Ait Benhaddou and the Draa Valley. However, it's important to note that the desert experience in Zagora is different from that in Merzouga, as the dunes in Zagora are smaller and less imposing.
INCLUDED AND EXCLUDED IN 2 DAYS TOUR FROM MARRAKECH TO ZAGORA
The inclusions and exclusions of a 2 days tour from Marrakech to Zagora desert can vary depending on the tour operator you choose, but here are some common inclusions and exclusions:
Pickup and drop-off from your accommodation in Marrakech
Transportation in a comfortable and air-conditioned vehicle
English-speaking driver/guide
1-hour camel ride to reach the desert camp in Zagora
Overnight stay in a Berber tent in the Zagora desert
Dinner and breakfast at the desert camp
Bottled water during the tour
Lunch and drinks.
Optional activities such as Quad biking.
Entrance fees to attractions such as Atlas Studio.
Tips for the driver/guide or other staff.
It's important to carefully check the details of the tour you're interested in to make sure you understand what is included and excluded, and to clarify any questions or concerns with the tour operator before booking.
GOOD TO KNOW ABOUT 2 DAYS TRIP MARRAKECH TO ZAGORA
Here are some important things to know about a 2-day trip from Marrakech to Zagora:
Distance and Travel Time: Zagora is located approximately 360km southeast of Marrakech, and the travel time by car is around 7 to 8 hours (including stops for sightseeing and lunch). This means that the first day of the tour will involve a lot of driving.
Desert Conditions: The Zagora desert is not as impressive as the Merzouga desert, but it still offers a unique and beautiful landscape. Temperatures in the desert can be extreme, so it's important to wear appropriate clothing and bring sunscreen, a hat, and sunglasses. Nights in the desert can be chilly, so you may want to bring a warm jacket or sweater.
Camel Ride: The 1-hour camel ride to reach the desert camp in Zagora can be a fun and memorable experience, but it's important to note that riding a camel can be uncomfortable for some people, especially those with back or knee problems. Make sure to inform your tour operator if you have any concerns or special needs.
Accommodation: The accommodation in the Zagora desert camp is basic, with simple Berber tents and shared bathroom facilities. However, the experience of sleeping under the stars in the desert is unforgettable.
Safety: Morocco is generally a safe country for tourists, but it's always important to take basic safety precautions such as keeping your valuables secure and being aware of your surroundings.
This 2 days tour from Marrakech to Zagora can be tailored to be more personalized and unique.
You have to bear in mind that you will expect the rocky desert which has no big dunes like in the desert of Merzouga, but if you want to visit the real Sahara desert with big dunes we recommended you check this tour 2 days tour Marrakech to Merzouga
If you have enough time in Morocco we highly recommend you this 3 days tour Marrakech to Merzouga
You can always consult your driver about skipping some stops to spend more time elsewhere.
These prices are subject to change based on the current exchange rate.
To reserve the car, we require a 20% deposit of the total price.
We accept PayPal, bank transfers in Europe, credit cards, and cash (USD, Euro, GBP, or MAD)
Children under the age of 12 receive a 25% discount, while children under the age of 5 are not charged.
By keeping these things in mind, you can have a safe and enjoyable 2 days tour from Marrakech to Zagora.
2-DAY TOUR FROM MARRAKECH TO ZAGORA - REVIEWS
Here are some of testimonials and reviews of our great customers based on their experience with us click on the link below to see all what people said about our 2 days tour from Marrakech to Zagora desert.
Best Marrakech to Zagora tour Ever
My friends and I went to Morocco with To Morocco Travel and had a great time there thanks to our guides who did a brilliant job driving us to wonderful places. Also, we met other groups travelling like us and became good friends! Looking forward to schedule the next visit 🙂
Experiencia inolvidable del desierto
Fue una experencia increíble con el guía Mohammed! Más que guía se convirtió en un amigo para todos nosotros, hicimos un gran grupo.
Las visitas eran de lo más divertido a la vez que bonitas.
Recomendable 100% y si volviera a Marrakech no dudaría en volver a elegirlo!
Incredible Zagora desert tour from Marrakech
Unforgettable trip to the desert, the driver and guide showed us beautiful places, friendly and professional treatment. The camp between the dunes was wonderful, concert with the berebwres and delicious food. I recommend it 100%
BOOK - SEND US YOUR INQUIRIES ABOUT THE TOUR
Email us for any inquiry, and we happily to answer you ASAP.
Please make sure that your E-mail is correct to get our response.
FAQ OF 2 DAYS TRIP FROM MARRAKECH TO ZAGORA
Here are some of the most questions we got, and we hope these may help you, if you still have any other question send us.
What is the distance between Zagora and Marrakech?
The distance between Marrakech and Zagora is approximately 255 kilometers.
Is it okay if we bring our luggage on this tour?
Yes, you are welcome to bring your luggage; we will transport it as well.
How cold is it in the desert at night?
The desert gets very cold at night in the winter (temperatures can drop to under 0). Warm blankets are available, but we strongly advise you to bring warm sleeping clothes.
Can we forego the camel ride in Zagora?
You can also walk alongside the camel caravan or pay an extra EUR 30 for a return transfer in a 4×4 vehicle.
How long does a camel ride in the Zagora dunes last?
The camel trek takes about an hour, depending on the season, daylight, and other factors.
Is it possible to rent a quad bike in the Zagora desert?
Yes, if you skip the camel ride or get up an hour earlier in the morning.
What is the policy on cancellations?
Policy on Cancellation: If you cancel at least 5 days before the trip, you will receive a full refund.
Which is better, Zagora or Merzouga?
Merzouga is far superior, and a two-day tour to Merzouga is possible. Even if you travel to Zagora in 2 days tour, the majority of your time will be spent on the journey. Zagora is the entrance to the Sahara, and Merzouga continues deeper into the desert with the highest sand dunes.
TOURS YOU MAY INTERESTED IN