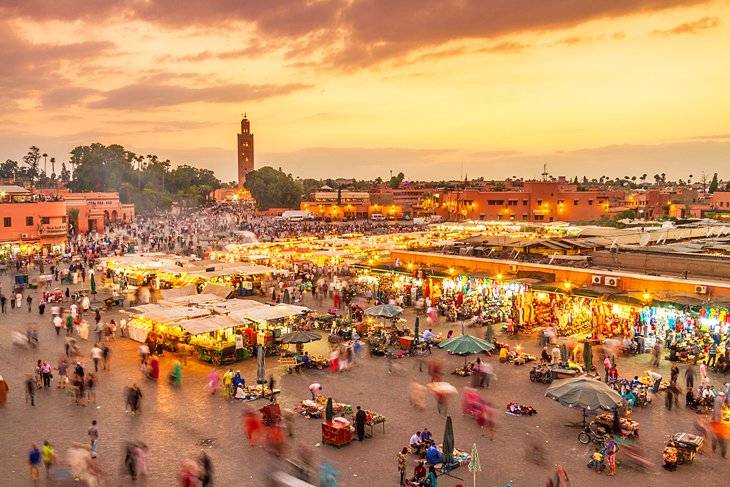 4 DAYS TRIP FROM OUARZAZATE TO MERZOUGA DESERT
In this 4 days trip from Ouarzazate to Merzouga desert will Enjoy the best of the Sahara desert of Merzouga, try the experience of camel trek, explore kasbahs, gorges, valleys, Berber villages...And much more
This 4 days trip from Ouarzazate to Merzouga desert is ideal for travellers who desire to visit the Sahara Desert at a slow and relaxed pace, It enables you to learn about the history, Berber culture, and beautiful landscapes of southern Morocco., Arfoud, Erg chebbi dunes, Camel rides, Berber villages, Toudra and Dades gorges, Ouarzazate, Ait Ben Haddou Kasbah, The high Atlas mountains, Tizin'tichka pass & Marrakech
HIGHLIGHTS OF 4 DAYS TRIP FROM OUARZAZATE TO MERZOUGA DESERT
Taking selfies in blue turbans and enjoying a sunset camel ride in the Erg Chebbi Dunes
A night of Berber music and drumming around a fire camp
Spending a beautiful night at the foot of the dunes in a luxury desert camp
Walking along the river in the Toudgha Gorges and the Dades Valley, or going on a hike with a local guide
Off-roading through the Valley of the Roses and the Road of 1000 Kasbahs
Visiting Kasbah Amredhil's small museum
Exploring Ait Ben Haddou's UNESCO World Heritage Kasbah and Kasbah Telouet
Driving through the High Atlas Mountains and over the Tizi-n-Tichka pass, taking in the breathtaking scenery
ITINERARY OF 4 DAYS DESERT TOUR FROM OUARZAZATE TO MERZOUGA
DAY 1:
Ouarzazate - Rose Valley - Dades Valley - Todra Gorge - Sahara desert Merzouga
In the morning, we will begin the best 4 days trip from Ouarzazate to Merzouga desert, then to Skoura, where we will pay a brief visit to the Amredhyle Kasbah, one of the wonders of the southern thousand kasbahs." We'll continue our journey through Rose Valley,
After, we will drive to Tinjdad via Tinghir palm plantations, stopping for lunch before crossing Touroug Palm Plantations to Erfoud town, which will include a visit to its local fossil craft workshop. We will continue our Ouarzazate desert tour to the fascinating Erg Chebbi dunes, also known as the Merzouga dunes. 
We will switch from our vehicle to camels and take you on a camel ride in the desert to enjoy the sunset on the dunes, then continue to the Berber tents for a stunning night full of fan with nomads music dumps and dancing around the fire.
DAY 2:
Sahara Desert Merzouga tour
In the following dau of 4 days trip from Ouarzazate to Merzouga desert, We'll get up early to catch the spectacular sunrise over the dunes returing to the camp for a shower. and After breakfast, we will start our second day to Khamlia village to enjoy live Gnawa music, then continue on an off-road tour of sand dunes before stopping for tea with a family nomads in Berber tents, where you will discover a new way of life. also we will do a short Safari driving among the sand dunes, from then we continuing to your hotel or Camp.
DAY 3 :
Merzouga - Dades Valley
The last day of our 4 Days trip from Ouarzazate to Merzouga desert, we recommended you to wake up early morning to catch the stunning sunrise.
After your fresh breakfast, we will leave the Sahara desert of Merzouga, heading to Rissani to take a walk at one of the oldest city in Morocco to see its traditional Markets and much more about it. Then we following the way to Dades Valley.
We will do a stop at Erfoud city to take a look at Fossils museum. continuing our way with a stop for lunch on the way, then you will continue to Dades Valley, stopping to photograph the amazing rock formation known as the monkey feet. Drive through Dades Gorges, one of the most beautiful roads ending our day at the beautiful hotel overlooks at the river. 
DAY 4 :
Dades Valley - Kasbah Ait Benhaddou - High Atlas Mountains - Marrakech
There will be more opportunities to explore the valley after breakfast. You then drive through the Valley of the Roses to Kel'aa M'gouna. Visit the organic cosmetics co-operatives and learn how the locals make rose-scented perfumes.
The journey continues to Skoura Oasis via the Road of a Thousand Kasbahs. Visit the beautifully restored Kasbah Amredhil and stroll through its palm tree fields.
You arrive at Kasbah Ait Ben Haddou after a short drive. This is a UNESCO World Heritage Site and has served as the setting for many Hollywood blockbusters, example "The Gladiator," "Lawrence of Arabia," and the popular television series "Game of Thrones." you will have a chance to visit this Kasbah escorted by a guide.
Lunch can be served at one of the local restaurants.
You continue your 4 days trip from Ouarzazate to Kasbah Telouet via the Ounila Valley. This kasbah was formerly a residential palace and is lavishly decorated with tiling and woodwork. You will arrive in Marrakech in the afternoon after crossing the Tizi-n-Tichka Pass. Your driver will drop you off at your hotel or airport. Here your amazing 4 days trip from Ouarzazate to Merzouga desert comes to the end.
INCLUDED & EXCLUDED IN 4 DAYS DESERT TRIP FROM OUARZAZATE TO MERZOUGA
GOOD TO KNOW ABOUT THIS 4 DAYS OUARZAZATE DESERT TOUR TO MERZOUGA
Email Us For Any Inquiry, And We Happily To Answer You ASAP.
Note: Please check and confirm your Email in the contact form before you send us.
REVIEWS OF 4 DAYS TRIP FROM OUARZAZATE TO MERZOUGA DESERT
Reviews about our 4 days trip from Ouarzazate to Merzouga desert
Best Sahara desert tour Ever
My friends and I went to Morocco with To Morocco Travel and had a great time there thanks to our guides who did a brilliant job driving us to wonderful places. Also, we met other groups travelling like us and became good friends! Looking forward to schedule the next visit 🙂
The best trip by far! I loved our tour with Hassan. He took us to all the must see attractions and he was very patient with us as we stopped by a few shops for souvenirs. Hassan also invited us to his house for tea! Super hospitable. He would definitely go back to Morocco again
Incredible trip to the desert of Merzouga
Unforgettable trip to the desert, the driver and guide showed us beautiful places, friendly and professional treatment. The camp between the dunes was wonderful, concert with the berebwres and delicious food. I recommend it 100%