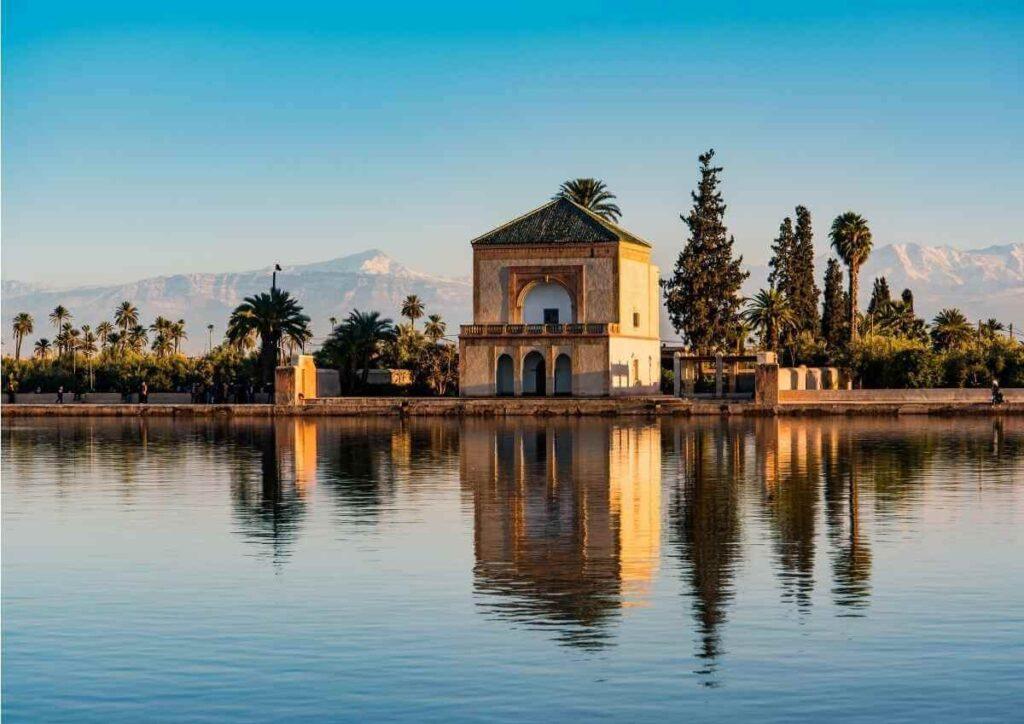 5 DAYS DESERT TOUR FROM MARRAKECH
This 5 days desert tour from Marrakech to Merzouga offers an incredible journey through the diverse landscapes and cultures of Morocco.
This 5 days desert tour from Marrakech to Merzouga, including two nights in the desert, offers a fantastic opportunity to explore the diverse landscapes and cultural treasures of Morocco.
This 5 day desert tour offers a blend of cultural exploration, natural beauty, and the unique experience of spending two nights in the Sahara Desert. It allows you to see the breathtaking landscapes of Morocco and engage with the rich heritage and warm hospitality of the locals.
THE HIGHLIGHTS OF 5 DAYS DESERT TOUR FROM MARRAKECH
High Atlas Mountains: Journey through the scenic High Atlas Mountains and marvel at the stunning landscapes and panoramic views from the Tizi n'Tichka pass.
Ait Ben Haddou Kasbah: Visit the UNESCO-listed Ait Ben Haddou, an ancient fortified village that has served as a backdrop for numerous films and TV shows.
Dades Valley: Discover the picturesque Dades Valley, known for its impressive rock formations and stunning landscapes.
Todra Gorge: Explore the towering Todra Gorge, a dramatic canyon with sheer cliffs reaching up to 300 meters in height.
Sahara Desert Experience: The highlight of the tour is undoubtedly the Sahara Desert experience.
Spend a night in a traditional desert camp, enjoying a Moroccan dinner, Berber music, and stargazing.
Draa Valley: Travel through the enchanting Draa Valley, known for its lush palm groves, ancient kasbahs, and scenic landscapes.
Explore traditional villages and enjoy the tranquility of the surroundings.
Cultural Immersion: Throughout the tour, you'll have opportunities to interact with local Berber communities, learn about their traditions, and experience Moroccan hospitality. 
This can include visiting traditional villages, meeting nomadic families.
ITINERARY OF 5 DAYS DESERT TOUR FROM MARRAKECH TO MERZOUGA
It is important to read carefully about this itinerary of 5 Days desert tour from Marrakech, to be aware of what you will see and expect.
Day 1: Marrakech - High Atlas - Ouarzazate
Your 5 days desert tour begins in Marrakech, where you'll be picked up by your guide or driver around at 8:00 AM. You'll head towards the hight Atlas Mountains; rises around 4167 meters altitude, passing through the scenic Tizi n'Tichka pass where we will do a stop to enjoy its panoramic views and Berber villages. Along the way, you'll stop at the UNESCO World Heritage site of Ait Benhaddou, a fortified village has gained international fame as a popular filming location. Numerous movies and TV shows, including "Gladiator," "Lawrence of Arabia," and "Game of Thrones," have used the kasbah as a backdrop for their productions. After exploring Ait Benhaddou for around one hour, you'll continue to Ouarzazate, where you'll spend the night.
Day 2: Ouarzazate - Todra gorge - Erfoud - Merzouga desert
On the second day, you'll leave Ouarzazate and travel to the stunning Todra Gorges, known for their towering canyon walls; these dramatic canyons feature towering cliffs that rise up to 400 meters, creating a breathtaking natural spectacle. You'll have some time to explore and take in the dramatic scenery before continuing to Merzouga, a small village on the edge of the Sahara Desert. In Merzouga, you'll meet your camel caravan and ride into the Erg Chebbi dunes, where you'll enjoy a magical sunset over the dunes and spend the night in a desert camp. 
Enjoy a traditional Moroccan dinner and experience the magic of the desert with its vast expanse of sand and starry skies.
Once you finish your meal, be ready for a small nomad's party, playing drums, dancing, sitting around the fire, and many more things you can do there.
Day 3: Merzouga Desert Sightseeing Tour
The third day is dedicated to fully immersing yourself in the desert experience. Wake up early to see the stunning sunrise over the dunes, a truly unforgettable sight. After breakfast, you'll have the opportunity to explore the desert further, starting from Berber nomadic experience; gain insight into the traditional
way of life of the Berber nomads who have inhabited the desert for centuries.
Visit a local Berber family and learn about their customs, traditions, and daily routines. Enjoy Berber hospitality as you share mint tea and listen to stories of their desert lifestyle. 
Later on, visiting El Khamliya can offer a fascinating glimpse into the Gnawa culture, their music, and their way of life. It's an opportunity to appreciate the diversity and richness of Morocco's cultural heritage.
You can take a walk in the dunes, try sandboarding, or simply relax and enjoy the tranquility of the desert. In the afternoon, you'll return to your desert camp or hotel for another night in the desert.
Day 4: Merzouga - Rissani - Draa Valley - Dades valley
After breakfast and bidding farewell to the desert, you'll make your way back towards Ouarzazate. On the way, you'll pass through the beautiful Draa Valley, famous for its lush palm groves, traditional villages, and ancient kasbahs. You'll have the chance to stop at Rissani to visit tis ancient traditional market, if you coinside the daily market; Tuesday, Thursday, and Saturday, then to Erfoud to visit the fossilized marble manufacturers before continuing to Touroug and Tinjdad palm groves.
We will have our lunch on the way. Later on, we continue our 5 days desert tour from Marrakech to Dades Valley, also called Boumalne Dades, we will make a stop on the way to admire spectacular rock formations also known as monkeys fingers. Dinner and overnight in an amazing hotel overlooking the valley.
Day 5: Dades valley - Telouet - Atlas Mountains - Marrakech
On the final day of your Marrakech desert tour 5 days, you'll head back to Marrakech from Dades valley, with a drive through the High Atlas Mountains. You'll pass by scenic landscapes and traditional Berber villages, and also it is an option to visit the Atlas Studio. Your 5 days desert tour from Marrakech will end upon reaching Marrakech, where you'll be dropped off at your hotel or the airport. Thank you!!
INCLUDED AND NOT INCLUDED IN THE TOUR
here are some inclusions and exclusions in this 5-day desert tour from Marrakech you can expect:
Private modern transport with A/C.
Experienced English, Spanish driver/guide.
Pick up & Drop off at hotel to Airport and vice versa.
3 nights at the best hotels in the area with private room and toilet.
1 night at luxury camp with a private tent and toilet.
Visit the Kasbah of Ait Benhaddou.
Camel trekking per each in the sahara Merzouga
Car 4×4 vehicle for sightseeing around Sahara desert. 
Daily Breakfast and dinner.
Stop at every place for photography
Flights ticket.
Lunches meals.
Personal Expenses, tips..
Entrance Fees to the ticket-required sites.
MARRAKECH DESERT TOUR 5 DAYS PRICE
The price of a 5 days Marrakech desert tour can vary depending on various factors such as, the level of accommodation, the number pf travelers, and the time of year you plan to travel. It's best to contact us by filling out the contact form below. We will be able to provide you with detailed pricing based on your preferences and requirements.
BOOK THIS 5 DAYS DESERT TOUR FROM MARRAKECH
Email us for any inquiry, and we happily to answer you ASAP.
Please make sure that your Email is correct to get our reply.
5 DAYS TOUR FROM MARRAKECH TO MERZOUGA - REVIEWS
Here are some reviews of our customers based on their experience with us click on the link below to see all what people said about our 5 days desert tour from Marrakech.
Would say it an unforgettable experience in my lifetime. You will get yourself immersed in the Morocco culture and be embraced by the warmth from hospitable Morocco people. Would definitely give 5-star to our reliable driver Hammi and our warm-hearted tour guide Hassan. I unlocked many "first time" in this trip — first time camel ride, first time dessert dance, first time tajine tasting, first time hammam spa, first time road trip KTV (you can also enjoy free dance show performed by our super star Hassan aka Mr.
Lovely Marrakech 5 days tour to Sahara
The best trip by far! I loved our 5 days tour from Marrakech, with Hassan. He took us to all the must see attractions and he was very patient with us as we stopped by a few shops for souvenirs. Hassan also invited us to his house for tea! Super hospitable. He would definitely go back to Morocco again
Incredible trip to the desert of Merzouga
Unforgettable trip to the desert, the driver and guide showed us beautiful places, friendly and professional treatment. The camp between the dunes was wonderful, concert with the berebwres and delicious food. I recommend it 100%
Here are some of pictures which you will expect to see, if you want to see more pics follow us on Instagram or Facebook, the links are in the below bar.
FREQUENTLY ASKED QUESTIONS
Can you go to the desert from Marrakech?
Erg Chebbi near Merzouga and Erg Chiggaga near Mhamid are the two closest desert areas to Marrakech. Erg Chebbi is the more popular of the two with tourists due to its higher, more colorful dunes, though reports differ on the actual heights of the dunes in both locations.
Can you visit the Sahara desert from Marrakech?
Joining a private or group tour from Marrakech to the Sahara is the most convenient way to get there.
How far is Marrakech to Sahara desert?
A day trip to the Sahara desert from Marrakech is not possible. Merzouga, the Sahara's gateway, is about 350 miles or 560 kilometers from Marrakech, through winding mountain passes and dizzying curves. As a result, you shouldn't expect to reach the Sahara in a single day from Marrakech!
Is it possible to take a day trip to the Sahara Desert from Marrakech?
A day trip to the Sahara desert from Marrakech is not possible. Merzouga, the Sahara's gateway, is about 350 miles or 560 kilometers from Marrakech, through winding mountain passes and dizzying curves. As a result, you shouldn't expect to reach the Sahara in a single day from Marrakech!
Is it worthwhile to visit the Sahara Desert?
The Sahara Desert is the world's largest hot desert and a must-see destination for many. The prospect of spending a night in a tent under a million stars and climbing sand dunes to watch the sunset is certainly appealing.
RELATED TOURS TO 5 DAYS DESERT TOUR FROM MARRAKECH