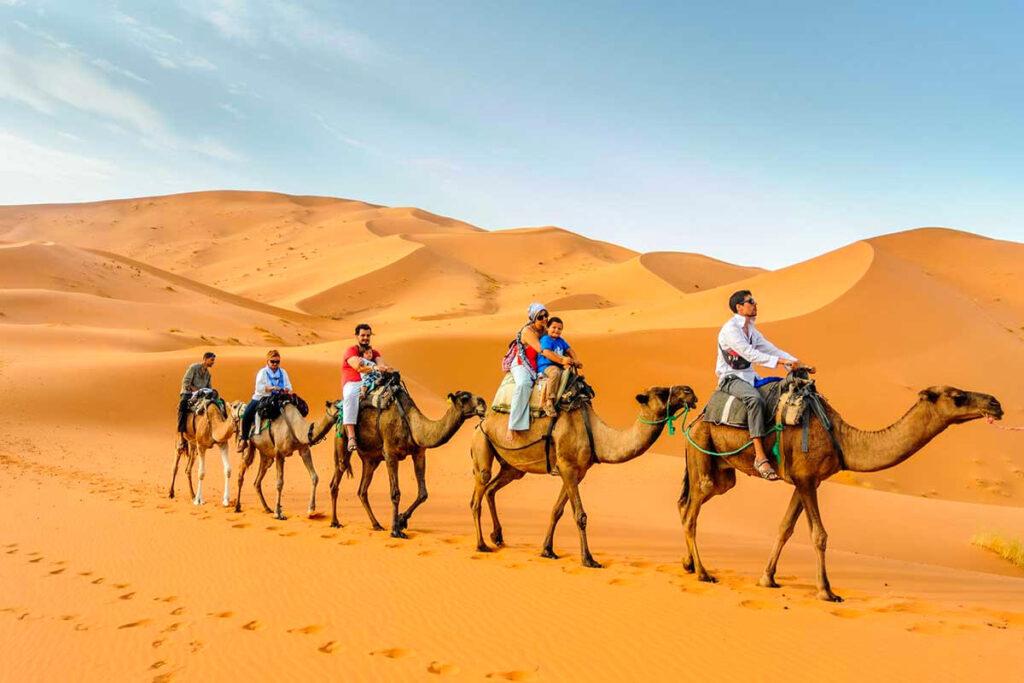 5 DAYS MARRAKECH TO FES DESERT TOUR
A 5 days Marrakech to Fes desert tour with 2 nights in the desert offers a fantastic opportunity to explore the diverse landscapes and rich culture of Morocco.
The 5 days tour from Marrakech to Fes offers a captivating journey through the diverse landscapes and cultural wonders of Morocco. Here's a summary of the tour:
Depart from Marrakech, drive through the High Atlas Mountains, visit Ait Ben Haddou, and reach Dades Gorges for an overnight stay. Travel to Todra Gorges, continue to Merzouga near Erg Chebbi, enjoy a camel trek into the Sahara Desert, and spend the night in a desert camp.
Enjoy breathtaking sunrise over the dunes, return to Merzouga, explore the village and take a 4×4 excursion to nomadic settlements, and spend another night in Merzouga. Pass through the Ziz Valley, and arrive in Fes. Explore the city's historic medina and notable attractions.
Take a guided tour of Fes, visit landmarks like the medina, university, and tanneries,…
HIGHLIGHT OF THE 5 DAYS DESERT TOUR MARRAKECH TO FES
The 5-day tour from Marrakech to Fes offers several highlights that showcase the beauty and diversity of Morocco. Here are some key highlights of the tour:
High Atlas Mountains: Journey through the stunning High Atlas Mountains, enjoying scenic views and picturesque landscapes.
Ait Ben Haddou: Visit the UNESCO-listed Ait Ben Haddou.
Dades Gorges: Explore the dramatic rock formations and breathtaking valleys of Dades Gorges.
Todgha Gorges: Discover the impressive Todra Gorges, famous for its towering cliffs and spectacular natural beauty.
Experience the magical Sahara Desert by embarking on a sunset camel trek into the Erg Chebbi dunes.
Spend the night in a traditional desert camp, enjoying traditional music, food, and stargazing.
Immerse yourself in the charming village of Merzouga, located at the edge of the Sahara Desert. Explore its unique culture, traditions, and hospitality.
4×4 Desert Excursion: Venture deeper into the desert with a thrilling 4×4 excursion, visiting nomadic settlements, discovering the diverse landscapes, and experiencing the warm hospitality of the local people.
Explore the historic city of Fes, renowned for its UNESCO-listed medina, ancient mosques, vibrant souks, and intricate architecture.
These highlights offer a glimpse into the rich history, natural beauty, and cultural treasures that await you on a 5-day tour from Marrakech to Fes.
ITINERAY OF MARRAKECH TO FES DESERT TOUR 5 DAYS
DAY 1: MARRAKECH – ATLAS MOUNTAINS – KASBAH AIT BEN HADOU – DADES VALLEY:
Our Marrakech to Fes desert tour 5 days will depart from Marrakech in the morning around 8:00 am,  and head towards the High Atlas Mountains, where some stops will be made to enjoy these stunning views and getting to know the Berber villages. Drive through the Tizi n'Tichka pass, enjoying the breathtaking scenery.
Visit the UNESCO-listed Ait Ben Haddou, a fortified village used as a filming location for many movies, our visit will take around one hour to explore it step by step.
After our lunch in kasbah, we continue the journey to Dades Gorges through Ouarzazate, also known as Hollywood Of Africa, where you can visit the Atlas Studio; its the largest movie site producer. Continue to Dades Gorges known for its stunning rock formations and picturesque valleys.
DAY 2: DADES VALLEY - TODGHA GORGE – ERFOUD – MERZOUGA DESERT
After breakfast, drive to Todra Gorges, famous for its towering cliffs and scenic views; The gorge is renowned for its striking beauty, with its narrow, deep canyon walls and the crystal-clear waters of the river flowing through it.
Continue the journey towards the Sahara Desert, specifically Erg Chebbi through Erfoud a famous for its high-quality dates and fossils market.
Arrive in Merzouga and meet your camel caravan for a sunset camel trek into the desert, you will have a short break over the largest sand dune to watch the magical sunset and admire the incredible views of the desert, after that down to the desert camp.
Enjoy a traditional Moroccan dinner and spend the night in a desert camp, playing drums and singing, sitting around the fire, sleeping in traditional Berber tents under the starry sky.
DAY 3: SAHARA DESERT EXPOLARTION
Wake up early to watch the stunning sunrise over the sand dunes of Erg Chebbi, after a fresh breakfast in the camp, we return to Merzouga on camelback, or 4×4 car, where you'll start your excursion around the desert.
Take some time to relax and enjoy the serene atmosphere of the desert surroundings. In the afternoon, embark on a 4×4 excursion to explore the diverse landscapes of the desert, including visiting nomadic settlements and the vibrant Khamlia village.
Spend another night in Merzouga, either in a hotel or a desert camp.
DAY 4: SAHARA DESERT - AZROU - IFRANE - FES
Depart from Merzouga after breakfast and travel towards Fes. Driving through the Ziz Valley, known for its palm groves and traditional Moroccan villages.
Enjoy the scenic drive through the Middle Atlas Mountains, reaching the Cedar forest of Azrou, where you will enjoy a short time with Barbarian apes. 20 minutes later, we will reach to Ifrane; known as Switzerland of Morocco, we have around 15 minutes to walk in its cleanest streets and its unique architecture. 
Arrive in Fes, one of Morocco's most culturally significant and antiquity cities. Overnight stay in Fes.
Fes, one of Morocco's most culturally significant cities, offers a wealth of sightseeing opportunities. Here's a summary of the key attractions to explore in Fes:
Step into the UNESCO-listed Fes el-Bali, the oldest walled part of the city. Lose yourself in its labyrinthine streets, bustling souks, and vibrant atmosphere. Visit the Al-Qarawiyyin Mosque, founded in the 9th century, which is considered the oldest university in the world. Admire its intricate architecture and soak in the spiritual ambiance. Explore the Bou Inania Madrasa, a beautifully adorned Islamic school known for its stunning architecture, intricate woodwork, and intricate tilework.
Chouara Witness the ancient art of leather tanning at the Chouara Tannery. Observe the colorful dyeing vats and learn about the traditional methods that have been used for centuries.
Enter through the grand Bab Bou Jeloud gate, the main entrance to Fes el-Bali. Admire the intricate tilework and pass into the vibrant heart of the city. Here our 5 days Marrakech to Fes desert tour comes to the end.
INCLUSIONS AND EXCLUSIONS IN THE TOUR
It's essential to carefully review the inclusions and exclusions provided to have a clear understanding of what is covered in the 5 days Marrakech to Fes desert tour package and what additional costs you may need to consider.
Modern Transportation throughout the tour in a comfortable vehicle with AC.
Pick up & Drop off at your accommodation.
Spanish or English speaking driver or guide.
3 nights in the hotel; private room and toilet.
1 night in the desert camp; private tent and toilet.
Camel Trek: The tour often includes a sunset camel trek into the Sahara Desert.
Guided Tours: The tour includes guided tours of Ait Ben Haddou, and Fes.
Meals: tour includes daily breakfast, and dinner except in Fes.
Flight ticket.
Entrance Fees.
Dinner in Fes and Drinks.
Tips: Gratuities for guides, drivers, and staff are usually not included.
MARRAKECH TO FES DESERT TOUR GALLERY
BOOK YOUR 5 DAYS TRIP FROM MARRAKECH TO FES
Email us for your inquiries or reservation, and we happily to answer you ASAP.
Please make sure to confirm your Email so as to get our response
PRIVATE MARRAKECH TO FES DESERT TOUR 5 DAYS - REVIEWS
Here are some of reviews of our customers based on their experience with us, click on the link below to see all what people said about our 5 days Marrakech to Fes desert tour.
My friends and I went to Morocco with To Morocco Travel and had a great time in this amazing 5 days Marrakech to Fes desert tour, thanks to our guides who did a brilliant job driving us to wonderful places. Also, we met other groups travelling like us and became good friends! Looking forward to schedule the next visit 🙂
Beautiful Marrakech to Fes desert tour
The best trip by far! I loved our tour with Hassan. He took us to all the must see attractions and he was very patient with us as we stopped by a few shops for souvenirs. Hassan also invited us to his house for tea! Super hospitable. He would definitely go back to Morocco again
Incredible Trp to Merzouga Desert
Unforgettable trip to the desert, the driver and guide showed us beautiful places, friendly and professional treatment. The camp between the dunes was wonderful, concert with the berebwres and delicious food. I recommend it 100%
FREQUENTLY ASKED QUESTIONS
How far is Merzouga from Marrakech?
The distance between Marrakech and Merzouga is 564 kilometers, with the first night spent in Dades Valley and the second day spent in Merzouga. You will spend the third day driving back to Marrakech.
Can we bring our luggage on this tour?
Yes, you can bring your luggage with you, it can stay safe in the minivan.
How long is camel trek in Merzouga dunes?
The camel trek lasts for about 1 hour, depending on the season, daylight, etc.
Of course you can depends on the schedule.
What is the Cancellation Policy?
Cancellation Policy: You will receive a full refund if you cancel at least 3 days in advance before the trip commences.
For any suggestions, advice and Reservation. Contact Us