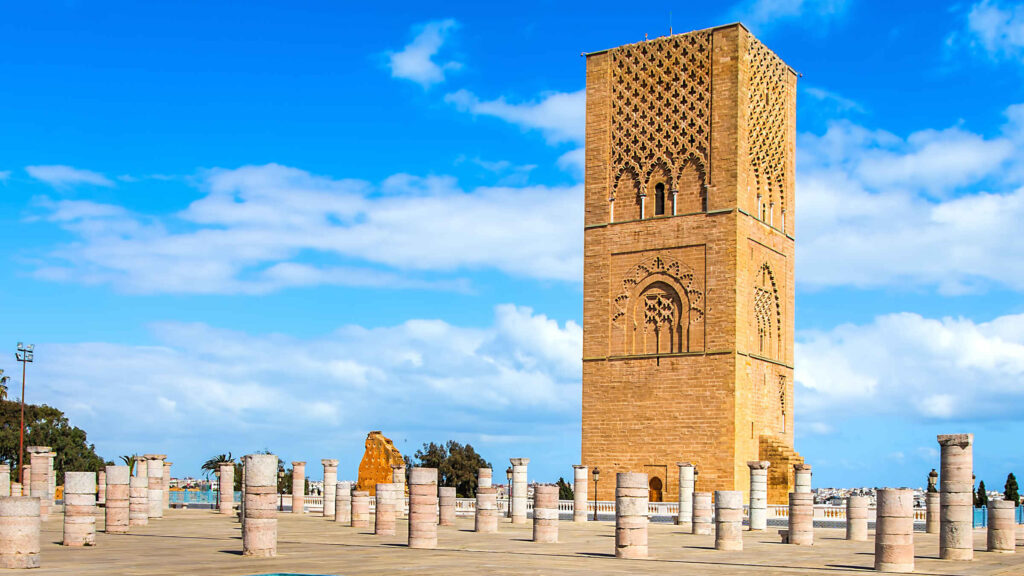 5 DAYS DESERT TOUR FROM CASABLANCA
Travel is the best therapy for the soul. Treat yourself to a rejuvenating journey by booking your next 5 days desert tour from Casablanca.
In this 5 Days desert tour from Casablanca to Marrakech which is most famous desert tours from Casablanca that is sold from Casablanca, you will have the chance to see the Hassan Tower, explore Fez, discovering Sahara Desert, visit UNESCO Kasbah Ait Ben Haddou and end in Marrakech.
Note: If you want to modify this 5 days tour from Casablanca let us know your idea or travel plans and we can create a similar or different program, which matches your requirements.
Price: Depends on the number of travelers, as well the type of accommodations; basic lodge and luxury lodge.
INCLUDED & EXCLUDED IN THIS 5 DAYS DESERT TOUR FROM CASABLANCA
THE HIGHLIGHT OF 5 DAYS DESERT TOUR FROM CASABLANCA TO MARRAKECH
Visit in the famous Hassan II Mosque
Short visit in Rabat (Hassan Tower, Kasbah Audayas)
Cultural visit in Fes with local guide
Drive through beautiful views and panoramic in Middle Atlas mountains.
Authentic Berber Villages
Experience Camel trek in the Sahara desert
Overnight in the Berber Camp
Enjoy watching Starry sky
Drive through Dades Valley
Leisure walk in Todra Gorge
Visit the UNESCO Kasbbah Ait Benhaddou
Enjoy crossing the twisted road of Tizi N'tichka in the high Atlas mountains
ITINERARY OF CASABLANCA DESERT TOUR 5 DAYS
DAY 1: Casablanca – Rabat - Fes:
We will start Our 5 days desert tour from Casablanca from the largest City in Morocco, Casablanca, where you will have the chance to visit the Hassan II Mosque It is the second largest functioning mosque in Africa and is the 7th largest in the world.
Afterwords, we move to Rabat which is the morocco's capital, Atlantic Ocean and the Kasbah of Oudayas, as well Hassan tower which is the minaret of an incomplete mosque in Rabat, after that heading to the another Imperial City of Morocco; the spiritual city of Morocco which is Fes.
Your driver will then transfer you to your Riad/hotel in Fes to rest and recuperate from your travels. So as to get ready for exploration on the second day.
DAY 2: Exploring fes: Guided city tour of Fes
On the second day of our Casablanca desert tour 5 days, After breakfast in your riad, you will have a full day to explore Fez, the cultural capital, which is one of the complete medieval Islamic cities in the world.
going through the gates and walls to the alleyways beyond transports you back in time.
The streets are still the same as they were in their first construction in the 8th century, with high walls that protect the courtyards inside from the heat of the midday sun. Enormous theosophical colleges, beautiful mosques and fascinating souks.
You will have a walking tour to some of the major sites of interest as well as some free time to wander.
You will visit the Place Nejjarine, where an ancient Caravanserai overlooks a fountain, wander outside the Qayrawan mosque, head to the tanneries to see how the leather is stained in vats of strikingly colored dyes.
In the souk El Attarine the scent of spices fills the air and close by a hammam, or traditional bathhouse steams away from the stresses of life.
DAY 3: Fes- Ifrane – Midelt - Ziz Gorges- Erg Chebbi
The third day of 5 days desert tour from Casablanca Morning departure around 8 am. Leaving cultural  Fes, and drive to the main point is the majestic Sahara desert via the cedar forest of Azrou where you will have a small break to see the colony of Barbary apes. 
After that, following our tour through middle atlas reaching to Midelt where we will have our lunch, after that continue with the green Ziz valley As we start approaching Errachidia and Erfoud reaching Sahara desert Merzouga the magnificent golden colored sand dunes of Erg Chebbi. 
Here we head off into the vastness of the dunes on a camel caravan accompanied by a camel man. 
You will enjoy the awesome spectacle of the desert and the solitude a silence that comes with it as well enjoying the enchanting sunset among the largest sand dunes, down to the our luxury camp, where we will enjoy our dinner in the open air after that enjoying and dancing with local drum music of nomads, We sleep in luxury tents.
DAY 4: Merzouga - Todra Gorges – Dades Gorge
Fourth day of 5 days desert tour from Casablanca, we recommended waking up to enjoy the sunrise over Erg Chebbi desert dunes which will be the highlight and the best moment of your Casablanca desert tour 5 days.
After coming back to the camp and having your breakfast we will follow to Todra Gorge, a spectacular gash in the hills that surrounds Tinghir, as you approach the mouth of the Todra Gorge. Rising 300m, the honey-colored hues of the sheer face change constantly as the sun moves across the sky where we will enjoy a walk under the 300 meters high cliffs, the spectacular high orange cliffs, and overnight in one of the local hotels as you choose.
DAY 5: Rose valley – Skoura- Ouarzazate - Aitbenhaddou – High Atlas Mountains - Marrakech
The last day of 5 days tour from Casablanca, after breakfast, we will take the road of Thousand Kasbahs passing the Skoura Oasis to Ouarzazate.
Following to Kasbah Ait Ben Haddou which is the main stop along the caravan routes that carried salt from the Sahara and in exchange for gold and ivory, as it is the best-preserved fortified Kasbah in the country. With its dramatic walls of red earth and clay, slit windows and crumbling towers, it is a great example of a traditional stronghold. It has been Chosen as a location for Hollywood films such as Lawrence of Arabia and more, Ait Ben Haddou sits upon a lofty peak overlooking a river. It dates back around the 15th century, its importance as a trading post gradually waned, and nowadays inhabitants are living from farming… and as film extras!
You will start crossing the breathtaking Atlas Mountains through the High Atlas Mountains and Tizi n'Tichka pass. It is a spectacular and dramatic road that presents astonishing views. Your 5 days desert tour from Casablanca to marrakech will come to an end with a drop off at your hotel or riad.
GOOD TO KNOW ABOUT 5 DAYS TOUR FROM CASABLANCA
IMPORTANT TO READ ABOUT THIS 5 DAYS DESERT TOUR FROM CASABLANCA
This 5 days desert tour from Casablanca can be tailored to be more personalized and unique.
Here's a packing list you can print out to help you prepare for your Casablanca desert tour 5 Days.
You can always consult your driver about skipping some stops to spend more time elsewhere.
In case you prefer to go on a special imperial cities tour take this 6 Days imperial cities tour.
We highly recommend you to take this 8-Day tour from Marrakech if you have enough time in Morocco, so as to discover the most interesting sites in Morocco.
These prices are subject to change based on the current exchange rate.
You can ask if others are interested in sharing the tour, or let us know if you are interested in this yourself if you book early.
To reserve the car, we require a 20% deposit of the total price.
We accept PayPal, bank transfers in Europe, credit cards, and cash (USD, Euro, GBP or MAD).
Children under the age of 12 receive a 25% discount, while children under the age of 5 are not charged.
Email Us For Any Inquiry, And We Happily To Answer You ASAP.
Note: Please check and confirm your Email in the contact form before you send us.
5 DAYS DESERT TOUR FROM CASABLANCA REVIEWS
Reviews about our 5 days desert tour from Casablanca
Best 5 days from Casablanca Ever
To Morocco Travel service was excellent, and our agent Hassan was extremely helpful from beginning to end. Throughout the trip, he answered all of our questions and communicated effectively. Even set up the last-minute tasks we needed to complete before returning to the country. This trip would not have been possible without him. We are overjoyed to have discovered this Morocco Private Tour Company. Not only that, but we will undoubtedly return and use them in the near future.
Unforgettable 5 Days tour from Casablanca
The best trip by far! I loved our tour with Hassan. He took us to all the must see attractions and he was very patient with us as we stopped by a few shops for souvenirs. Hassan also invited us to his house for tea! Super hospitable. He would definitely go back to Morocco again
Incredible Casablanca desert tour 5 days
Unforgettable 5 days trip to the desert, the driver and guide showed us beautiful places, friendly and professional treatment. The camp between the dunes was wonderful, concert with the berebwres and delicious food. I recommend it 100%