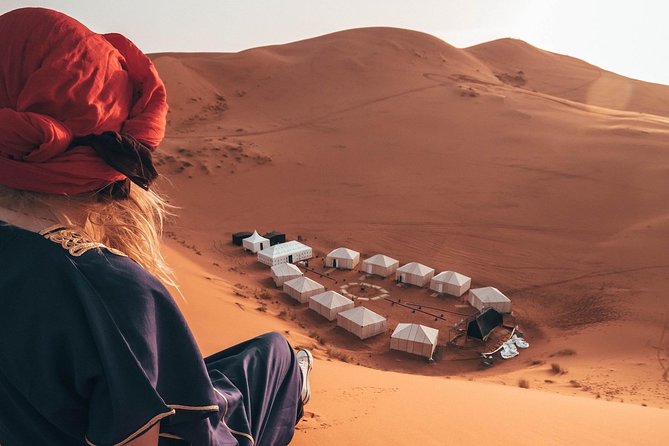 8 DAYS TOUR FROM CASABLANCA TO MARRAKECH VIA DESERT
LET US MAKE YOUR 8 DAYS TOUR FROM CASABLANCA TO MARRAKECH COMES TRUE WITH US 
On this 8 days tour from Casablanca to Marrakech, you will experience authentic Moroccan Berber culture, as well as on this 8-day private desert tour from Casablanca, including the Sahara desert as well as the two most ancient imperial cities of Fes and Marrakech.
Explore one of Morocco's oldest imperial cities on a guided city tour of Fes, as well as Marrakech, the Almohad imperial capital of Morocco, meet locals, ride camels, explore Kasbahs and cross valleys, spend the night in a desert camp, and watch a beautiful sunset over the golden dunes.
Price: depends on the number of travelers and type of accommodations you want to stay in. Please fill the contact form below to get the best price for this 8 days desert tour from Casablanca.
TEH HIGHLIGHT OF 8 DAYS TOUR FROM CASABLANCA
INCLUDED & EXCLUDED IN 8 DAYS TOUR FROM CASABLANCA TO MARRAKECH
ITINERARY OF 8 DAYS TOUR FROM CASABLANCA TO MARRAKECH VIA DESERT
Your private 8 days tour from Casablanca to Marrakech begins when your driver picks you up from your Casablanca hotel. We'll then visit the main cultural sites before driving to Fes, where we'll spend the night in a riad/hotel.
DAY 2: Guided city tour in Fes
The tour will begin on the second day of this 8-day trip from Casablanca by exploring Morocco's oldest city, snaking through its alleys and narrow streets. We'll start our tour at the Royal Palace gate, then move on to the Jewish headquarters, where the first Mellah was built in Morocco in the 16th century. We will make certain that you visit all cultural and historical sites, including the famous Al Qaraouine University.
The Tanneries, the Attarine museum, and the Moulay Idriss mausoleum will also be visited. After lunch, you'll visit several cooperatives before enjoying a breathtaking panoramic view of Fes' Medina before retiring for the night to your Riad.
DAY 3: Fes to Merzouga desert
In the third day of your 8 days tour from Casablanca to Marrakech via Merzouga, and after breakfast at your Fes hotel, we'll depart for Merzouga via the Mid-Atlas region, passing through Ifrane, Morocco's "Switzerland." 
We'll then drive a little further to explore Azrou's cedar forests, where you can stop to feed the Berber apes. We'll then continue to Midelt for lunch before following the Ziz River to the Ziz Gorge (valley). Our journey will take us through the Ziz Valley, Erfoud, and Rissani, where we will stop to explore the souks (local market). Our day comes to an end when we arrive in Merzouga and spend the night in a local hotel.
DAY 4 : Exploration of Sahara desert Merzouga
We'll head out to the desert after breakfast; we'll trade in our 4×4 and spend the day exploring the desert region and The Erg Chebbi Dunes, making a circuit of the desert dunes where you'll experience firsthand the captivating contrast of the Moroccan nomadic (Berber) way of life.
From there, we'll travel to Khamlia, the "black village," for a performance by the renowned Gnawa musicians, followed by a traditional Berber pizza lunch in Rissani, the ancient capital. We'll spend the afternoon riding camels and watching the sunset behind the dunes before returning to camp.
We'll enjoy a traditional tagine dinner, delicious local mint tea, and traditional Berber music under the starry and moonlit sky of the wondrous Sahara Desert.
DAY 5 : Merzouga to Dades Valley via Todra Gorge
We'll get an early start to catch the sunrise in the Merzouga desert, then return to the village on camelback. From there, we'll travel to Tinghir to see the Todra Gorge, Morocco's highest and narrowest gorge. 
After our lunch, we will follow our 8 days trip from Casablanca to the Dades Gorge, where we will enjoy sand castles and geological features known as "monkey toes/feet." We will spend the night in the Dades Valley at a nearby hotel or riad.
DAY 6 : Dades valley to Marrakech via Ait Ben Haddou
After breakfast, we'll drive to Ouarzazate via the route of a thousand Kasbahs (fortresses).
We will take a break in Kalaat Mgouna (the heart of The Valley of Roses) for a stretch and lunch at a local restaurant. Then, we'll continue our private tour, stopping first at the famous Kasbah of Ait Ben Haddou before continuing on to Marrakesh, where our private desert trip from Casablanca will end.
DAY 7 : Guided tour in Marrakech city
We will take a guided tour of Marrakesh today. You will visit the city's main attractions and monuments, such as the famous Jamma el Fna square, the Koutoubia mosque, the souks, palaces, and museums. We'll also visit Fes Jdid "New Fes" neighborhoods like Gueliz, The Menara Gardens, and Majorelle.
DAY 8 : Airport Transfer to Casablanca or Marrakech
The end of 8 days desert tour from Casablanca to Marrakech
Today will be determined by your departure flight or onward journey.
Allow 6 hrs to arrive at Casablanca Airport plus min 2hrs 30mins before your departure flight.
Allow 45mins to arrive at Menera Airport Marrakech plus min 2hrs 30mins before your flight.
We say our Goodbyes!
GOOD TO KNOW ABOUT 8 DAYS DESERT TRIP FROM CASABLANCA
This 8 days trip from Casablanca to Marrakech via the desert can be tailored to be more personalized and unique.
Here's a packing list you can print out to help you prepare for your Moroccan desert tour 8 day.
If you are in a tight schedule, we highly recommend you to take this 5 day desert tour from Casablanca
If you have enough time in Morocco and aim to visit as many places as possible, take this 12 Days desert tour from Casablanca.
You can always consult your driver about skipping some stops to spend more time elsewhere.
These prices are subject to change based on the current exchange rate.
You can ask if others are interested in sharing the tour, or let us know if you are interested in this yourself if you book early.
To reserve the car, we require a 20% deposit of the total price.
We accept PayPal, bank transfers in Europe, credit cards, and cash (USD, Euro, GBP or MAD)
Children under the age of 12 receive a 25% discount, while children under the age of 5 are not charged.
Email us for reservation or any info, and we will happily to answer you ASAP.
Please make sure your gmail is correct to receive our response.