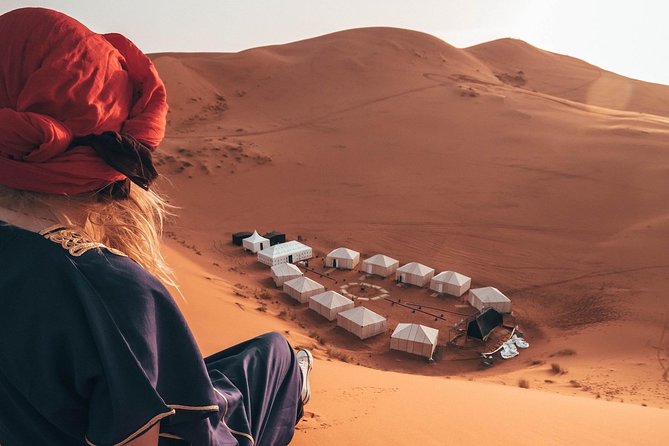 8 DAYS TOUR FROM CASABLANCA TO MARRAKECH VIA DESERT
Traveling is the pinnacle of self-discovery and personal development. Make an investment in yourself and book that 8 days tour from Casablanca to Marrakech via desert.
The 8 day desert tour from Casablanca to Marrakech via desert is an exciting journey through Morocco's varied landscapes and cultural treasures. This tour takes you from Casablanca to the mesmerizing Sahara Desert and then to the enchanting city of Marrakech.
This 8 days tour from Casablanca to Marrakech via desert is the ideal combination of cultural immersion, natural beauty, and unforgettable experiences. It gives you a glimpse of Morocco's diverse landscapes, ancient history, and vibrant culture, leaving you with unforgettable memories of this enthralling country.
Price: depends on the number of travelers and type of accommodations you want to stay in. Please fill the contact form below to get the best price for this 8 days desert tour from Casablanca.
THE HIGHLIGHTS OF 8 DAYS TOUR FROM CASABLANCA TO MARRAKECH VIA DESERT
INCLUDED & EXCLUDED IN 8 DAYS TOUR FROM CASABLANCA TO MARRAKECH
ITINERARY OF 8 DAYS TOUR FROM CASABLANCA TO MARRAKECH VIA DESERT
DAY 1: Casablanca to Rabat
You'll begin your 8 days tour from Casablanca to Marrakech via desert, our first site to visit is the famous Hassan II mosque in Casablanca, and then travel to Rabat, Morocco's capital city. Explore historical sites such as the Hassan Tower, the Kasbah of the Udayas, and the medina's charming streets. ending our first day in the Riad.
DAY 2: Rabat to Chefchaouen
Continue on your 8 days tour from Casablanca to the beautiful blue city of Chefchaouen. Wander through its narrow streets, admire the blue-washed buildings, and enjoy the relaxed atmosphere. Explore the local markets and the main square, Plaza Uta el-Hammam.
DAY 3: Chefchaouen to Fes
Leave Chefchaouen for Fes, one of Morocco's oldest imperial cities. Explore the UNESCO-listed Fes Medina, the renowned Al Quaraouiyine University, and the vibrant souks and tanneries. During your visit in Fes, probably you will go with a local guide. Overnight in Fes.
DAY 4: Fes to Merzouga desert
Travel through the Middle Atlas Mountains on a scenic drive through beautiful cedar forests and charming Berber villages. Arrive in Merzouga, the Sahara Desert's gateway, and embark on an unforgettable camel trek into the dunes to watch a breathtaking sunset. Free time to sit over the biggest sand dune to relax and contemplating on the stunning views of the sand dunes. Upon arrival to the camp, you will be welcomed by the traditional tea and cookies. Later on, and after a traditional dinner we will have a short drumming party around the bonfire, singing, dancing,…
DAY 5 : Exploration of Sahara desert Merzouga
We'll head out to the desert after breakfast; we'll trade in our 4×4 and spend the day exploring the desert region and The Erg Chebbi Dunes, making a circuit of the desert dunes where you'll experience firsthand the captivating contrast of the Moroccan nomadic (Berber) way of life.
From there, we'll travel to Khamlia, the "black village," for a performance by the renowned Gnawa musicians, followed by a traditional Berber pizza lunch in Rissani, the ancient capital. We'll spend the afternoon riding camels and watching the sunset behind the dunes before returning to camp.
We'll enjoy a traditional tagine dinner, delicious local mint tea, and traditional Berber music under the starry and moonlit sky of the wondrous Sahara Desert.
DAY 6 : Merzouga to Ouarzazate via Todgha Gorge
Leave the Sahara desert behind and continue our 8 days desert tour from Casablanca to Ouarzazate, also known as "Hollywood of Morocco" because of its film studios and unique landscapes. On the way we will stop for a leisure walk in the famous canyon called Toudgha Gorge "high cliffs of 300m elevation". After lunch in the traditional restaurant, we continue our 8 days tour from Casablanca to explore the captivating Atlas Film Studios and the famous Ait Ben Haddou Kasbah, both of which are UNESCO World Heritage sites. Overnight in Ouarzazate
DAY 7 : Ouarzazate to Marrakech
Leave Ouarzazate for Marrakech via the famous High Atlas Mountains, where we will do special stops to catch the stunning panoramic views of the landscape of Berber villages. Reach the vibrant city of Marrakech, travel through the majestic High Atlas Mountains. Explore the bustling Djemaa el-Fna square, the stunning Bahia Palace, the vibrant souks, and the lively atmosphere of the city's medina. Overnight in Marrakech. 
DAY 8 : Airport Transfer to Casablanca or Marrakech
The end of 8 days tour from Casablanca to Marrakech via desert
Today will be determined by your departure flight or onward journey.
Allow 3 hrs to arrive at Casablanca Airport plus min 2hrs 30mins before your departure flight.
Allow 45mins to arrive at Menera Airport Marrakech plus min 2hrs 30mins before your flight.
We say our Goodbyes!
GOOD TO KNOW ABOUT 8 DAYS DESERT TOUR FROM CASABLANCA
This 8 days tour from Casablanca to Marrakech via desert can be customized to be more personalized and unique.
You can print this packing list to help you prepare for your 8 days Moroccan desert tour from Casablanca.
If you're short on time, we recommend taking this 5-day desert tour from Casablanca.
Take this 12-day desert tour from Casablanca if you have enough time in Morocco and want to see as much as possible.
You can always ask your driver to skip some stops so you can spend more time elsewhere.
These prices may change depending on the current exchange rate.
To reserve the car, we require a 20% deposit of the total price.
We accept PayPal, bank transfers in Europe, credit cards, and cash (USD, Euro, GBP, or MAD).
Children under the age of 12 receive a 25% discount, while children under the age of 5 are not charged.
Email us for reservation or any info, and we will happily to answer you ASAP.
Please make sure your gmail is correct to receive our response.
PLACES TO SEE IN 8 DAYS TOUR FROM CASABLANCA
An 8 days tour from Casablanca to Marrakech via desert is a fantastic way to explore Morocco's diverse landscapes and cultural heritage. Here's a rundown of what to expect on such a tour:
Your tour will begin in Casablanca, Morocco's economic and cultural center. Visit the impressive Hassan II Mosque, stroll through the city's bustling streets, and soak up the vibrant atmosphere of this cosmopolitan city.
Day 2: Rabat - Chefchaouen
You'll go from Casablanca to Rabat, Morocco's capital city. Historical sites such as the Royal Palace, Hassan Tower, and the charming Kasbah of the Udayas can be found here. Following that, you'll travel to Chefchaouen, a picturesque blue-painted town nestled in the Rif Mountains.
Spend the day exploring Chefchaouen's narrow winding streets and vibrant blue buildings. This town is well-known for its distinct atmosphere, breathtaking views, and thriving local markets. Hiking in the surrounding hills provides a panoramic view of the town and surrounding countryside.
Travel from Chefchaouen to Fes, Morocco's most intriguing imperial city. Fes is famous for its ancient medina, which is a UNESCO World Heritage site. Explore the maze-like streets, visit traditional tanneries, and learn about historical landmarks such as Al Quaraouiyine University, the world's oldest continuously operating university.
Leave Fes and travel southeast to Merzouga, which serves as a gateway to the Sahara Desert. As you approach the desert, the landscape will change dramatically, with vast desert dunes appearing on the horizon. In Merzouga, you can ride a camel across the golden sands at sunset and spend the night in a traditional desert camp.
Spend the entire day exploring the Erg Chebbi dunes. You can watch the sunrise over the dunes, go on an exciting 4×4 off-road adventure, and immerse yourself in the unique desert environment. Under the starry desert sky, listen to traditional music and dance around a campfire.
Day 7: Ouarzazate - Marrakech
Leave the desert behind and head west to Ouarzazate, also known as the "Hollywood of Morocco" due to its film-worthy landscapes. Visit Ait Ben Haddou, a UNESCO World Heritage site that has been featured in a number of films. Finally, you'll travel to Marrakech to explore the vibrant souks, see the iconic Koutoubia Mosque, and soak in the vibrant atmosphere of Djemaa el-Fna Square.
Day 8: Transfer to Marrakech or Casablanca
Here your 8 days tour from Casablanca to Marrakech via desert comes to end end by transfering to Marrakech Airpport ot Casablanca.