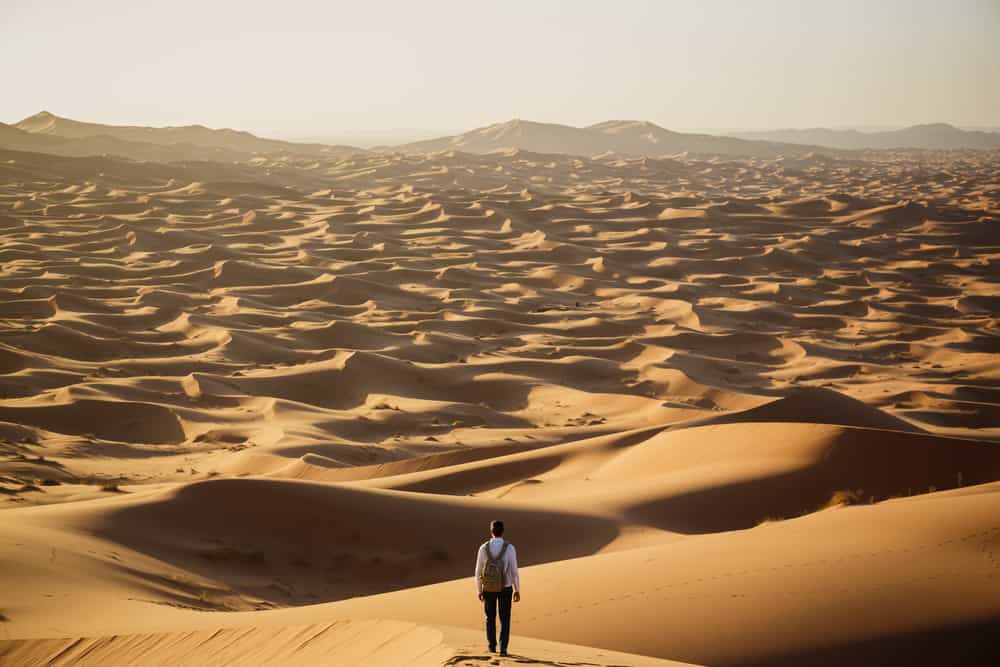 5 DAYS DESERT TOUR FROM FES TO MARRAKECH
Embrace the adventure and seize the moment! Book your dream 5 days desert tour from Fes today and create memories that will last a lifetime.
Experience the captivating journey of 5 days desert tour from Fes to desert end in Marrakech. Marvel at the imperial cities of Fes and Marrakech, explore ancient ruins, and wander through bustling medinas. Traverse the golden Sahara Desert on camelback, camping under the stars amidst towering sand dunes for two nights. Immerse yourself in Berber culture, visiting traditional villages and enjoying authentic Moroccan cuisine. End your adventure in Marrakech, where vibrant souks, historic palaces, and lively Djemaa el-Fna square await.
Note: If this 5 days from Fes to Marrakech is not the trip you are looking for, bear in mind, that the trip is possible to modify, so as to fits your needs, or send us a message to customize your own trip.
WHY THIS 5 DAYS TOUR FROM FES TO MARRAKECH?
A 5 days desert tour from Fes to Marrakech is a popular choice among tourists visiting Morocco because it allows them to explore some of the country's most captivating destinations and experience its diverse landscapes, rich history, and vibrant culture. Here are a few reasons why this tour is often preferred:
Historical and Cultural Exploration: Fes and Marrakech are two of Morocco's most culturally significant cities.
Scenic Route: The journey from Fes to Marrakech takes you through some stunning landscapes and scenic routes.
Diverse Experiences: Along the way, the 5-day tour typically includes stops at various notable sites.
Convenience and Local Expertise: Opting for a guided tour ensures a hassle-free experience, as transportation, accommodations, and activities are all taken care of.
Time Efficiency: Five days allows for a reasonably comprehensive exploration of Fes and Marrakech, along with the scenic attractions in between.
Ultimately, the 5-day tour from Fes to Marrakech offers an enticing blend of history, culture, natural beauty, and local experiences, making it a popular choice for travelers looking to discover the highlights of Morocco.
THE HIGHLIGHTS OF 5 DAYS DESERT TOUR FROM FES TO MARRAKECH

places: Fes, Azrou, Ifrane, Midelt, Erfoud, Sahara desert of Merzouga & Tinghir, Boumalne Dades, Kalaat M'Gouna, Skoura, Ouarzazate, and Marrakech.
Best attractions: Desert of Merzouga, Cedar Forests, Middle Atlas Mountains, Camel ride in the desert, catch the magic sunset over the dunes, sunrise, spend a night in the desert camp, Ait Benhaddou Kasbah, Todra Gorge, Dades Gorges, and High Atlas mountains.
ITINERARY OF 5 DAYS DESERT TOUR FROM FES
DAY 1: Fes - Ifrane - Midelt - Merzouga Dunes
Start your 5 days desert tour from Fes in the morning and head towards the majesty Sahara desert. driving duration will take us around 6-7 hours.
Drive through the beautiful views of Middle Atlas Mountains, passing through Ifrane, known as "Little Switzerland," and Azrou, a Berber town famous for its cedar forest and friendly monkeys.
Continue your 5 days from Fes to Marrakech through the Ziz Valley, with its stunning palm groves and traditional Berber villages.
Arrive in the desert, where you will try a unique camel ride experience into the sand-dune. Free time over the dune to catch the sunset and contemplating the magic of the Sahara desert.
Enjoy a traditional Moroccan dinner followed by Berber music and dance around a campfire.
DAY 2: Merzouga Desert Tour Sightseeing
In the morning, we recommend you to wake up early to watch the stunning sunrise over the sand dunes of Sahara desert.
After breakfast, embark in off-road car into the heart of the desert, experiencing the tranquility and vastness of the Sahara. Reach a nomadic campsite, where you'll have the opportunity to explore the lifestyle and culture of the local Berber people.
Continue our 5 days desert tour from Fes to the Black-skinned people descending from Sudan who settled in the desert, to get to know a little about their lifestyle and enjoy their unique Gnawa music.
In the evening, you sill have enough time if you want to try some of the desert activities such as Quad Biking, Buggy drive,… or just chilling in the hotel.
DAY 3: Merzouga Desert - Rissani - Todra Gorge - Dades Valley
After breakfast, bid farewell to the desert and embark on your 5 days desert tour from Fes to Ouarzazate.
Following the way to the town of Rissani, it's optional to visit its traditional local market and its Donkeys Park. Afterward, we head north to Erfoud, which is known for its carving fossils and date palms.
Then pass through the town of Tinghir and visit the impressive Todra Gorge, where you can take a leisurely walk and admire the towering cliffs.
Continue your drive to Dades Valley, and enjoy the stunning landscapes of the Berber villages along the way, with a stop for a break in the weird rock formation also known as "Monkeys Fingers".
Check into your hotel in Dades Valley, have dinner, and spend the night.
DAY 4: Dades Valley - Ouarzazate - Atlas Mountains - Marrakech
After breakfast, depart from Dades valley and make your way to the UNESCO World Heritage site of Ait Ben Haddou, an ancient fortified village that has been featured in numerous movies and TV shows.
When we finish our exploration of the Kasbah, we drive through the High Atlas Mountains, crossing the Tizi n'Tichka Pass, which offers breathtaking panoramic views.
Continue your 5 days desert tour from Fes to Marrakech, one of Morocco's most vibrant and enchanting cities in Morocco.
Upon arrival, check into your hotel and spend the afternoon on your own, exploring the bustling Medina, with its vibrant souks, historic landmarks, and lively atmosphere.
DAY 5: Marrakech Sightseeing and Departure
After breakfast, embark on a guided tour of Marrakech, exploring its iconic attractions.
We will visit the magnificent Bahia Palace, the historic Koutoubia Mosque, and the vibrant Saadian Tombs. Explore the beautiful Majorelle Garden (ticket required), a tranquil oasis of exotic plants and vibrant blue buildings.
Have lunch at a traditional Moroccan restaurant and taste the delicious local cuisine.
Spend the afternoon exploring the narrow streets of the medina. At this point our 5 days desert tour from Fes comes to an end.
INCLUSIONS AND EXCLUSIONS IN THE 5 DAYS TOUR FROM FES TO MARRAKECH
Private Modern transport with A/C with English speaking guide or driver.
Pick up and drop off from and to the airport.
3 nights in the hotel in private room and bathroom.
1 night in the luxury camp in private tent and bathroom.
Camel ride in the desert for each.
Off-road car in the desert for exploring.
Dinner except the one in Marrakech.
Daily Breakfast
Lunch meals
Beverages
Dinner in Marrakech
Entrance fees, other personal expenses and tips…
BOOK YOUR 5 DAYS TOUR FROM FES TO DESERT END IN MARRAKECH
Email Us For Any Inquiry, And We Happily To Answer You ASAP.
Note: Please check and confirm your Email in the contact form before you send us.
5 DAYS DESERT TOUR FROM FES - REVIEWS
Best 5 days desert tour from Fes Ever
Would say it an unforgettable experience in my lifetime. You will get yourself immersed in the Morocco culture and be embraced by the warmth from hospitable Morocco people. Would definitely give 5-star to our reliable driver Hammi and our warm-hearted tour guide Hassan. I unlocked many "first time" in this trip —— first time camel ride, first time dessert dance, first time tajine tasting, first time hammam spa, first time road trip KTV (you can also enjoy free dance show performed by our super star Hassan aka Mr. It-depends wooooah!!),
Stunning 5 days from Fes to Marrakech
The best 5 days desert trip from Fes by far! I loved our tour with Hassan. He took us to all the must see attractions and he was very patient with us as we stopped by a few shops for souvenirs. Hassan also invited us to his house for tea! Super hospitable. He would definitely go back to Morocco again
Incredible trip to the desert from Fes
Had one of the most memorable trips ever thanks to the To Morocco Travel Agency and our awesome tour guide Hassan aka Mr It-depends. He served as our tour guide, bodyguard, and porter for our group of nine ladies! Thank you for accommodating our endless requests and for welcoming us to your home. It would be a pleasure to visit this beautiful country again with loved ones and, of course, to do so with the same tour agency. Yalla!!
RELATED TOURS OF 4 DAYS DESERT TOUR FROM FES TO MARRAKECH