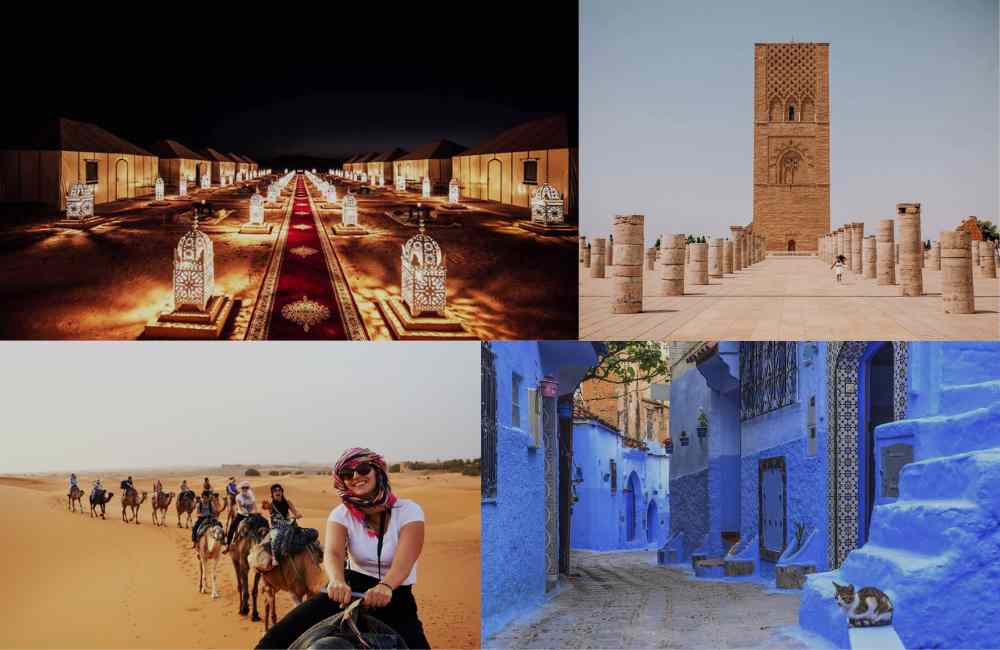 10 DAYS MOROCCO CASABLANCA TOUR
Join us to this amazing 10 days Morocco Casablanca tour to have an unforgettable experience…
On a 10 days Morocco Casablanca tour, discover Morocco's enchanting beauty. Travel through picturesque landscapes, visit historical sites, and immerse yourself in this North African gem's rich culture. 
Marvel at the Sahara Desert's mesmerizing dunes, ride camels across the golden sands, and spend magical nights under the starry desert sky. Explore the vibrant cities of Marrakech, Fes, and Rabat, as well as the ancient Volubilis ruins. On this unforgettable adventure, indulge in delectable Moroccan cuisine and enjoy the warm hospitality of the locals.
Price: depends on the number of travelers and type of accommodations you want to stay in. Please fill the contact form below to get the best price for this 10 days tour from Casablanca.
THE HIGHLIGHTS OF 10 DAYS MOROCCO CASABLANCA TOUR
In Casablanca, pay a visit to the Hassan 2 Mosque.
Visit Rabat's Hassan Tower.
Discover Chefchaouen, the blue city.
Get lost in the Volubilis Roman ruins.
Visit Fes and Marrakech with a local guide.
Meet the Barbary Apes in the Azrou Cedar Forest
Panoramic views of the Erg Chebbi dunes
Experience Merzouga camel ride Sahara
Enjoy the sunset over the sand dunes.
Take part in a sandboarding activity.
A hearty dinner and a campfire party (Berber Drums)
Overnight camping at Merzouga Desert Camp, followed by a Merzouga exploration tour and a visit to a nomad family.
In Ouarzazate, pay a visit to Atlas Studio and Taourirt Kasbah.
Visit Ait Ben Haddou Kasbah, a UNESCO World Heritage Site.
Views of the Atlas Mountains' landscapes are breathtaking.
INCLUSIONS AND EXCLUSIONS IN THE 10 DAYS TOUR FROM CASABLANCA
Pick-up and drop-off at/from your lodging
Transportation by private modern vehicle with air conditioning
English-speaking driver/guide with prior experience
Local guide in Fes.
Visit the Kasbah Ait Ben Haddou.
Camel Trekking on the desert (Camel per person)
8 nights in a hotel/riad in a private room (At your preferred room type)
Spend the night at the Desert Camp (At your preferred tent type)
Daily breakfast.
Transfer by 4×4 from and to the camp (Alternative to Camels)
Drinks
Lunches
Dinner in Marrakech, Rabat, and Chefchaouen
Entrance (Optional) 
Tipping (Optional) 
ITINERARY OF THIS 10 DAYS TOUR FROM CASABLANCA
DAY 1: Casablanca To Rabat
Begin our 10 days Morocco Casablanca tour head to Rabat, Morocco's capital city, which is known for its historical landmarks and cultural heritage. Upon arrival begin your day by exploring the fascinating Udayas Kasbah, a fortified medieval city overlooking the Atlantic Ocean. Stroll through its winding streets, admire the white and blue architecture, and visit the lovely Andalusian Gardens. 
The next visit is Hassan Tower, an incomplete minaret of an old mosque that offers panoramic views of the city. Explore the nearby Mausoleum of Mohammed V, where Morocco's former kings are laid to rest. 
Finally, immerse yourself in the medina's vibrant atmosphere, where you can shop for traditional Moroccan crafts and sample delectable local cuisine.
DAY 2: Rabat to Chefchaouen
Set out on a scenic journey to Chefchaouen, also known as the "Blue City." This charming town in the Rif Mountains is known for its blue-washed buildings. 
Spend the day exploring the medina's charming streets, which are lined with shops selling handicrafts, textiles, and local artwork. Discover the lively central square, Plaza Uta el-Hammam, which is surrounded by cafes and restaurants, and sample traditional Moroccan cuisine. Hike to the Spanish Mosque, which is located on a hilltop and offers breathtaking panoramic views of Chefchaouen and its blue-tinted beauty.
Day 3: Chefchaouen - Volubilis - Fes
Today we travel from Chefchaouen to Meknes for a guided tour of the city. We'll travel through the rolling hills to see the impressive Roman ruins of Volubilis, which are a UNESCO World Heritage Site and the best-preserved Roman ruins in Northern Africa.
As you peer into old bathhouses, marveling at the still-present mosaic floors and gazing up at the towering marble pillars, your certified local guide will explain life in the Roman Empire. We leave the Roman Empire and travel to Meknes City.
After lunch, we begin our guided tour in front of the impressive 18th century Bab Mansour, Sultan Moulay Ismail's ornamental gate to the imperial city of Meknes.
We continue our 10 days tour from Casablanca to the small but impressive Moulay Ismail Mausoleum. Then we'll walk past the entrance to the Meknes Royal Palace before arriving at Moulay Ismail's massive Heri Es Souani. For his 12,000 horses, this was his personal stable and granary. We leave Meknes and head to Fes. Dinner and an overnight stay in Fes.
Continue your 10 days tour from Casablanca in Fes, one of Morocco's oldest imperial cities and a UNESCO World Heritage site. Begin your tour in the UNESCO-listed medina, one of the world's largest and best-preserved medieval cities. Explore its maze-like streets, which are home to vibrant markets, ancient mosques, and stunning architectural wonders. Visit the renowned Al-Qarawiyyin Mosque, which was founded in the 9th century and is considered the world's oldest continuously operating university. Investigate the fascinating tanneries, where leather is dyed using traditional methods. Visit the beautifully decorated Madrasa Bou Inania, a historic Islamic school known for its intricate tilework and woodcarvings, to round out your day.
Day 5 : Fes - Ifrane - Azrou - Midelt - Merzouga desert.
Today your 10 days Morocco from Casablanca tour starts in Fes. You'll leave Fes in the morning and travel to Merzouga, a small village on the outskirts of the Sahara Desert. As you travel south, you'll see breathtaking scenery such as the Middle Atlas Mountains, charming Berber villages, and scenic valleys. You can stop along the way to explore the charming town of Ifrane, known as "Little Switzerland," and the cedar forests of Azrou, which are home to Barbary macaques. 
Finally, as you approach Merzouga, the landscape changes to vast golden sand dunes, which is an incredible sight. When you arrive in Merzouga, you'll switch to the camels ride that will take you in a journey over the sand dunes to the camp. After a stunning shot for the magic sunset over the sand dunes, check into your desert camp and spend the night in the peace and quiet of the Sahara.
Day 6 : Full Day in Merzouga desert
After breakfast in the camp, you'll embark on an exploration of the surrounding area. So, on this 10 days tour from Casablanca, you'll visit the Gnawa people, who were originally brought from Sudan as slaves, to experience their music and way of life. You can also visit the Berber nomads who still experience the old lifestyle of their ancestors, spending a short time with to get to know a little about them abs their interesting stories.
In addition, enjoy a short adventure by venturing into the sand dunes by the 4×4 vehicle car.
Back to Merzouga for some rest before mounting your camel and exploring the Merzouga sand-sea with an experienced camel man in the afternoon.
Day 7 : Merzouga - Todra Gorges - Dades Gorges
As the sun rises, bid the desert farewell and depart Merzouga for the breathtaking Dades Valley. You'll pass through some beautiful scenery along the way, including the Todgha Gorges, where towering canyon walls rise dramatically on either side of a river. Spend some time exploring the gorges and admiring their natural beauty. Continue your 10 days Morocco Casablanca tour, through the enthralling Dades Valley, which is known for its lush greenery, scenic rock formations, and enthralling oases. 
As you drive through the valley, you'll come across traditional Berber villages and have the opportunity to interact with the locals. You'll arrive at your Dades Valley accommodation in the evening, where you can relax and enjoy the tranquility of this stunning location.
DAY 8 : DADS VALLEY – TODGHA VALLEY – OUARZAZATE – AIT BENHADDOU – MARRAKECH
Today the 10 days tour from Casablanca continues to Ouarzazate, known as "the Hollywood of Africa," for its geography and beautiful landscapes, which have drawn many world-class film producers. You are free if you want to do a visit to explore it much more (ticket is required). We'll drive to the UNESCO-protected Ait Ben Haddou Kasbah, one of the area's most beautiful Kasbahs. 
After lunch we will continue our 10 days Morocco Casablanca tour to the High Atlas Mountains, prepare to be mesmerized by the breathtaking scenery, including winding mountain roads, panoramic viewpoints, and charming Berber villages clinging to the slopes. Along the way, you'll pass through the famous Tizi n'Tichka Pass, offering spectacular views of the surrounding landscapes. As you descend from the mountains, the landscape transitions from the rugged beauty of the mountains to the lush valleys and palm groves surrounding Marrakech. Overnight stay in Marrakech.
Day 9 : City tour in Marrakech
Spend an entire day discovering Marrakech's hidden gems. Wander through the tranquil Majorelle Garden, designed by French painter Jacques Majorelle, and explore its exotic plants and vibrant blue buildings. Visit the Saadian Tombs, where members of the Saadian dynasty are buried, as well as the ornate El Badi Palace. In the evening, savor a traditional Moroccan meal while watching a captivating performance of live music and belly dancing in famous Jemaa el-Fnaa.
Day 10: Departure from Marrakech
On the last day of our 10 days tour from Casablanca, we will drive you to the airport or any other location you specify, depending on your departure time. You can relax in Marrakech while we wait for your flight, we can finish your 10 days Morocco Casablanca tour in Casablanca or any other Airports…
GOOD TO KNOW ABOUT THIS 10 DAYS TOUR FROM CASABLANCA
During this 10 days tour from Casablanca, you will be staying in a private room of your choice at the accommodation.
You will be staying in a private tent of your choice at the desert camp.
Vegetarian options are available; please specify at the time of booking if you require them.
Children must be accompanied by an adult at all times.
Comfortable walking and sandboarding shoes, such as sport sneakers. The camel trek requires long sleeves and long pants or skirts.
Quad bikes and buggies in the dunes can be added as an optional extra.
alcoholic beverages (available to purchase)
You will receive your booking confirmation at the time of booking.
PAYMENT POLICY OF THE 10 DAYS TOUR FROM CASABLANCA
To book your 10 days Morocco Casablanca tour. you are required to send us a small deposit of 100€ over our PayPal or TransferWise account, the rest of the payment will be paid during the trip to your guide or driver, you can pay with Dollars, Euros, or equivalent in MAD (Moroccan Dirhams).
BOOK YOUR 10 DAYS MOROCCO CASABLANCA TOUR
Email us for reservation or any info, and we will happily to answer you ASAP.
Please make sure your gmail is correct to receive our response.
10 DAY MOROCCO CASABLANCA TOUR REVIEWS
Reviews about our 10 days tour from Casablanca
Best 10 day tour from Casablanca
This 10 days Morocco Casablanca tour was absolutely incredible! The most enjoyable and fantastic journey with gentleman Hassan. He took hospitality to a new level, and he was also an informative and entertaining driver. Every stop we made was rich in history, which our tour guide, Moha, explained in a perfect and easy-to-understand manner, leaving us time for photos and exploration. They also booked us very nice hotels and riads, as well as a luxury camp in the desert. The transportation is still relatively new and comfortable. I am certain that there is no other tour company like To Morocco Travel agency. By far the best tour I've ever been on. It was due to the collaboration of a fantastic driver and the best tour guide ever.
Unforgettable 10 days from Casablanca
This 10 days Morocco Casablanca tour was fantastic for me. Moha was our tour guide, and we couldn't have been happier. He was very knowledgeable about the food and culture, and he shared many personal stories that added a lot to the trip. His personal touches added to its uniqueness. He is genuinely enthusiastic about what he does, which enhances the overall experience. I'm so glad we did it!
Incredible 10 days in Morocco
To Morocco Travel team was fantastic. We were visiting Morocco for the first time. This experience, on the other hand, has given us a new lease on life. The tour guide Hassan and his driver Mohammed did an excellent job of explaining the places we visited and providing as much historical information as possible. Hassan was also very helpful in answering any questions we had about our tour. The hotels, meals in every restaurant, etc. were all fantastic. I would also recommend this fantastic tour to my friends and family.
BEST MOROCCO DESERT TOURS
Amazing desert tours from Marrakech you may interested in:
Top desert tours from Fes, may be you interested in:
Great tours from Casablanca: