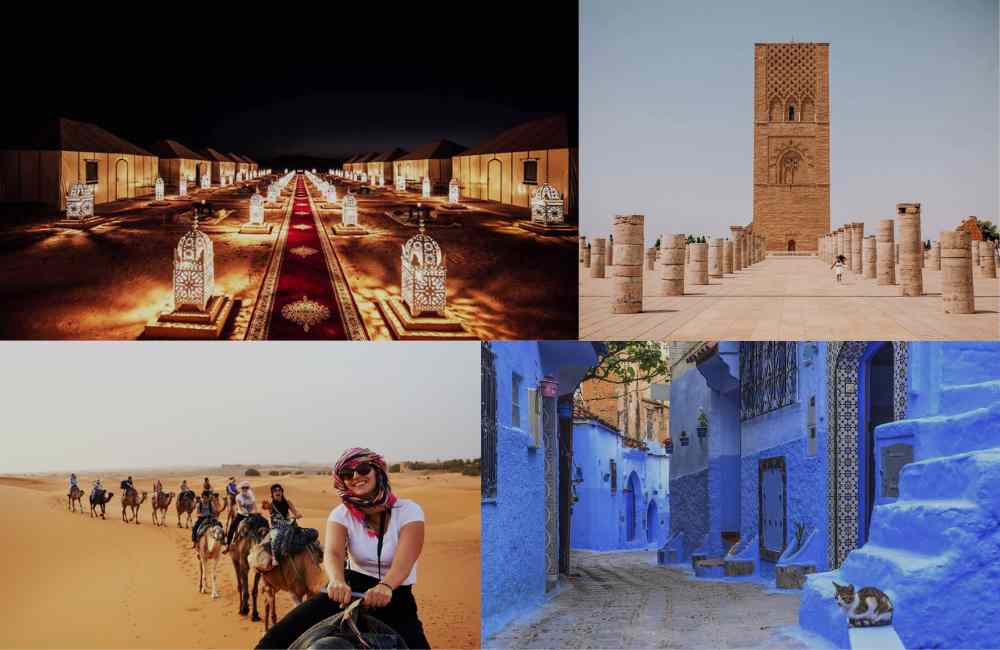 10 DAYS MOROCCO TOUR FROM CASABLANCA
Join us to this amazing 10 days tour from Casablanca to have an unforgettable experience…
The best 10 days Morocco tour from Casablanca. The latter is Morocco's largest city and is considered the country's economic and business center. It also has Morocco's largest mosque, the Hassan II mosque, which we will visit on this tour. Not to mention the Moroccan capital of Rabat and the city of Meknes, as well as the Roman ruins of Volubilis. Aside from Fes, they visit Morocco's Switzerland (Ifran), the Azrou cedar forest, and the Ziz valley.
Following that, we will travel to Merzouga's golden sand dunes, the Dades gorges in Boumalne, and Rose Valley. In addition, we will visit the Kasbahs of Ait Ben Haddou and Glaoui in Telouet. Finally, we will visit the city of Marrakech as well as numerous fascinating Berber sites. We will stop at each interesting location to photograph the magnificent panoramic nature scenes.
TOP HIGHLIGHTS OF 10 DAYS MOROCCO TOUR FROM CASABLANCA
In Casablanca, pay a visit to the Hassan 2 Mosque.
Visit Rabat's Hassan Tower.
Discover Chefchaouen, the blue city.
Get lost in the Volubilis Roman ruins.
Visit Fes and Marrakech with a local guide.
Meet the Barbary Apes in the Azrou Cedar Forest
Panoramic views of the Erg Chebbi dunes
Experience Merzouga camel ride Sahara
Enjoy the sunset over the sand dunes.
Take part in a sandboarding activity.
A hearty dinner and a campfire party (Berber Drums)
Overnight camping at Merzouga Desert Camp, followed by a Merzouga exploration tour and a visit to a nomad family.
In Ouarzazate, pay a visit to Atlas Studio and Taourirt Kasbah.
Visit Ait Ben Haddou Kasbah, a UNESCO World Heritage Site.
Views of the Atlas Mountains' landscapes are breathtaking.
INCLUSIVE AND EXCLUSIVE IN THE TOUR
Pick-up and drop-off at/from your lodging
Transportation by private modern vehicle with air conditioning
English-speaking driver/guide with prior experience
Local guide in Fes.
Visit the Kasbah Ait Ben Haddou.
Camel Trekking on the desert (Camel per person)
8 nights in a hotel/riad in a private room (At your preferred room type)
Spend the night at the Desert Camp (At your preferred tent type)
Daily breakfast.
Transfer by 4×4 from and to the camp (Alternative to Camels)
Drinks
Lunches
Dinner in Marrakech, Rabat, and Chefchaouen
Entrance (Optional) 
Tipping (Optional) 
DETAILS ITINERARY OF THIS 10 DAYS TOUR FROM CASABLANCA:
DAY 1: Casablanca To Rabat
After breakfast at the hotel or pick up from airport, we'll begin our 10 days Morocco tour with a visit to two imperial cities, beginning with Casablanca, Morocco's main commercial capital.
First, we'll go to Hassan 2, the second largest mosque in the world, especially because of its location, right on the top of a rocky bay above the ocean, which is one of Morocco's greatest architectural achievements, and then to Place Mohamed V, which houses the country's most historic government buildings. Before we take you to our capital RABAT, you'll see the Hassan Tower, which was built in the 12th century. Then there's the Ordains Kasbah, an 11th-century fortress built in the Andalusian style that offers stunning views of Salé and the Atlantic Ocean.
DAY 2: Rabat to Chefchaouen
After breakfast, we'll drive through the charming Rif villages via Wazan, a lovely small city; once in Chefchaouen, you'll have your first encounter with this lovely city. Our local guide will start your visit to the blue city. This is one of the most beautiful in Morocco.
It's small and uncrowded, and there are plenty of winding paths to keep you entertained. First, visit the Kasbah, a heavily restored walled fortress that now houses a lovely garden, a small ethnographic Museum, and an even smaller art gallery. Remember that every part or wall of the city is an attraction. Following that, we will drive to our Raid for the night.
Day 3: Chefchaouen - Volubilis - Fes
Today we travel from Chefchaouen to Meknes for a guided tour of the city. We'll travel through the rolling hills to see the impressive Roman ruins of Volubilis, which are a UNESCO World Heritage Site and the best-preserved Roman ruins in Northern Africa.
As you peer into old bathhouses, marveling at the still-present mosaic floors and gazing up at the towering marble pillars, your certified local guide will explain life in the Roman Empire. We leave the Roman Empire and travel to Meknes City.
After lunch, we begin our guided tour in front of the impressive 18th century Bab Mansour, Sultan Moulay Ismail's ornamental gate to the imperial city of Meknes.
We continue our 10 days tour from Casablanca to the small but impressive Moulay Ismail Mausoleum. Then we'll walk past the entrance to the Meknes Royal Palace before arriving at Moulay Ismail's massive Heri Es Souani. For his 12,000 horses, this was his personal stable and granary. We leave Meknes and head to Fes. Dinner and an overnight stay in Fes.
We'll be exploring Fes with a local guide on this day. We will send one of our professional guides to your Riad or accommodation in the morning. Then, some sites will be explored by car, while others will be explored on foot. There is a lot to discover.
To begin, we will explore the old Medina from the outside, visiting the Royal Palace and a beautiful Ksar with seven golden gates. Following that, we will go to the Borj Nord, which is located on a mountain and offers a stunning view of the entire medina. We'll enter through the main gate of Boujloud.
From here, the guide will accompany you on a walk through Al Qarawiyyin University, the world's oldest university. After that, you'll go to Tannery Chouara, a leather factory.
We will finish the day by giving you some free time to explore Fes before heading to your accommodation.
Day 5 : Fes - Ifrane - Azrou - Midelt - Merzouga desert.
After breakfast, we continue our 10 days Morocco tour from Casablanca, leaving Fes and heading south, passing through the Middle Atlas Mountains and admiring the breathtaking scenery. We will visit Morocco's Switzerland, Ifrane, and the cedar forest in Azrou, where we will meet and feed the barbarian apes. Then we drive along the Ziz valley and the Tafilalet palm groves, stopping at a viewpoint overlooking the Ziz valley.
Following that, we pass through a few more Berber villages before arriving at Merzouga Desert. You will switch to camels and cross the dunes to the heart of the desert, stopping along the way to admire the beautiful sunset. at the luxury camp, you will enjoy Drum music, Moroccan dinner, a vast open sky full of shining stars, and sleeping in a nomadic Berber tent.
Day 6 : Full Day in Merzouga desert
So, after breakfast in the riad, you'll embark on an exploration of the surrounding area. So, on this 10 days tour from Casablanca, you'll visit the Gnawa people, who were originally brought from Sudan as slaves, to experience their music and way of life. You can also visit the souk in Rissani, a traditional town that was the birthplace of Morocco's ruling family and the meeting point for caravans trading as far as Tombuctou in Mali. There are many hooded men and veiled women here. 
Back to Merzouga for some rest before mounting your camel and exploring the Merzouga sand-sea with an experienced camel man in the afternoon.
Day 7 : Merzouga - Todra Gorges - Dades Gorges
Your camel guide will wake you up early in the morning to witness what could be the best sunrise of your life. You will return to Merzouga village on foot. En route, you can't help but notice the spectacular Erg Chebbi sand dunes, which change with the light as the day progresses. After breakfast and a shower in your riad, you'll depart for the gorges of Rissani, Tinghir, and Todra. Because they are Morocco's highest and narrowest gorges. 
After lunch in the heart of the gorge we'll drive through the Dades Valley, where you'll see the majestic sand castles and the amazing rock formations known as "monkey toes". Finally, overnight lodging will be provided in a luxurious guesthouse overlooking the Dades Valley.
DAY 8 : DADS VALLEY – TODGHA VALLEY – OUARZAZATE – AIT BENHADDOU – MARRAKECH
We'll leave the hotel after breakfast and drive through The Dades Valley, a fascinating section of the famous Road of a Thousand Kasbahs. We'll stop in Kalaa-Mgouna, "the rose city," famous for its annual rose festival, to buy rosewater and other local cosmetics. Continue on to Skoura and the Bird's Valley, where the main attractions are the mud brick Kasbahs, particularly Kasbah Ameridil, a well-preserved Kasbah in this area. Lunch is in a restaurant with a view of the entire valley after some hiking in the valley.
The tour continues to Ouarzazate, known as "the Hollywood of Africa," for its geography and beautiful landscapes, which have drawn many world-class film producers. You can choose to visit the studios, which contain props from movies you may have seen before.
We'll dive the UNESCO-protected Ait Ben Haddou Kasbah, one of the area's most beautiful Kasbahs.
The Kasbah offers stunning views of the surrounding palm groves before continuing on to Marrakech via the Tizin'tichka pass.
We'll stop in Telouet to see the ancient 17th century Kasbah, then continue exploring the tIzin'tichka road, especially its beautiful landscape of Berber villages.
In the afternoons in Marrakech, you can wander through Djemâa El-Fna and enjoy its charm while sipping a drink from one of the roof restaurants. In Marrakech, spend the night at your local riad.
Day 9 : City tour in Marrakech
Marrakesh may be the town that best exemplifies Morocco's exotic culture and charm. You can visit the Koutoubia mosque, which was built in the 12th century, as well as the Majorelle Garden, which is filled with cacti, palms, and ferns and is the work of painter Jacques Majorelle. 
Then we'll see many monuments, such as the Saadian Tombs. This 16th-century graveyard is covered in mosaic tiles.
After a lunch break. You may have time to visit the fascinating souks (native markets), but the town's main attraction is the Babouche (shoes) Souk, Chouari (carpenter's) open-air market, El-Attarine (perfume and spice) souk, and the Cherratine (leather) souk, as well as the narrow alleys surrounding the Djemâa El-Fna square, where you'll be charmed by snake charmers, singers, acrobats, dancers, narrators, and story-tellers, later on we will pick you up to your accommodation.
Day 10: Departure from Marrakech
On the last day of our 10 days tour from Casablanca, we will drive you to the airport or any other location you specify, depending on your departure time. You can relax in Marrakech while we wait for your flight, we can finish in Casablanca…
GOOD TO KNOW ABOUT THIS 10 DAYS TRIP FROM CASABLANCA
1. During this 10 days tour from Casablanca, you will be staying in a private room of your choice at the accommodations.
2. You will be staying in a private tent of your choice at the desert camp.
3. Vegetarian options are available; please specify at the time of booking if you require them.
4. Children must be accompanied by an adult at all times.
5. Comfortable walking and sandboarding shoes, such as sport sneakers. The camel trek requires long sleeves and long pants or skirts.
6. Quad bikes and buggies in the dunes can be added as an optional extra.
7. alcoholic beverages (available to purchase)
8. You will receive your booking confirmation at the time of booking.
9. Here are some other similar tours you may interest in such as 9 Days Casablanca tour, or 8 Days Casablanca tour, and for long tour you can take a look at this 12 Days tour from Casablanca.
To book your 10 days tour from Casablanca. you are required to send us a small deposit of 100€ over our PayPal or TransferWise account, the rest of the payment will be paid during the trip to your guide or driver, you can pay with Dollars, Euros, or equivalent in MAD (Moroccan Dirhams).
Email us for reservation or any info, and we will happily to answer you ASAP.
Please make sure your gmail is correct to receive our response.
Reviews about our 10 days Morocco tour from Casablanca
Best 10 days tour from Casablanca Ever
Morocco tour was absolutely incredible! The most enjoyable and fantastic journey with gentleman Hassan. He took hospitality to a new level, and he was also an informative and entertaining driver. Every stop we made was rich in history, which our tour guide, Moha, explained in a perfect and easy-to-understand manner, leaving us time for photos and exploration. They also booked us very nice hotels and riads, as well as a luxury camp in the desert. The transportation is still relatively new and comfortable. I am certain that there is no other tour company like To Morocco Travel agency. By far the best tour I've ever been on. It was due to the collaboration of a fantastic driver and the best tour guide ever.
Unforgettable desert trip in lifetime
This 10-day Morocco tour was fantastic for me. Moha was our tour guide, and we couldn't have been happier. He was very knowledgeable about the food and culture, and he shared many personal stories that added a lot to the trip. His personal touches added to its uniqueness. He is genuinely enthusiastic about what he does, which enhances the overall experience. I'm so glad we did it!
Incredible 10 days in Morocco
To Morocco Travel team was fantastic. We were visiting Morocco for the first time. This experience, on the other hand, has given us a new lease on life. The tour guide Hassan and his driver Mohammed did an excellent job of explaining the places we visited and providing as much historical information as possible. Hassan was also very helpful in answering any questions we had about our tour. The hotels, meals in every restaurant, etc. were all fantastic. I would also recommend this fantastic tour to my friends and family.