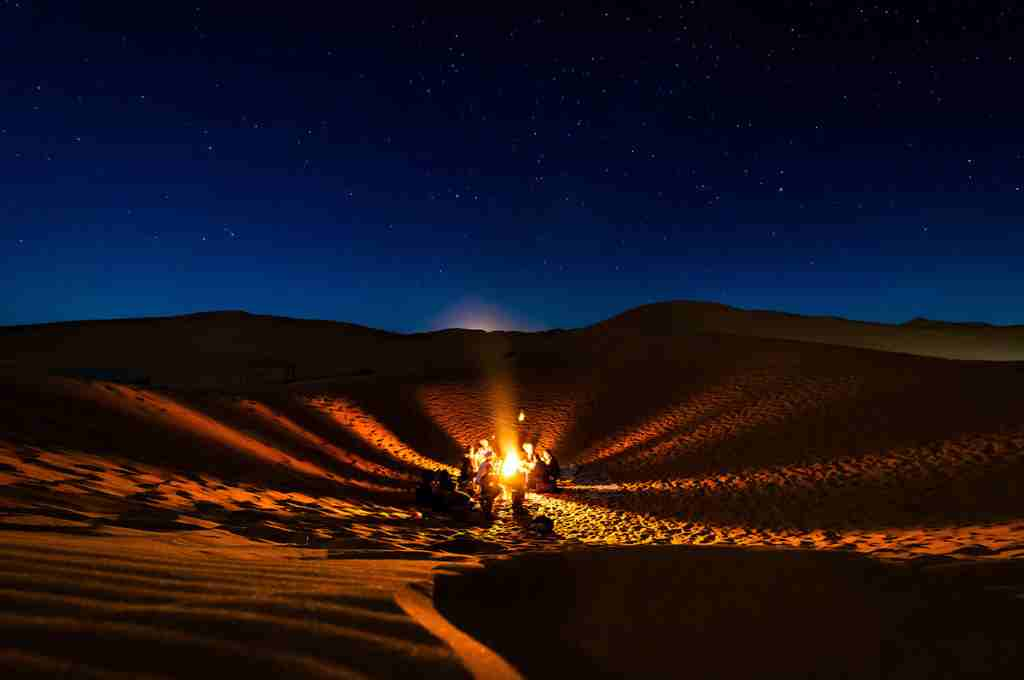 MOROCCO ITINERARY 7 DAYS TOUR FROM MARRAKECH

This Morocco itinerary 7 days can take you on a captivating journey through some of Morocco's most iconic and diverse destinations
Embark on 7 days tour from Marrakech, immersing yourself in its rich culture and stunning landscapes. Begin your journey in vibrant Marrakech, exploring its bustling souks and ancient palaces. Across the breathtaking Atlas Mountains, witnessing picturesque valleys and traditional Berber villages along the way.
Discover the mesmerizing Sahara Desert, riding camelback into the golden dunes and spending a night under the starry desert sky. Visit the historic city of Fes, with its intricate medina and renowned tanneries.
End your adventure in coastal Casablanca, where modernity meets tradition, and marvel at the grand Hassan II Mosque. This unforgettable tour will leave you with cherished memories of Morocco's diversity and beauty.
THE HIGHLIGHTS OF THIS MOROCCO ITINERARY 7 DAYS TOUR
Journey through the scenic High Atlas Mountains, passing through breathtaking landscapes and charming Berber villages.
Explore the UNESCO World Heritage site of Ait Ben Haddou, an ancient fortified city.
Arrive at the stunning Dades Valley, known for its magnificent rock formations and picturesque landscapes.
Explore the breathtaking Todgha Gorges, towering rock canyons carved by the Todgha River.
Enjoy a camel ride across the vast desert, witnessing a mesmerizing sunset over the dunes.
Spend the night in a traditional desert camp.
Sunrise over the dunes.
Explore the charming town of Ifrane, often referred to as "Little Switzerland"
Visit the historic city of Fes, known for its UNESCO-listed medina, ancient mosques, and vibrant souks.
Visit the blue city of Chafchaouen.
Visit the uncompleted Hassan tower.
Visit the largest Hassan II Mosque in Africa.
PROGRAM - MOROCCO ITINERARY 7 DAYS TRIP FROM MARRAKECH
DAY 1: Marrakech - acrossing the high Atlas Mountains - Ait Ben Haddou - Ouarzazate
Start your Morocco itinerary 7 days from Marrakech at 8:00am, and head east towards Ouarzazate, you will enjoy the scenic drive through the High Atlas Mountains and Tizi n'Tichka Pass, where we will do some over stops to admire this nature gift. Reaching to most-visited site, to visit the famous Kasbah of Ait Ben Haddou, a UNESCO World Heritage site; the kasbah has been a popular filming location for many movies and TV shows, including "Lawrence of Arabia," "Gladiator," "Game of Thrones," and more. Its picturesque setting and well-preserved architecture make it a popular tourist attraction.
After a traditional lunch near the Kasbah, we will drive through the Atlas Studio in Ouarzazate, known as the "Hollywood of Africa." It is an optional attraction to visit.
Overnight stay in Ouarzazate.
DAY 2: Ouarzazate - Dades Valley - Todgha Gorge - Sahara desert
Continue your Morocco itinerary 7 days tour towards the desert, passing through the Todra Gorge, famous for its picturesque and high cliffs, it is the place where you have a chance to take a walk and admire its beautiful canyons. Arrive at the edge of the Sahara Desert, where you'll embark on a thrilling camel trek to a desert camp. Experience the magic of the desert, watch a mesmerizing sunset, and enjoy lifetime experience with desert nomads in a small party to play drums and dance around the bonfire. Finally spend a night under the starry sky.
DAY 3: Entire Day To Sightseeing the Sahara Desert
On the morning, we highly recommend to wake up early to watch the stunning sunrise over the desert dunes. get into the 4×4 car to the various locations in the Merzouga desert area to learn about its culture, traditions, and most visited attractions.
Our First stop will be at the Berber nomads family who are still living the old lifestyle, taking a short break with them inside the tent, and learning a bit about them. Visit the nearby village of Khamlia to experience traditional Gnawa music and culture.
On the evening you will a free time if you want to try any of the desert activities or just chill out at your hotel.
DAY 4: Merzouga desert - Ziz Valley - Azrou - Ifrane - Fes
Meet up the next day with a fresh breakfast at the hotel. On the fourth day of our Morocco itinerary 7 days tour from Marrakech, before driving to one of the world's historical cities (Fes). 
On our way to Fes, we stop in Erfoud, a city known for its petrified marbles and fossils. We will make a stop at Morocco's second-longest palm tree river called Ziz Valley. Driving through the beautiful scenery in the middle Atlas Mountains that offer you innumerable opportunities to take stunning photographs.
Our lunch will be ready at Midelt, which is Morocco's apple capital. Follow the way via Azrou through the largest cedar forest, where you will see Barbary monkeys. Later, you will drive through the cleanest city in Morocco called Ifrane, a short walk in the stunning city before arriving in Fes in the evening.
Day 5: FES SIGHTSEEING - Chafchaouen
Today you have a half day in Fes. Your guide will accompany you and help you to get to know the most visited attractions in this old city. He will take you through the Mechouar to the majestic Dar el Makhzen, stopping briefly at the Royal Palace to admire the beautiful golden gate, which has seven exquisite bronze gates. You can also walk from here through the Mellah, and enjoy a lovely atmosphere and beautiful examples of Mauro-Hispanic architecture. 
Also, you will take a walk through the labyrinth of the old Fes Medina (a UNESCO World Heritage Site) to visit the 14th-century Medersa Bou Anania (a ticket is required), the Merinids' largest Medersa.
Leave Fes and head north to the "Blue Pearl" of Morocco, Chefchaouen.
Day 6: Chafchaouen Sightseeing - Rabat
This charming mountain town is known for its blue-washed buildings and narrow, winding streets. Spend the half day exploring the Medina, relax in the tranquil atmosphere, and soak in the beautiful views of the Rif Mountains.
You will have a chance to stroll along its stunning blue-washed narrow alleys, taking the full time for photographs. also taking a fresh lunch at one of the best panoramic restaurants overlooking the blue city. After you finish your meal we will head straight to Rabat (Morocco's capital), ending our day in the hotel.
Day 7: Rabat - Casablanca - Marrakech
You will be awakened early in the morning, after breakfast we will drive to Casablanca via Rabat's Hassan Tower. You have a short time to walk to this uncompleted mosque. Then we will drive to the Hassan II Mosque in Casablanca, which is the second-largest mosque in Africa and is located near the Atlantic Ocean.
Finally, our Morocco itinerary 7 days tour comes to an end by drop you off Marrakech or Casablanca.
INCLUSIONS AND EXCLUSIONS IN THE 7 DAYS TOUR FROM MARRAKECH
Transportation: Private modern transport with A/C.
Pick up & Drop off to and from Airport.
English-speaking guide: knowledgeable guide who speaks English or Spanish.
Accommodation: 5 nights in the good hotels and riads and 1 nights in the desert camp. (private tent and rooms)
Meals: Daily breakfast/ Dinner includes only in the first, second, and third night.
Camel trekking for each.
Local guide in Fes.
4×4 car for sightseeing in the desert.
Lunches and dinners: dinner meals are excluded in the other days that are not mentioned in the inclusions.
Entrance fees: Entrance fees to attractions and historical sites.
Tips: it is optional to tip your guide/driver.
Personal expenses: Any personal expenses, such as souvenirs, snacks, or drinks,…
7 DAYS TOUR IN MOROCCO PRICE
The price of a 7 days tour in Morocco can vary depending on various factors such as the level of accommodation, number of travelers, activities included, and the season you plan to visit.
On average, a Morocco itinerary 7 days tour from Marrakech can cost anywhere from $750 to $1500 per person. This would include accommodation, transportation (such as a private vehicle with a driver), some meals, and guided tours to popular destinations.
Email us for any inquiry, and we happily to answer you ASAP.
Please make sure that your E-mail is correct to get our response.
ONE WEEK TRIP IN MOROCCO - REVIEWS
Here are some reviews of our great customers based on their experience with us click on the link below to see all what people said about our Morocco itinerary 7 days tour from Marrakech.
Best 7 days trip in Morocco Ever
My friends and I went to Morocco with To Morocco Travel and had a great time there thanks to our guides who did a brilliant job driving us to wonderful places. Also, we met other groups travelling like us and became good friends! Looking forward to schedule the next visit 🙂
Stunning 7 day desert trip in lifetime
The best trip by far! I loved our tour with Hassan. He took us to all the must see attractions and he was very patient with us as we stopped by a few shops for souvenirs. Hassan also invited us to his house for tea! Super hospitable. He would definitely go back to Morocco again
Incredible trip to the desert of Merzouga
Unforgettable trip to the desert, the driver and guide showed us beautiful places, friendly and professional treatment. The camp between the dunes was wonderful, concert with the berebwres and delicious food. I recommend it 100%
BEST MOROCCO DESERT TOURS