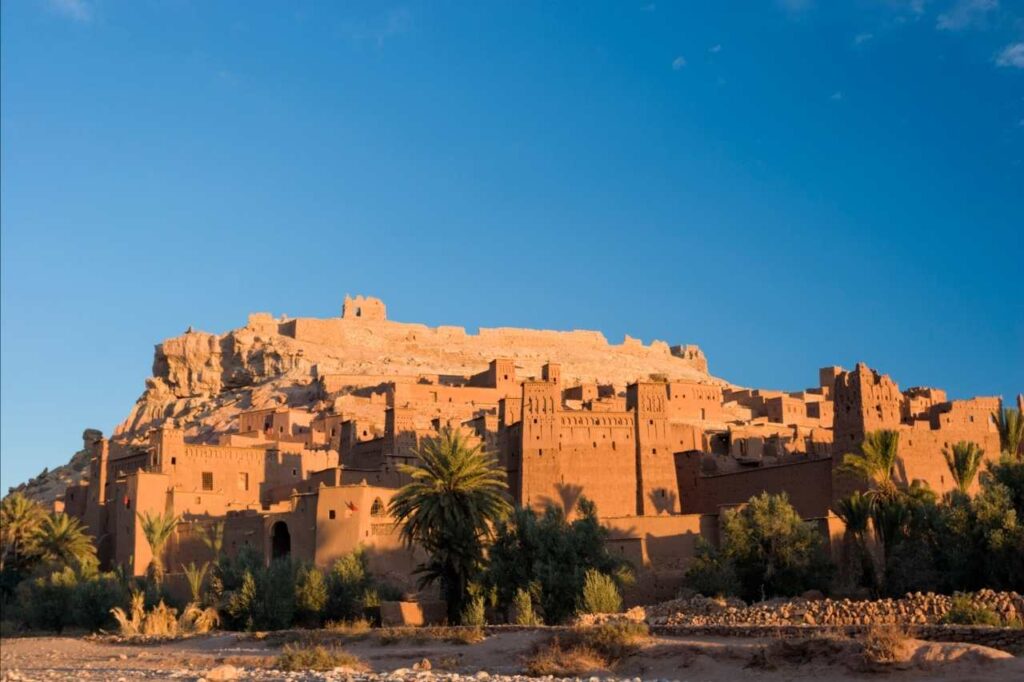 6 DAYS MARRAKECH TO FES SAHARA TOUR VIA CHAFCHAOUEN
LET US MAKE YOUR 6 DAYS MARRAKECH TO FES SAHARA TOUR VIA CHAFCHAOUEN COME TRUE WITH US 
Our 6 Days Marrakech To Fes Sahara Tour offers a best-combined visit including the mountains, valleys, desert, and imperial cities. With the multi-culture of every part of the tour, it gives you a great experience in our humble country Morocco where you have an unforgettable tour.
6 Days

 Marrakech To Fes Sahara Tour

Price range per person based on the type of accommodation ( standard or luxury ), as well the number of travelers. 
Note: the more travelers you travel with the cost per person will be decreased.
THE HIGHLIGHT 6 DAYS MARRAKECH TO FES SAHARA TOUR
ITINERARY OF 6 DAYS MARRAKECH TO FES SAHARA TOUR VIA CHAFCHAOUEN
DAY 1: MARRAKECH – ATLAS MOUNTAINS – KASBAH AIT BEN HADOU – DADES VALLEY:
The itinerary of 6 days marrakech to fes sahara tour via chafchaouen will start in the early morning at 07:30 heading to Ouarzazate through the HIGH ATLAS MOUNTAINS  and drive uphill on windy roads to the famous Tizi N'tichka pass,( 2260 METERS)  where we will enjoy by its panoramic views and taking a short break there to take a beautiful photos. 
Reaching to a first major stop for sightseeing, it is the Kasbah of Ait Ben Haddou, a UNESCO world heritage site, is also known a set of major Hollywood epics filmed, such as Game of Thrones, Kingdom of Heaven, Lawrence of Arabia, and Gladiator etc.  as well as get to know some of the events and architectural mystery of the village as well their lifestyle. 
After lunch at one of the local cafes/ restaurant. Continue our way to Dades valley Gorges through Ouarzazate, Skoura Oasis, KlaaMgouna, the capital of the valley of the roses, and famous for its rose festival .Arriving at evening, the dinner and overnight at your hotel / riad in BoumalnDades Gorges.
DAY 2: DADES VALLEY - TODGHA GORGE – ERFOUD – MERZOUGA DESERT
In the second day of marrakech to fes sahara tour After breakfast at your hotel or at your desert camp, our desert tour marrakech to fes will start through following along the road of 1001 Kasbahs to the oasis of Tinghir, where we will have a stop for a walk in the oasis under the shade of palm trees and continue to Todgha Gorge to enjoying a walk under the 300 meters high cliffs, and lunch at the local cafes.
Afterwards following our way Tour Marrakech to Desert via Erfoud a famous for its dates market, arriving the gate of the majestic desert, the point where we meet our camel caravan waiting for us, ride your camels through the amazing color-changing largest sand dunes with the sunset, down to the desert camp which is the major experience you will never forget
DAY 3: MERZOUGA – MIDELT – AZROU – IFRAN - FES
In third We will wake up early to watch the sunrise at the bigest dunes before riding the camel to the Edge of the dunes where our driver will pick you up and start drive via the province of Errachidia via Erfoud which known with its dates palm to Ziz valley and gorges where we will take a break for some pictures. Lunch will be at Midelt. 
Later on, you will following our way to fes and we will have a  chance to view the old tree and meet the monkies in cedar forest. From here we head to Ifran "The Moroccan Switzerland», you will see the stone lion and take picture with it. You may have a visit to Al-khawayn (Two Brothers) University if the time allow us, following to Fes passing by Imouzar Kander. Arrive to Fes overnight there.
In the following day we wil have a chance to Enjoy a full day sightseeing tour in Fes, which is the oldest of Morocco's four "Imperial Cities". The medieval city of Fes El Bali or "Old Fes" remains complete and is unspoiled. 
During your tour of this part of the town, you can visit the exotic Bou Inania Medersa), the Medina, and the Kairaouine Mosque, where you may take photos of the wonderful courtyard from the main gate as well as the famous souks. In the afternoon you can visit Fes El Jdid, or "New Fes". and overnight in the Riad.
In the morning after your breakfast we will Crossing the beautiful countryside we drive to Chefchaouen for 4 hours to reach this colorfull blue town in the mountains of the Rif. You will have free time to Explore its winding lanes and narrow alleys which are home to numerous souks offering cuisine and artisan works. Chefchaouen is a fantastic destination for photography with its wonderful views of the Rif Mountains. Overnight will be at your Riad..
DAY 6: Chefchaouen – Marrakech
On our last day of the 6 Days Marrakech To Fes Sahara Tour Via Chafchaouen there will be enough time to discover more of the beautiful town of Chefchaouen Then your driver will transfer you to the airport or your hotel in Marrakech. Depending on your departure, you may wish to discover or having some stops on the way, so feel free to ask your driver and he will be at your disposal if you need him. in that point our 6 Days Marrakech To Fes Sahara Tour Via Chafchaouen comes to the end. thanks!
INCLUDED & EXCLUDED OF THIS 6 DAYS DESERT TOUR
See What Are Included & Excluded In The Price :
GOOD TO KNOW ABOUT THIS 6 DAYS TRIP FROM MARRAKECH
This 6 days Marrakech to Fes Sahara tour can be tailored to be more personalized and unique.
Here's a packing list you can print out to help you prepare for your Moroccan desert tour.
You can always consult your driver about skipping some stops to spend more time elsewhere.
These prices are subject to change based on the current exchange rate.
You can ask if others are interested in sharing the tour, or let us know if you are interested in this yourself if you book early.
To reserve the car, we require a payment of 20% as the deposit of the total price.
We accept PayPal, bank transfers in Europe, credit cards, and cash (USD, Euro, GBP or MAD)
Children under the age of 12 receive a 25% discount, while children under the age of 5 are not charged.
Email us for your inquiries or reservation, and we happily to answer you ASAP. Please make sure to confirm your Email so as to get our response
FAQ OF 6-DAY TOUR FROM MARRAKECH
How far is Merzouga from Marrakech?
The distance between Marrakech and Merzouga is 564 kilometers, with the first night spent in Dades Valley and the second day spent in Merzouga. You will spend the third day driving back to Marrakech.
Can we bring our luggage on this tour?
Yes, you can bring your luggage with you, it can stay safe in the minivan.
How long is camel trek in Merzouga dunes?
The camel trek lasts for about 1 hour, depending on the season, daylight, etc.
Of course you can.
What is the Cancelation Policy?
Cancellation Policy: You will receive a full refund if you cancel at least 3 days in advance before the trip commences.
We are here for any suggestions, advice and Reservation. CONTACT US