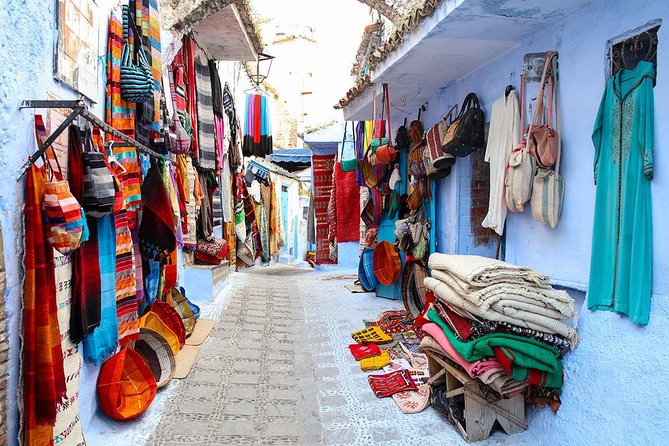 7 DAYS MOROCCO TOUR FROM TANGIER TO DESERT
Embark on an unforgettable adventure as we take you on a mesmerizing 7 days Morocco tour from Tangier to desert the heart of the Sahara. Immerse yourself in the beauty of Morocco's diverse landscapes, rich culture, and ancient history. This expedition will lead you through bustling cities, picturesque villages, and the vast golden dunes of the Sahara Desert. Led by experienced guides, this 7 days tour from Tangier promises a blend of excitement, relaxation, and cultural exploration.
Note: If this 7 days Morocco tour from Tangier to desert does not meet your needs, you can also customize your Morocco tour from Tangier to anywhere you want.
HIGHLIGHT OF 7 DAYS MOROCCO TOUR FROM TANGIER TO DESERT
Stunning Rif mountains
Blue pearl of Chefchaouen
Splendid middle & high atlas mountains
The oldest, cultural, religious city of Fes
Experience Camel trek in the desert
Beautiful Sunset & sunrise over Erg Chebbi dunes
Magical night at Merzouga desert camp
Visit Berber nomads
Traditional market of Rissani
Todra Valley & gorge
Unesco heritage site of ait ben Haddou
ITINERARY OF MOROCCO TOUR FROM TANGIER 7 DAYS
DAY 1: Tangier to Chefchaouen
Our first day of our 7 days Morocco tour from Tangier to desert, will take you to Tetouan and then to Chefchaouen. The city was a fortress or a Kasbah that was built to defend against Portuguese attacks. Furthermore, it is built with Spanish styled-white and blue washed buildings, making it a tourist's dream. As a result, you will visit this ancient Medina and walk through its narrow streets in search of traditional native items. Following that, you can relax in a traditional restaurant in square time to enjoy your lunch while listening to a panoramic and beautiful Islamic call to prayer. Then you'll spend a wonderful night in the blue Medina's local Raid.
DAY 2: Chefchaouen to Fes via Meknes
The second day of 7 days trip from Tangier, will begin in from Chefchaouen. As a result, you will discover Roman ruins and learn about the area's history and archaeological relics. In addition, the tour will visit the imperial city of Meknes to see the 17th century tourist attractions. You will see the massive gate or Bab Mansor, which is designed with arches and mosaic tiling. You will also visit the square time, where street performers demonstrate their talents, as well as the Moulay Ismail Mausoleum and Qara Prison. 
The old Medina has narrow streets with high walls and handicrafts. Later, we will drive to the imperial city of Fes to stay in a traditional Riad.
DAY 3: Fes sightseeing tour
Fes's old Medina (Fes El-Bali) is a historic site with numerous monumental structures. As a result, the 7-day tour from Tangier includes a guided tour of all the tourist attractions in Fes. After breakfast, our local guide will meet you to begin exploring Fes Medina. The University of Al-Karaouine is the world's first university, dating back to the nineteenth century. It is one of Fes' most interesting attractions. You will also visit the Chouara Tannery, which was built in the 11th century and is where leather is turned into stone vessels of various colors. After that, you'll see the Jewish Quarter, the Blue Gate, Qu'ranic schools, and the Marinid Tombs. 
Following that, you will ascend to the towers to enjoy a panoramic view of the old Medina. Our local guide will make certain that all other sites are visited. Ending our third day of 7 days Morocco tour from Tangier to Desert in the same Riad in Fes.
DAY 4: Fes to desert via Azrou and Middle Atlas Mountains
Your 7 days tour from Tangier will continue in Fes, where you will be picked up from your hotel. You'll pass through scenic Middle Atlas Mountains landscapes dotted with charming Berber villages on your way to Merzouga. Stop in Ifrane, known as "Little Switzerland," and take in the tranquil beauty of Azrou's cedar forests. The landscape will change from lush greenery to arid desert terrains as the day progresses. When you arrive in Merzouga, take a camel ride through the towering sand dunes and enjoy a breathtaking sunset over the Sahara. Spend a magical night under the stars in a traditional desert camp, followed by the drumming party around the bonfire.
DAY 5: Entire Day To Sightseeingthe Sahara Desert
After breakfast, we will embark on an exploration tour of the Sahara desert Merzouga, beginning with a camel trek back, finding a vehicle 4×4, driving through the erg chebbi dunes, enjoying the golden range dunes, visiting nomadic families before heading to the village of dark skinned people (village of the Gnaoua), originally slaves of Sudan, where we will listen to Gnaoua music and explore their lifestyle.
We will end our day in the local hotel around Merzouga.
DAY 6: Merzouga to Dades Valley Via Todgha Gorge
Today, since you're already in the desert, it's worth getting up early in the morning to watch the sunrise near the camp. After this lovely moment, you'll have breakfast and take a shower at the camp before riding the camels or transferring by 4WD back to the original starting point, where you'll meet your driver and continue your 7 days Morocco tour from Tangier to Desert
We'll pass through small Berber villages like Touroug, Tinjdad, and Tinghir, where we'll stop to admire its beautiful Todgha Valley full of palm trees and vegetation. We'll continue to Todgha gorge, which is located at the foot of the High Atlas Mountains and is a popular destination for rock climbers. We'll have free time to walk through its high canyons.
We'll stop for lunch, then travel to Boumalne Dades in the afternoon, arriving in Dades Valley for dinner and an overnight stay at a hotel/riad.
DAY 7: Dades Valley to Marrakech via Kasbah Ait Ben Haddou and High Atlas Mountains
Today is the final day of our 7 days Morocco tour from Tangier to desert, We'll continue on to Marrakech via Kalaat M'gouna, Rose Valley, and Skoura Palm Grove. 
We visit Kasbah Taourirt and the film studios in Ouarzazate (optional), then drive to Ait Ben Haddou to see its famous and oldest kasbah (declared a World Heritage Site by UNESCO in 1986). Famous films shot in this spectacular location include Gladiator, Obelix, the Mummy, the Jewel of the Nile, Sahara with Penélope Cruz, and others. 
We continue our journey by crossing the High Atlas Mountains via Tizi N'tichka, Morocco's highest road pass at 2260 meters above sea level, which offers spectacular views of valleys, mountains, and many Berber villages nearby.
Arrival in Marrakech in the afternoon/evening, transfer to your hotel, and your 7 Days Morocco Tour From Tangier To Desert comes to the end.
INCLUSIONS AND EXCLUSIONS IN 7 DAYS TOUR FROM TANGIER
KNOW ABOUT THE 7 DAYS DESERT TOUR FROM TANGIER
Book or Send us your inquiry about this 7 days Morocco tour from Tangier to Desert, and we happily to answer as soon as possible.
Please make sure that your email is correct before submitting.
RELATED TOURS TO 7 DAYS MOROCCO TOUR FROM TANGIER TO DESERT