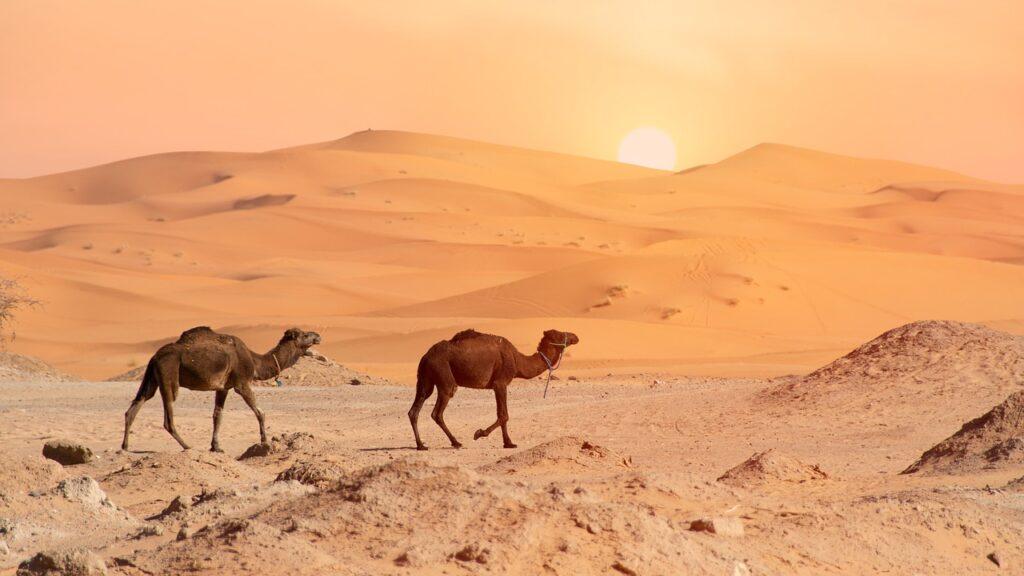 3 DAYS TOUR OUARZAZATE TO MERZOUGA DESERT
In this 3 days tour Ouarzazate to Merzouga desert will Enjoy the best of the Sahara desert of Merzouga, try the experience of camel trek, explore kasbahs, gorges, valleys, Berber villages...And much more
This 3 day tour Ouarzazate to Merzouga desert, will take you beyond to explore the Moroccan Sahara desert, discover nomadic life and Berber villages, and experience a camel ride through the sand dunes and a romantic night under the stars.
This Amazing 3 Days Desert trip from Ouarzazate to Merzouga will take you beyond the typical Moroccan atmosphere, combining culture and sightseeing of the desert landscapes and Berber villages, discovering Berber hospitality and sleeping in the big dunes in Morocco's big desert. 
We will cross the Anti-Atlas Mountains, admiring the desert landscapes and small oasis settlements at the plateaus' foothills. You will go on a camel ride and spend a romantic night under nomadic tents in the desert, enjoying the beautiful lifetime sunset and the silence of the Sahara.
ITINERARY OF 3 DAYS TOUR FROM OUARZAZATE TO MERZOUGA DESERT
DAY 1:
Ouarzazate - Rose Valley - Dades Valley - Todra Gorge
In the morning, we will begin the best 3 days tour Ouarzazate to Merzouga desert, then to Skoura, where we will pay a brief visit to the Amridile Kasbah, one of the wonders of the southern thousand kasbahs. We'll continue our journey through Rose Valley, crossing 50 kilometers off-road on the Valley track to visit Ait Youl Kasbah. We will drive to Dades Gorges for lunch via Boulmane, and then to Todra Gorges via Tinghir, where you will have a short walk under high cliffs of 300 m high.
Dinner and overnight stay in a hotel in the heart of the Gorges.
DAY 2:
Todra Gorge - Touroug - Erfoud - Sahara Desert Merzouga
After breakfast, we will drive to Tinjdad via Tinghir palm plantations, stopping for lunch before crossing Touroug Palm Plantations to Erfoud town, which will include a visit to its local fossil craft workshop. We will continue our 3 days tour Ouarzazate to Merzouga desert the fascinating Erg Chebbi dunes, also known as the Merzouga dunes. 
We will switch from our vehicle to camels and take you on a camel ride among the desert to enjoy the sunset over the dunes, then continue to the luxury camp for an amazing night which full of joy and fan with local nomad.
DAY 3 :
Merzouga - Rissani - Alnif - Agdz - Ouarzazate
the last day we highly recommended you to wake up early to catch the sunrise from the biggest dune. We will continue to Ouarzazate via Rissani, the birthplace of the Alauit dynasty and Morocco's first imperial city, famous for its traditional market, which is held three times a week on Tuesday, Thursday, and Sunday. 
We will continue our journey to Ouarzazate through the Berber villages of Alnif, Tazarine, and Nkob, arriving at Morocco's largest valley, the Draa Valley, and continuing towards Agdez through the mountains of the anti-Atlas Tizi-n-Tinififft at 1660 meters altitude, arriving in Ouarzazate around 6 or 7 PM. here our 3 days tour Ouarzazate to Merzouga desert comes to the end?
INCLUDED & EXCLUDED IN 3 DAYS DESERT TRIP OUARZAZATE TO MERZOUGA
GET TO KNOW ABOUT OUARZAZATE DESERT TOUR 3 DAYS
BOOK THIS OUARZAZATE TO MERZOUGA DESERT 3-DAY
Email Us For Any Inquiry, And We Happily To Answer You ASAP.
Note: Please check and confirm your Email in the contact form before you send us.
3 DAYS TOUR OUARZAZATE TO SAHARA DESERT - REVIEWS
Reviews about our 3 days tour from Ouarzazate to Merzouga Desert
Best Sahara desert tour from Ouarzazate Ever
My friends and I went to Morocco with To Morocco Travel and had a great time there thanks to our guides who did a brilliant job driving us to wonderful places. Also, we met other groups travelling like us and became good friends! Looking forward to schedule the next visit 🙂
Best Ouarzazate desert trip ever
The best 3 days tour Ouarzazate to Merzouga desert by far! I loved our tour with Hassan. He took us to all the must see attractions and he was very patient with us as we stopped by a few shops for souvenirs. Hassan also invited us to his house for tea! Super hospitable. He would definitely go back to Morocco again
Incredible trip to the desert of Merzouga
Unforgettable trip to the desert, the driver and guide showed us beautiful places, friendly and professional treatment. The camp between the dunes was wonderful, concert with the berebwres and delicious food. I recommend it 100%